A thermal camera to detect mice and pests is a tool that can help you easily detect them without taking down parts of your house and can help you direct all your pest control efforts towards the exact places where they are coming from

We selected the 4 best thermal cameras for pest control that you can buy and reviewed each of them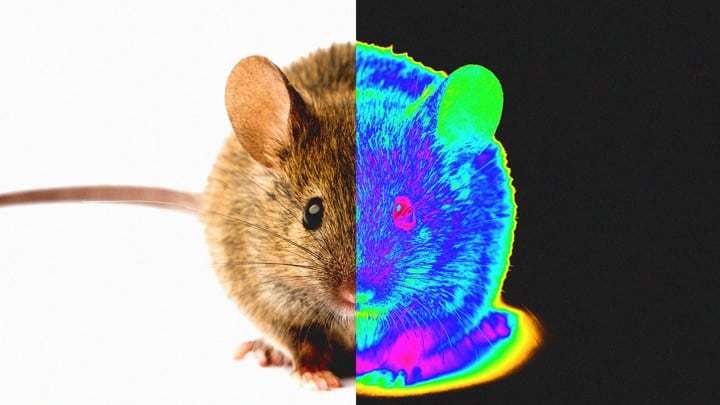 Let's have a look at each product in particular.
FLIR C5
The Flir C5 is great for general use but also perfect as a thermal camera to detect mice and pests.
With its 160 x 120 thermal sensor, you will be able to do pest detection fast and the sensor is also backed up by Flir's MSX image enhancement technology which combines the image from the built-in visible light camera together with the thermal layer.
One great feature that this device has and that other thermal imaging cameras lack is cloud connectivity. Every thermal image you capture, gets sent to the Cloud automatically via Wi-fi and you get 1GB of free storage on Flir's own platform. This is actually a great feature for pest inspectors because if you have several people working in the same pest control company, they can all share the images between them and collaborate.
Its temperature measurement capabilities are outstanding too because it can detect hot spots and cold areas in a thermal scope ranging from -4 to 752°F (-20 to 400°C) with a 0.05°C thermal sensitivity. The reason this parameter is important when you want to locate rodent nests inside the wall is because these will generate heat patterns which will show up on the outer section of the wall and sometimes those warmer areas cannot be easily detected since the temperature difference may be very small, that is why a thermal imaging system with a higher sensitivity will perform better.
It is waterproof and dustproof with an IP54 rating, it has a 4 hour battery life and a large 3.5″ color LCD screen. Like all the infrared cameras made by Flir Systems, the C5 is also backed up by a 2-10 year warranty.
FLIR ONE Pro
| Product | Type | Resolution | Battery capacity | Waterproof | LCD screen | Price |
| --- | --- | --- | --- | --- | --- | --- |
| FLIR ONE Pro | Smartphone (2 different versions – Android & iOS) | 160 x 120 | 45 minutes | No | Uses Smartphone screen | Click for more info |
The Flir One Pro is a smartphone thermal camera used to detect mice or pests in your house. It costs far less than the other two and sometimes can get the job done just as well.
It is available with 3 different connectors, USB-C, micro USB and Lightning for iPhone. After you've plugged in the camera, you download the Flir One App and you're all set. It can capture thermal images in JPG format with radiometric thermal data embedded inside but it can also record MP4 videos. You get all the settings adjustments that you would get on a handheld thermal camera like emissivity, ambient temperature, different color palettes and measurement units.
At this resolution, you can easily detect a mouse or a termite nest within a wall.
A thermal camera like this one can help for example in the eradication of bed bugs but not exactly in finding pests. It is not used for detection phase, but rather in the eradication process if you are using heat treatment. The idea is that they can be neutralized if you circulate hot air at a temperature above 122°F (50°C). Then you can use the infrared technology on this camera to make sure that all of the parts of the room have reached that temperature.
Hti HT-301
| Product | Type | Resolution | Battery capacity | Waterproof | LCD screen | Price |
| --- | --- | --- | --- | --- | --- | --- |
| Hti HT-301 | Smartphone | 384 x 288 | Uses Phone Battery | No | Uses Smartphone screen | Click for more info |
The Hti HT-301 is a very interesting thermal camera to detect mice and pests. The reason we included the Hti HT-301 is because of its very high IR resolution. Its thermal sensor can output an image resolution of 384 x 288 which adds up to 110,592 thermal pixels, more than you get in any of the cameras listed here.
So why is the resolution so important in pest inspection? This is because a higher resolution allows you to detect smaller pests like termites, hornets or wasps. These kinds of bugs don't carry the same heat signature like a nest of mice. If with mice, thermal sensitivity is important in detecting the heat coming from a nest inside the wall, then here the resolution is key.
Not only that, but this camera for pest control can detect anything in a temperature range from -4° Fahrenheit to 752° (-20 ° to +400 ° Celsius) with a 0.06 thermal sensitivity. The accuracy is about what you would expect from a smartphone imager, +/- 3° C.
FLIR E8 XT
The reason we chose the E8-XT as a perfect thermal camera to detect mice, rats and other kinds of pests is because it is a perfect tool for pest control companies. The 301 has the resolution but it is not a very practical tool since it doesn't have its own battery and needs to be plugged into your smartphone and does not offer any water protection.
This particular one has it all: It has a 320 x 240 thermal resolution which makes it great for detecting smaller social insects, but it also has IP54 protection against water damage and dust and a 4 hour battery life. It can detect heat within a temperature range from -4°F to +1022°F (- 20 to 550 C), so it is going to work even in colder environments as well as in the warmest ones with a +/- 2 C accuracy and a 0.05 sensitivity.
So whether it is finding a wasp nest, doing rodent control or pest inspections you can be sure that this particular device will cover everything.
You can find a more in-depth review of the
Flir E8-XT
on our website.
Can a thermal camera see mice?
Yes. A mouse, just like any other living being emits a certain amount of heat and if the thermal camera is pointed towards it, it will detect it and the mouse will show up warmer than the objects around it. It is the same with rats, all kinds of rodents and other pests which have a larger size.


Can an infrared camera see mice in walls?
Yes, but not directly. Thermal cameras can't see through walls, however if there is a rat nest, that will generate heat which will transfer into the outer section of the wall and so that part of the wall will appear as slightly warmer than the other parts. When you detect a nest of mice, the next part is to do a physical investigation as the thermal image can only take you so far.


Best thermal camera to detect mice, rats and other pests
For a home user, we would recommend the Flir One Pro as it is considerably cheaper than the rest, however it is limited to larger pests. For a more thorough inspection, an Hti-301 would be a better tool and if you are working as a professional, then the Flir E8-XT is a solid choice.

Detecting pests with thermal imaging is the way of the future and one of these cameras can be a great addition to your home inspections.