We selected 4 thermal cameras with high resolution for applications that require a high level of detail in your thermal images

There are 2 handheld devices and 2 smartphone attachments which offer great value for money. The devices are compared and evaluated on every aspect from image resolution to software features and how strong the enclosure is

Here is our review and comparison table for the best thermal cameras with a high image resolution: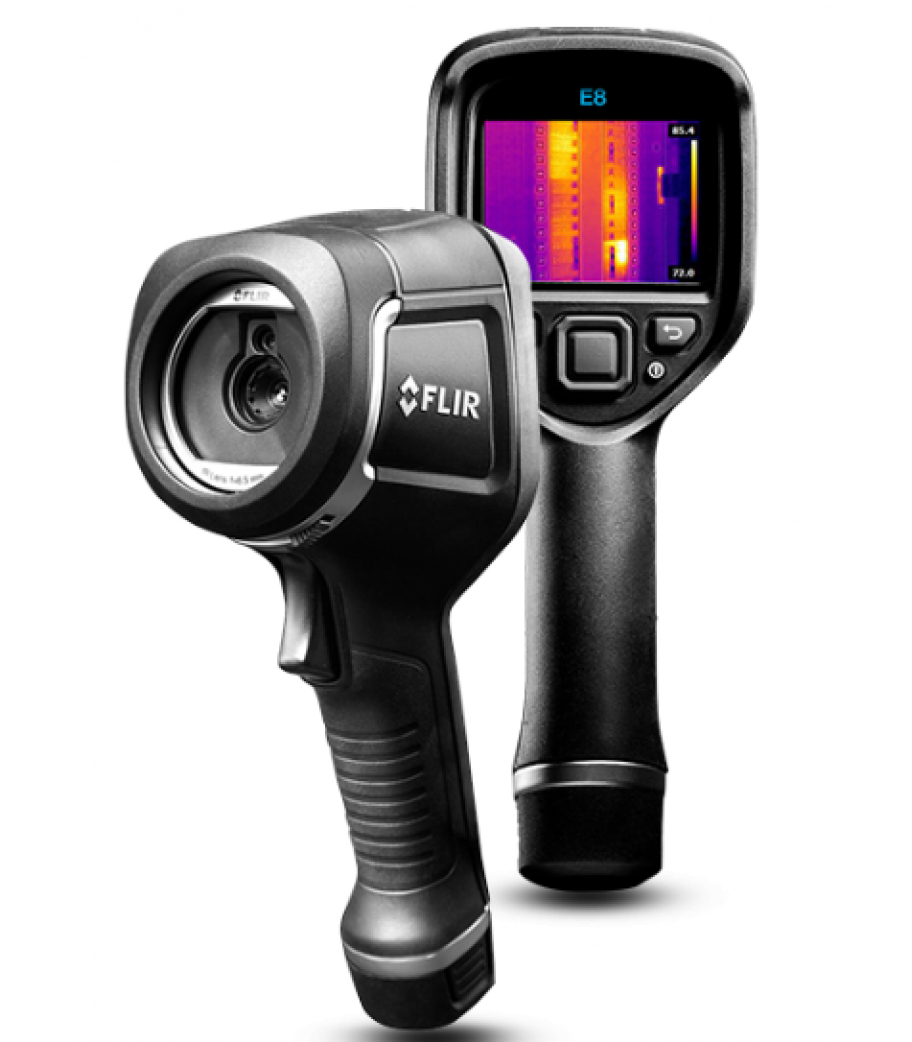 Let's have a look at each product in particular.
FLIR E8 XT
The Flir E8-XT is one of our favorite high resolution thermal cameras. Its powerful Lepton infrared sensor provides an IR resolution of 320 x 240 pixels. If you multiply them together you'll find that it provides 76,800 thermal pixels in total.
Now if you're new to this field and maybe this is the first time you are purchasing a camera, these numbers might look like the ones you'd get in a 1998 digital camera, but that's the way it is at the moment and this image resolution is more than enough for you to inspect even tiny things like chips on a PCB board.
Along with the thermal vision sensor, you also have a visual camera that provides a visible light image and the two images are blended together using MSX image enhancement. The result is near perfect because the algorithm really enhances the resolution of the thermal sensor and we prefer it to the SeekFusion technology that you get in the Seek cameras.
The E8-XT is a waterproof camera with an IP54 rating that can withstand a 2-meter drop, so you don't have to worry when you are carrying it around. The design is made so that its 3″ LCD screen doesn't shatter either. And it's not just the enclosure that is durable, the battery life is great too with 4 hours of continuous thermal imaging on a single charge.
One place where this high-res thermal camera stands out is its temperature measurement capabilities because this device has a very wide thermal scope from -4°F to +1022° Fahrenheit (-20 to 550 Celsius) with a +/- 2 C accuracy and a 0.05 C thermal sensitivity. So in terms of its measurement performance, it is top-of-the-range.
You can download the images to your computer via USB cable (USB Type-C) or send them to your smartphone via Wi-fi and Bluetooth, so in terms of connectivity options it checks all the boxes.
Seek Thermal Revealpro
The Seek Thermal RevealPro is another infrared camera with high thermal resolution.
The infrared sensor outputs a superior resolution of 320 x 240, but the difference here is that it doesn't have a visual camera. At this level of detail you don't always need a visible light image, because you can tell the objects and edges apart easily from the high-resolution image coming from the sensor.
But it is not just its high resolution because its temperature measurement capabilities are strong too, it can measure a temperature range between -40°F and 626°F (-40°C to 330°C) with a 0.05°C thermal sensitivity.
All the images that are captured are stored on the 4GB internal memory that can hold at least 4000 thermal images with all their radiometric thermal data inside of them.
The problem with this compact thermal imaging camera would be that it is not waterproof and its digital zoom feature is not very intuitive but apart from those issues, this is a good thermal camera and especially in terms of image resolution.
Hti HT-301
| Product | Type | Resolution | Battery capacity | Waterproof | LCD screen | Price |
| --- | --- | --- | --- | --- | --- | --- |
| Hti HT-301 | Smartphone | 384 x 288 | Uses Phone Battery | No | Uses Smartphone screen | Click for more info |
The Hti HT-301 is a smartphone thermal imager with high infrared resolution. It has a USB-C connector with which you plug it into your phone and you'll find a micro USB adapter in the package too.
The main advantage of the Hti HT-301 is its high IR resolution of 384 x 288 pixels. This is a better digital resolution than what you can get on any thermal camera. Sure, it doesn't have a visual camera built-in, just like the RevealPro but here the higher resolution completely reduces the need for a visible light camera.
Another cool thing about this camera is the 25Hz refresh rate, the highest that we've seen on any consumer thermal camera because usually they are limited to just 9Hz. When you combine the refresh rate and resolution it really is a "high definition thermal camera".
The Hti HT-301 is able to measure a temperature range between -4°F to 752°F (-20 °C to +400 °C) with a sensitivity of 0.06°C (This is the temperature difference it can react to).
This device uses your smartphone's battery and screen together with the ThermViewer app. You can use it with Hti's app, but most users have reported better results with the ThermViewer one.
Seek Thermal Compact PRO
Like the Hti HT-301, the Compact Pro is an infrared thermal imaging system with high resolution that attaches to your phone, only this time it comes with an additional Lightning port connector for iPhone users in addition to the USB-C and micro USB connectors, making it compatible with virtually any device on the market.
It has a slightly lower resolution than the Hti, but make no mistake that it is still on the high end of the spectrum with a 320 x 240 resolution totaling 76,800 thermal pixels, beating out most infrared cameras in its price range.
Another thing that sets it apart is the 1800 feet detection distance. It can detect warm and cold objects so far that it can be used as a wildlife detection tool.
The app is much better than the one on the Hti and this time, you can overlap the image from the visual camera with the one from the thermal vision sensor, however you always have to be careful to readjust its alignment and registration.
Which thermal camera with high resolution should I use?
The best one by far is the Flir E8-XT, but it is also the most expensive. If you are a professional, then the E8-XT will be worth its price.

The RevealPro offers the same resolution for a much lower price, so if you are looking for better value.

The Hti HT-301 and Seek Compact Pro are great alternatives to buying a separate handheld thermal camera, however they are not the same.

You buy the Hti if you need the higher resolution and smooth framerate and you get the Compact Pro because of its much better value for money and long detection distance.


What is IR resolution?
This value refers strictly to the resolution of the thermal sensor and not the one of the visual camera. Most of the time, the resolution of the outputted image which overlaps the two is higher because the IR layer is applied over the visible light image. So even a camera with 32 x 32 IR resolution will usually output a higher resolution image. In time, you can expect the resolution to increase and the price of the devices to decrease.


Why is the resolution on infrared cameras so low compared to digital cameras?
Indeed, if this is the first time you are looking to buy a high-resolution infrared camera, then the first question you might be asking yourself is: "Why is the resolution so low?". This is because thermal sensors still need have a much larger pixel size in order to capture the infrared light. If you were to have a thermal camera that could match the high resolution of a digital camera, the sensor would be so big that you probably could not hold it in your hand. It will not always be this way, technology will make infrared sensors smaller and with the ability to capture a more detailed image. After all, a 500$ thermal camera which you can hold in one hand was something that was not possible 20 years ago.