We'll be reviewing the CliperCreek HCS-40, one of their best selling models which can output 32 Amps and up to 7.7 kW of power.

PROS: Fast charging speed, NEMA 4 (IP66 rating)

CONS: No smart features.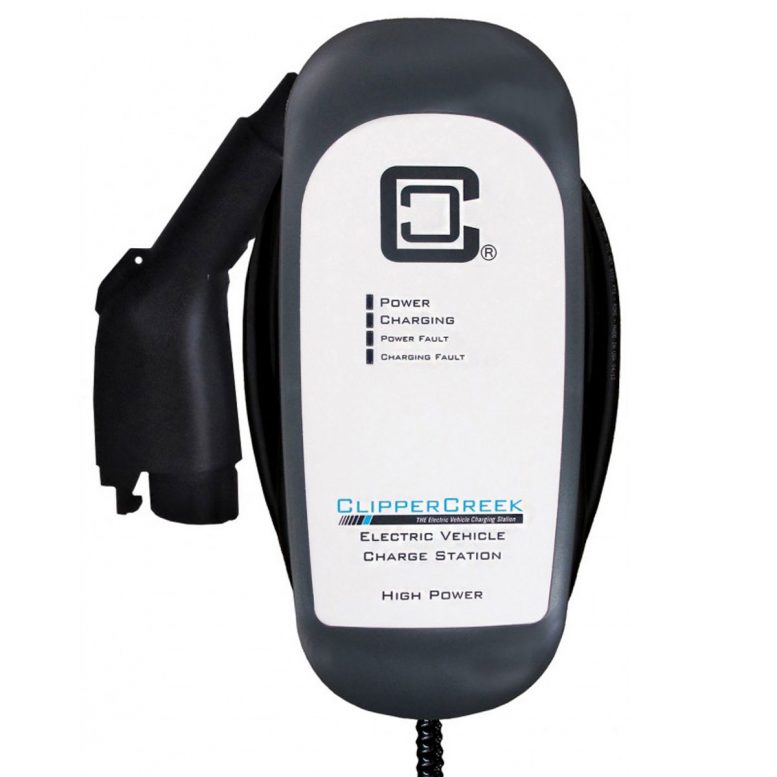 ClipperCreek HCS-40 – Level 2 EV Charging Station (32 Amp) Specifications
| | |
| --- | --- |
| Amp rating | 32 Amp |
| Level | Level 2 |
| Type | EV Charging Station |
| Cable Length | 25 Feet (7.6 m) |
| Nema | Hardwired or 6-50 / 14-50 (HCS-40P) |
| Power | 7.7 kW |
| Voltage | 240V |
| Connector | J1772 |
| Connectivity | None |
| IP Rating | NEMA 4 (IP66) |
| Display | 4 LED Lights |
| Warranty | 3-Year |
| Features | ETL / cETL / cUL/ UL certified, ENERGY Star Certified, NEMA 4 rated (IP66 equivalent), Cable management included, Easy to install – 3 wires + 4 mounting screws |
| What's in the box | EV Charger, SAE J1772 Connector Holster (wall mount); Connector Lock & Keys) |
| Weight | 13.5 lbs (6.1 kg) |
| Features | Tethered, Alexa & Google Home, Charge Scheduling |
ClipperCreek HCS-40 – Level 2 EV Charging Station (32 Amp) Charging specifications
The ClipperCreek HCS-40 is a one of ClipperCreek's most popular EV chargers. This is a 32-Amp EV Charger which can output up to 7.7 kW of electrical power and runs at a 240V voltage.
Now let's have a look at what this means in reality and for that, we're going to take 2 electric cars as examples: The first one would be a Tesla Model Y with the 75 kWh battery pack. This is a generous battery size for 2022 standards and it should take this charger about 11 hours to fully charge it from 1% to 100%. Basically, if you plug in at 9 o'clock at night, by 8 in the morning the car is fully charged.
If you are the owner of a Nissan LEAF which uses the standard 40 kWh battery pack which can be considered a small battery size by 2022 standards, it will only take 6 hours to charge it, so basically it will charge in less time that it takes you to sleep. Now these are just estimations and do not take into account any potential software throttling from the on-board charger and some manufacturers might do that usually when it gets to the upper end of the charging stage to protect the battery cells.
ClipperCreek HCS-40 – Level 2 EV Charging Station (32 Amp) Cable types and connectors
Now this electric car charging station comes in two versions: One is the standard HCS-40 which can only be hardwired to your home circuit, it comes with no plugs. Then the other one is the HCS-40P which is basically the NEMA Plug version which means you can buy the charger with either a 6-50 or a 14-50 connector. The "P" at the end of the name will always differentiate between the hardwired or plug versions.
It doesn't come with an adapter, so when you purchase it, you will have to know the exact type of household outlet you'll be plugging it into.
The cable length is 25 ft (7.6 meters) and the charge cord uses a J1772 connector to plug into any EV that is sold in North America including Tesla cars which now come with a J1772 adapter so that you can use any charging cable with it.
The cable is permanently fixed to this 32-Amp Level 2 charger, meaning you can't just disconnect it and replace it with another cable, making this a tethered charger.
ClipperCreek HCS-40 – Level 2 EV Charging Station (32 Amp) Features
The CliperCreek HCS-40 has no smart charging features like wifi connectivity or a smartphone app because this is not a smart charger. What are you missing? Well the charge scheduling feature which is essential in helping you take advantage of off-peak electricity as much as possible, however you can usually find this one on your car. Wherever it may be, we always recommend you use it. You also won't be able to keep track of your expenses or remotely start it and stop it.
It is meant to be simple to install, simple to use and durable. And speaking of durability, you'll be happy to know that this charger is IP66 rated meaning that it can be installed indoor or outdoor without any issues because it will take rain, snow, sun and dust and wind just fine. This kind of weather protection makes it suitable for home charging and workplace charging.
This electric vehicle charging station doesn't have any kind of LCD display mounted on it, instead it uses the standard 4 indicating LED lights: If it is powered on, if it is delivering power to the electric vehicle or if there is a fault either with getting power to the charger or with getting power to the vehicle.
The device has all the safety certifications that you would want on an EV charging station, it is ETL / cETL / cUL/ UL certified and also ENERGY Star certified.