The ClipperCreek LCS-30P is an EV Charging Station that can deliver decent charging speeds while offering full protection against any kind of weather.

PROS: Can be installed outside, decent charging speeds, range of wall connectors.

CONS: No smart charging features.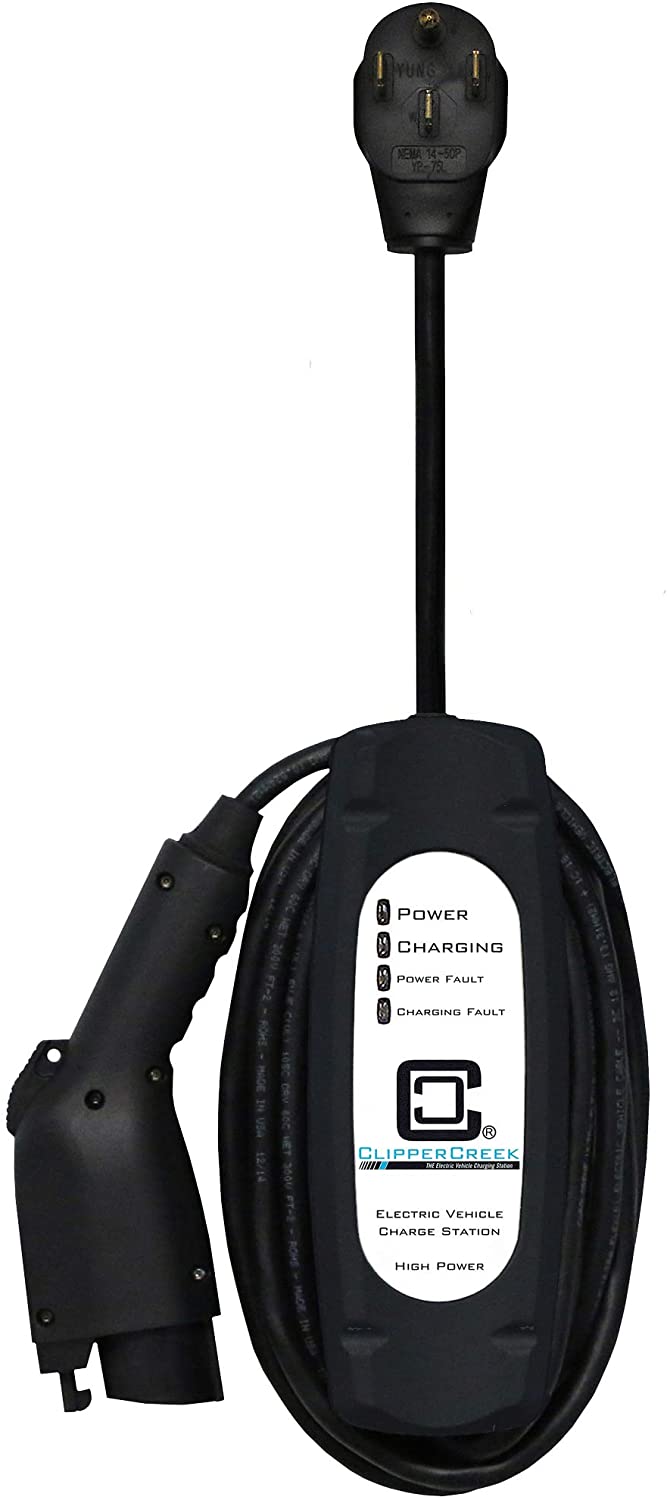 ClipperCreek LCS-30P – Level 2 EV Charging Station (24 Amp) Specifications
| | |
| --- | --- |
| Amp rating | 24 Amp |
| Level | Level 2 |
| Type | EV Charging Station |
| Cable Length | 25 Feet (7.6 m) |
| Nema | NEMA 6-50, 14-30 or 14-50 |
| Power | 5.8 kW |
| Voltage | 240V |
| Connector | J1772 |
| Connectivity | None |
| IP Rating | NEMA 4 (IP66) |
| Display | 4 LED Lights |
| Warranty | 3-Year |
| Features | ETL / cETL / cUL/ UL certified, ENERGY Star Certified, NEMA 4 rated (IP66 equivalent), Cable management included, Easy to install – 3 wires + 4 mounting screws |
| What's in the box | EV Charger, SAE J1772 Connector Holster (wall mount); Connector Lock & Keys) |
| Weight | 6.4 lbs (2.9 kg) |
| Features | Tethered, Alexa & Google Home, Charge Scheduling |
ClipperCreek LCS-30P – Level 2 EV Charging Station (24 Amp) Charging specifications
The ClipperCreek LCS-30P is a 24 Amp Level 2 Charging Station. It is capable of outputting up to 5.8 kW of power. To put things into charging times one can actually relate to, let's assume that you drive a Tesla Model Y which has a 75 kWh battery pack and you've just bought this particular EV Charging Station.
It will take about 7 hours to charge the Model Y from 50% to 100% and 15 hours to fully charge it from 1% to 100%. Considering that the average american drives about 26 miles per day, this electric vehicle charging station should have you easily covered.
Now this is a realistic scenario: If you arrive home and plug in at 8 in the evening and the car is at just 20% charge and then disconnect the charger at 8 in the morning, you should easily have all the 318 miles of range available the next day at your disposal.
ClipperCreek LCS-30P – Level 2 EV Charging Station (24 Amp) Cable types and connectors
The unit has a charging cable length of up to 25 feet (7.6 meters) when stretched out completely. This should be more than enough for most situations because even if you mount the charger in your garage and park your electric car in front of the garage, you'll still have plenty of feet of charging cable to reach its plug.
Speaking of plugs, this charger uses an SAE J1772 connector which makes it compatible with all EVs in North America. Now you may know that there is one big notable exception which is Tesla cars and that's because they use their own proprietary charge port however Tesla is now including a J1772 adapter with every car that they sell.
But then comes the question, how do I connect the charger to my home circuit? Well because this is a model with a "P" at the end, it comes with a NEMA plug. You can choose between a NEMA 6-50, 14-30 or 14-50 but you have to do so when you purchase the charger. With CliperCreek, the hardwired versions are the ones without a "P" at the end.
The charging cable is fixed to the unit, you can't switch it for a longer or shorter one, but you can find extension cords on Amazon.
ClipperCreek LCS-30P – Level 2 EV Charging Station (24 Amp) Features
The Clipper Creek LCS-30P is not a wifi-enabled charger, so you won't get any smart features like scheduled charging or real-time data and charging logs. However, out of all the smart features the only one that is deemed necessary is the scheduling function and you're likely to find that in your EV already. What it helps you with is to take advantage of off-peak electricity as much as possible and reduce your charging costs.
There are just 4 indicating LED lights on the charger which tell you if it is powered on, if it is actively charging the car or if there is a fault with either of these processes.
What this CliperCreek LCS-30 EVSE EV Charger does have is a sealed NEMA 4 enclosure. NEMA 4 is the equivalent of IP66 so the LCS-30 provides protection against water damage, dust and whatever nature might throw at it. The charger is also backed up by a 3-Year warranty.
With EV Batteries getting larger and larger, you may need faster charging speeds and if that is the case, then we recommend you have a look at the HCS line of Chargers from ClipperCreek which goes up to 64 Amps.