The ClipperCreek HCS-50 is a fast charging station which comes in two versions: Hardwired or with a NEMA connector (HCS-50P). It is not only fast but very tough on the outside because of its sealed NEMA enclosure.

PROS: Fast charging speeds, Sealed NEMA 4 enclosure, variety of wall connectors

CONS: No smart features embedded.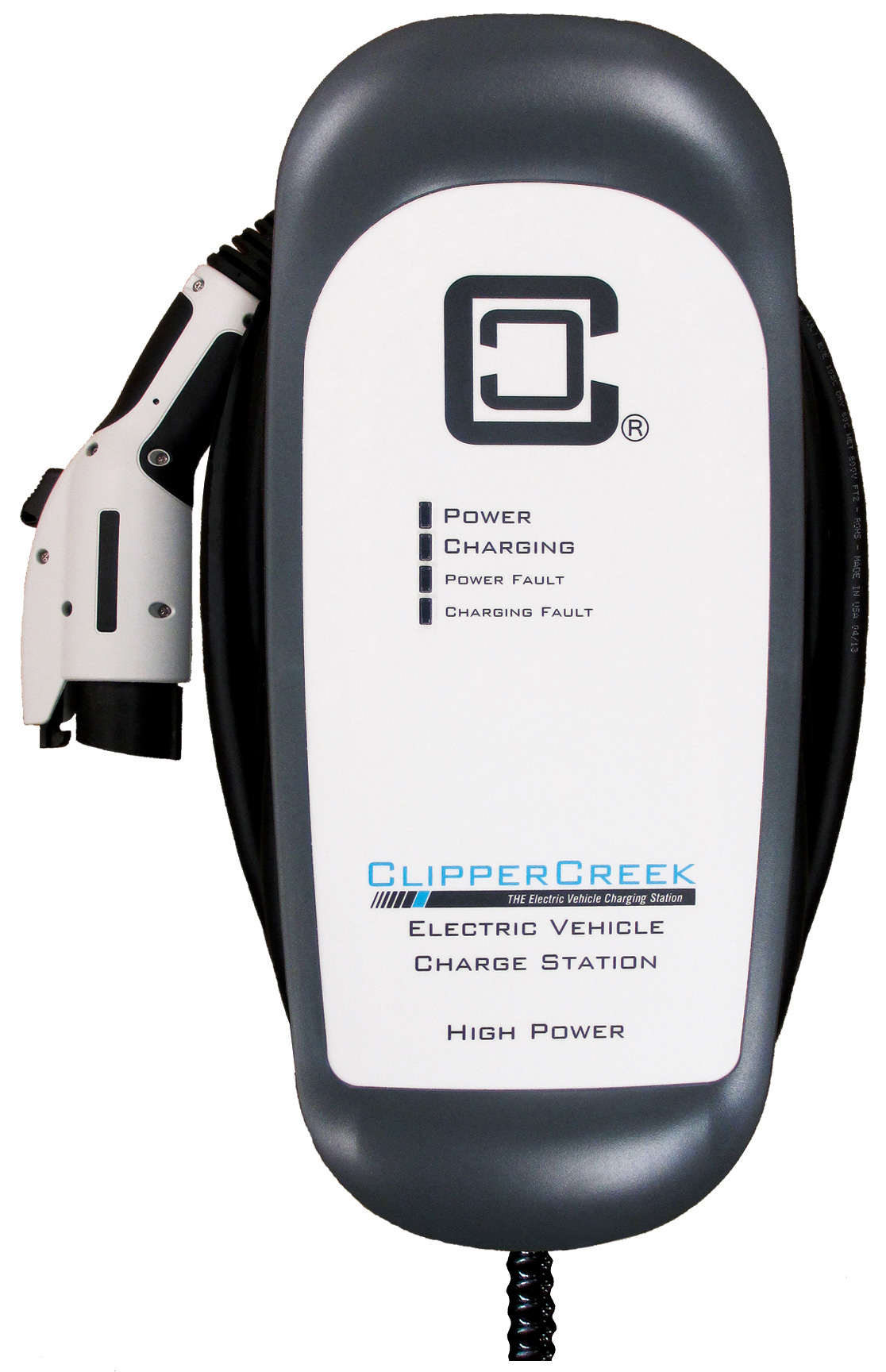 ClipperCreek HCS-50 – Level 2 EV Charging Station (40 Amp) Specifications
| | |
| --- | --- |
| Amp rating | 40 Amp |
| Level | Level 2 |
| Type | EV Charging Station |
| Cable Length | 25 Feet (7.6 m) |
| Nema | Hardwired or 6-50 / 14-50 (HCS-50P) |
| Power | 9.6 kW |
| Voltage | 240V |
| Connector | J1772 |
| Connectivity | None |
| IP Rating | NEMA 4 (IP66) |
| Display | 4 LED Lights |
| Warranty | 3-Year |
| Features | ETL / cETL / cUL/ UL certified, ENERGY Star Certified, NEMA 4 rated (IP66 equivalent), Cable management included, Easy to install – 3 wires + 4 mounting screws |
| What's in the box | EV Charger, SAE J1772 Connector Holster (wall mount); Connector Lock & Keys) |
| Weight | 14 lbs (6.3 kg) |
| Features | Tethered, Alexa & Google Home, Charge Scheduling |
ClipperCreek HCS-50 – Level 2 EV Charging Station (40 Amp) Charging specifications
The ClipperCreek HCS-50 is an electric vehicle charging station which can deliver 40 Amps of electrical current and up to 9.6 kW of power. Now we need to put this in real terms because 9.6 kW doesn't mean much.
Let's take the Tesla Model Y as the benchmark example: It is fitted with a 75 kWh battery pack and thus charging it from 1% to 100% at a rate of 9.6 kW will take about 9 hours. Now in reality you're most likely never going to be charging from 1% but hey, sometimes it happens. The idea is that this EV charging station can fully charge your car overnight and that's what matters.
If you drive an EV that has a smaller battery pack like the BMW i3 or Nissan LEAF which comes in versions of 40 kWh and 62 kWh, then it's unquestionable that it will be fully charged while you get some sleep. Because the power is so high, sometimes you might find yourself limited by the on-board charger of the car so make sure the car can take this amount of power.
ClipperCreek HCS-50 – Level 2 EV Charging Station (40 Amp) Cable types and connectors
Now let's have a look at the cable situation, first of all you'll be glad to know it has a 25 ft. long charging cable (About 7.6 meters) and that cable uses an SAE J1772 connector to plug into your car's charge port, making it compatible with virtually any EV that is sold in North America and this includes the line of Tesla cars which although use their proprietary charge port, they do now come with a J1772 adapter.
The charge cord itself is permanently attached to the charger and can't be swapped and this is why it is called a Tethered charger. However in the US this term is not popular because the only chargers that are sold are tethered. In Europe you can buy charging stations which come separately from the cable and you get to choose your cable length and connector.
Now the HCS-50 comes in two versions depending on the plug situation: You can either get it as a hardwired model and that would be the standard HCS-50 or you can get it with a NEMA 6-50 or 14-50 plug and just connect it to the 240V wall outlet that you have installed and that is the HCS-50P.
Now because the HCS-50P is a 40-Amp charger, it is within range of the 20% rule so that it can reach its full potential in both situations when plugged in or hardwired, any more Amps and hardwired would have been the only choice in order to get full power.
ClipperCreek HCS-50 – Level 2 EV Charging Station (40 Amp) Features
The ClipperCreek HCS-50 does lack smart charging features, there's no connectivity or charge scheduling. While you can dismiss some of the features of smart chargers like extensive reporting or real-time data as being unnecessary geek material, the scheduling function really does help to maximize the use of off-peak electricity especially in the context of rising energy prices. However you'll be glad to know that your EV most likely has this function built into it.
Where this electric car charger does shine is at its NEMA 4 rating, the rough equivalent of IP66. This means you can have the charger installed indoor or outdoor, it can withstand rain, snow, storms and dust. This is the kind of charger which you can easily install outside and leave it there in the pouring rain.
This home charger doesn't come with an LCD display, instead you get the typical 4 indicating LED lights so that you know what the charger is up to. There's one to tell you if it's powered on, one if its powering the car and 2 for faults either with getting power from the grid or delivering power to the electric vehicles.
The charger comes with a 3-Year warranty which is inline with what you get from other charging stations in this price range.