The ClipperCreek HCS-60 is an extremely fast charging station that can charge literally any EV on the market overnight. Not only that but it is also tough thanks to its NEMA 4 enclosure.

PROS: Very fast charging, sealed NEMA 4 enclosure (IP66).

CONS: No wifi / smartphone app.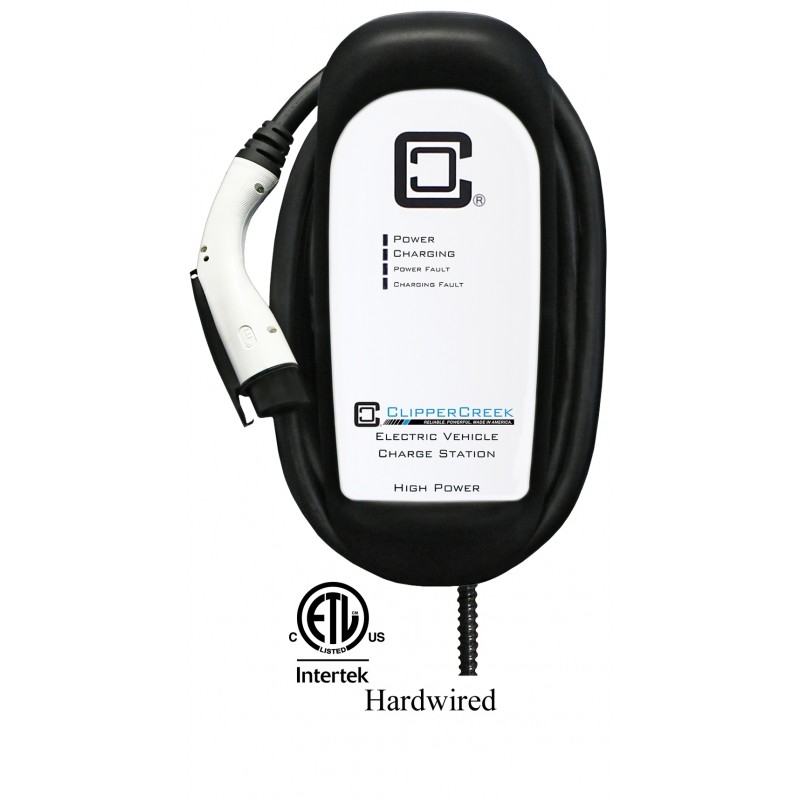 ClipperCreek HCS-60 – Level 2 EV Charging Station (48 Amp) Specifications
| | |
| --- | --- |
| Amp rating | 48 Amp |
| Level | Level 2 |
| Type | EV Charging Station |
| Cable Length | 25 Feet (7.6 m) |
| Nema | Hardwired |
| Power | 11.5 kW |
| Voltage | 240V |
| Connector | J1772 |
| Connectivity | None |
| IP Rating | NEMA 4 (IP66) |
| Display | 4 LED Lights |
| Warranty | 3-Year |
| Features | ETL / cETL / cUL/ UL certified, ENERGY Star Certified, NEMA 4 rated (IP66 equivalent), Cable management included, Easy to install – 3 wires + 4 mounting screws |
| What's in the box | EV Charger, SAE J1772 Connector Holster (wall mount); Connector Lock & Keys) |
| Weight | 20.6 lbs (9.3 kg) |
| Features | Tethered, Alexa & Google Home, Charge Scheduling |
ClipperCreek HCS-60 – Level 2 EV Charging Station (48 Amp) Charging specifications
The ClipperCreek HCS-60 is a highly powerful 48 Amp Level 2 EV Charging Station. It can deliver up to 11.5 kW of power to your electric car which means that by our estimations it will charge a Tesla Model Y which comes with a standard 75 kWh battery pack in just about 6 hours from 1% to 100%. Even if you drive a Ford F150 which comes with a gigantic 98 kWh battery pack it would still charge in about 8 hours, less time than it takes you to get a good night's sleep.
This is the charger you want when you are the driver of an EV with a large battery. When buying an EV Charger like this, it is also worth it to check if the on-board charger on your EV can take this amount of power because while a Tesla Model Y can, there are plenty of cars limited to 7.6 kW and even 6.6 kW.
This particular EVSE Charging Station can achieve some of the best charging times that you can get from a retail home charger.
ClipperCreek HCS-60 – Level 2 EV Charging Station (48 Amp) Cable types and connectors
Now let's look at the cable management situation. This particular electric car charger comes with a charging cord that is 25 foot long (7.6 meters) which uses the SAE J1772 connector which is the standard in North America, so you can expect to charge any EV with it even Tesla cars through the use of the included adapter which comes with them. In the package there's also a wall mount connector holster included.
Now the ClipperCreek HCS-60 doesn't come with a wall plug and that makes sense since the only way to get it to maximum power is to hardwire it to a 60 Amp circuit breaker since there is no 240V outlet that can max out its performance.
All those 25 feet of charging cable are permanently fixed to the unit and can't be disconnected making it a tethered EV Charger. In North America, all of them are tethered chargers and in Europe manufacturers tend to sell the charging unit separately from the cable. That way you can find a cable with a length that suits your situation.
ClipperCreek HCS-60 – Level 2 EV Charging Station (48 Amp) Features
One of the big advantages of this powerful EV charger is that it is perfectly suitable for indoor or outdoor installation thanks to its sealed NEMA 4 enclosure. The NEMA 4 rating is the rough equivalent of what IP66 is, so the device is completely waterproof and dustproof so rain, snow or even dust storms won't tamper with the charging process.
One of the disadvantages is the HCS-60's lack of any kind of smart charging features. It doesn't have wifi or a smartphone app to connect to it. Since there isn't a scheduled charging function on the charger, you'll need to use the one on your EV (Which is very likely to have it) in order to have it only charge during off-peak hours and thus save on your energy bill.
It comes 4 LED lights that indicate the charging status: one to tell you if it is getting power from the circuit, one to indicate if it is delivering power to your EV and two LEDs for any kinds of faults that may appear.
This electric vehicle charging station has all the necessary safety features, it is UL and Energy Star Certified. For a more detailed list of all the certifications that it has, check out the specifications table at the beginning of the page. This Clipper Creek charger is backed up by a 3-year warranty.