The ClipperCreek D40 can charge two electric vehicles simultaneously on one circuit with reasonably fast charging speeds.

PROS:Can charge 2 EVs simultaneously, sealed NEMA 4 enclosure.
CONS:No smart features.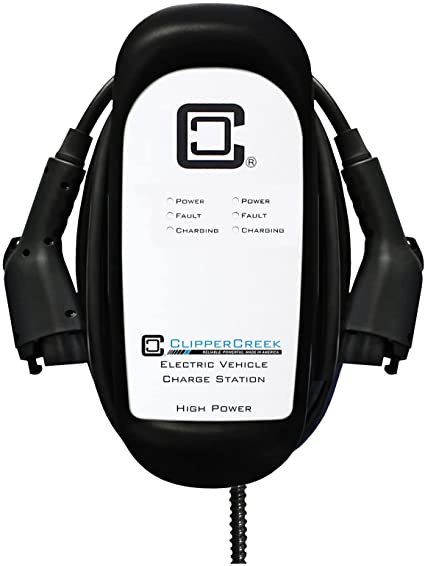 ClipperCreek HCS-D40 – Level 2 EV Charging Station (32 Amp) Specifications
| | |
| --- | --- |
| Amp rating | 32 Amp |
| Level | Level 2 |
| Type | EV Charging Station |
| Cable Length | 25 Feet (7.6 m) |
| Nema | Hardwired or NEMA 6-50 / 14-50 (HCS-D40P) |
| Power | 7.7 kW |
| Voltage | 240V |
| Connector | J1772 |
| Connectivity | None |
| IP Rating | NEMA 4 (IP66) |
| Display | 4 LED Lights |
| Warranty | 3-Year |
| Features | ETL / cETL / cUL/ UL certified, ENERGY Star Certified, NEMA 4 rated (IP66 equivalent), Cable management included, Easy to install – 3 wires + 4 mounting screws |
| What's in the box | EV Charger, SAE J1772 Connector Holster (wall mount); Connector Lock & Keys) |
| Weight | 21 lbs (9.5 kg) |
| Features | Tethered, Alexa & Google Home, Charge Scheduling |
ClipperCreek HCS-D40 – Level 2 EV Charging Station (32 Amp) Charging specifications
The ClipperCreek HCS-D40 is a 32-Amp dual charging station which which can charge output up to a total of 32 Amps of electric current. This means that it can output up to 7.7 kW of power. Now because this is a dual charging station, it can charge 2 EVs at the same time so that power gets evenly distributed between the two cars.
Now what does this mean? Let's say that you want to charge 2 Nissan LEAF electric vehicles which both use the standard 40 kWh battery pack and so each is going to get 16 Amps exactly as CliperCreek specified, which would be about 3.9kW per vehicle and each car is going to take about 11-12 hours to charge if they are both plugged in.
But the charge system will deliver 32 Amps when one vehicle is connected and so the same Nissan LEAF will now take just 6 hours to charge. A Tesla Model Y which uses a 75 kWh battery pack takes about 11 hours to fully charge if only one cable is in use.
The conclusion which we can draw from these estimations is that you can charge two electric cars with small battery packs overnight from empty to full, but when the batteries get much bigger, then it's going to take a bit more. But realistically you won't always be charging from 1%. You can charge 2 Tesla Model Y cars overnight if they have 50% charge left in them by the time you plug in.
ClipperCreek HCS-D40 – Level 2 EV Charging Station (32 Amp) Cable types and connectors
The Clippercreek HCS-D40 dual charging station can be hardwired or you can plug it into a NEMA 6-50 or 14-50 outlet and the version with the NEMA plug is called the HCS-D40P. Now if you choose the hardwired version, make sure you connect it to a at least a 40 Amp circuit breaker so that the EV Charging Station can reach its full fast charging capability.
The EV Charging cables are both 25 feet (7.6 meters) long and they use an SAE J1772 connector which is compatible with all EVs in North America, even Tesla models which use their own proprietary charging port because they now come with a J1772 adapter.
Both cables are permanently fixed to this dual charger, they can't be switched for longer or shorter ones making it a tethered charger which is the norm for all those sold in North America.
ClipperCreek HCS-D40 – Level 2 EV Charging Station (32 Amp) Features
ClipperCreek chargers do not come with any smart charging features, so they lack wifi connectivity or a smartphone app. You just get the charger with 6 indicating LED lights on it, 3 for each cable telling you if the charger is powered on, if it is charging the car or if there's a fault preventing it from doing so.
One of the big advantages to the ClipperCreek charger is its sealed NEMA 4 enclosure (Rough equivalent to IP66) which makes it completely suitable for indoor or outdoor installation. It protects it from any weather including raing, snow, dust or dust storms. Each HCS-D40 comes with a 3-Year warranty. It is Energy Star rated and much more, you can check all the certifications in the specifications table.