The ClipperCreek HCS-80 is one of the fastest Home EV Chargers in the world and the perfect EV Charge solution for cars with battery packs over 70 kW.

PROS: Extremely fast charging speeds, Can be installed outdoor, multiple safety certifications.

CONS: No smart features.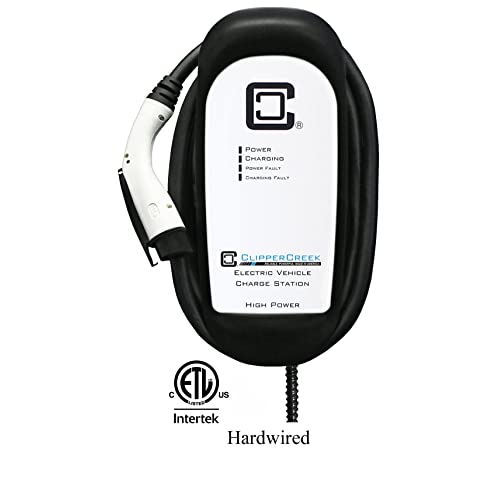 ClipperCreek HCS-80 – Level 2 EV Charging Station (64 Amp) Specifications
| | |
| --- | --- |
| Amp rating | 64 Amp |
| Level | Level 2 |
| Type | EV Charging Station |
| Cable Length | 25 Feet (7.6 m) |
| Nema | Hardwired |
| Power | 15.4 kW |
| Voltage | 240V |
| Connector | J1772 |
| Connectivity | None |
| IP Rating | NEMA 4 (IP66) |
| Display | 4 LED Lights |
| Warranty | 3-Year |
| Features | ETL / cETL / cUL/ UL certified, ENERGY Star Certified, NEMA 4 rated (IP66 equivalent), Cable management included, Easy to install – 3 wires + 4 mounting screws |
| What's in the box | EV Charger, SAE J1772 Connector Holster (wall mount); Connector Lock & Keys) |
| Weight | 20.6 lbs (9.3 kg) |
| Features | Tethered, Alexa & Google Home, Charge Scheduling |
ClipperCreek HCS-80 – Level 2 EV Charging Station (64 Amp) Charging specifications
If you thought the ChargePoint Home Flex is as fast as any home EV Charger will get, then think again because this is one of the fastest home chargers in the world. The ClipperCreek HCS-80 hardwired 240V 64A EV Charger moves the goal post for how fast a home charger can actually be given that it can output 64 Amps of electrical current and up to 15.4 kW of power.
Now the first problem you'll be running into with a 64 Amp Level 2 charger is that not all electric cars can actually handle this fast charging speed since their on-board charger usually limits them to 11.5, 9.6 or even 6.6 kW. But there are a few which can, for example the Ford F-150 Lightning Extended Range.
Its giant 131 kWh battery pack can be fully charged from 20% to 100% using this Clippercreek product in just about 8 hours. The Tesla Model S Dual-Motor version also comes with a high-power on-board charger. For example, if you start from 20% charge it will take about 3.5 hours for the S60, 4 hours for the S70, 5 for the S85 and S90 and 6 hours for the S100. It is fair to say that charging speeds are extremely fast with this one. Lovely.
ClipperCreek HCS-80 – Level 2 EV Charging Station (64 Amp) Cable types and connectors
Now let's talk wires and cables because those are the ones that transport this amazing power from the grid to the car. First of all, it uses a charging cord which can stretch out up to 25 feet (7.6 meters). That charging cable uses an SAE J1772 connector which is compatible with most EVs which are sold in the US. Even if you have a Tesla vehicle that has its own proprietary charge port, it still comes with a J1772 adapter.
Now let's look at the other side of the cables, more specifically the way in which we connect it to your home circuit. That is going to be solely by hardwiring the charger. There is no point in having a NEMA connector because even a 14-50 will only take it up to 40 Amps. You can have a licensed electrician connect it to your circuit and upgrade the fuses on the electrical panel.
This is a tethered charger, meaning that the 25 ft charging cable is fixed to the unit and cannot be disconnected and replaced with another one as is the case with untethered chargers which are mostly sold in Europe. In the US, tethered chargers are the norm.
ClipperCreek HCS-80 – Level 2 EV Charging Station (64 Amp) Features
Just like all the chargers that Clippercreek releases, this one does not have any smart charging features. So no wifi connectivity or smartphone app. Now when it comes to smart charging, one of the essential features is charge scheduling but you're very likely to find that function on your EV. There's no LCD display on the unit either, instead you make use of the 4 indicating LED lights which tell you if it's powered up, if the car is getting power from the charger or if there's a fault with one or the other charging processes.
One of the best things about this electric vehicle charger is its sealed NEMA 4 enclosure. Now if you're not familiar with this standard, you can think of it as the IP66 equivalent which means it is waterproof, dustproof and weatherproof. You can install it indoor or outdoor and it won't matter if it is snowing or raining on it.
This has become the norm with all EV Charging stations built by Clippercreek inc. It also packs all the safety certifications you'll ever need and you can find them in the specifications table above. This electric car charger is also backed up by a 3-year warranty.