The ClipperCreek HCS-D50 is a dual EV Charging station which can charge two EVs simultaneously at a fairly fast charging rate. It also uses a sealed NEMA 4 enclosure which makes it suitable for outdoor installation.

PROS: Fast dual charging speed, sealed NEMA 4 enclosure.

CONS: No smart charging features.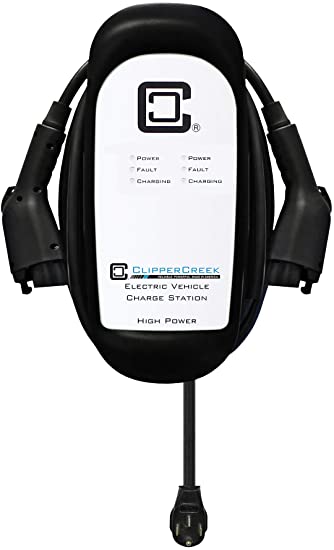 ClipperCreek HCS-D50 – Level 2 EV Charging Station (40 Amp) Specifications
| | |
| --- | --- |
| Amp rating | 40 Amp |
| Level | Level 2 |
| Type | EV Charging Station |
| Cable Length | 25 Feet (7.6 m) |
| Nema | Hardwired or NEMA 6-50 / 14-50 (HCS-D50P) |
| Power | 9.6 kW |
| Voltage | 240V |
| Connector | J1772 |
| Connectivity | None |
| IP Rating | NEMA 4 (IP66) |
| Display | 4 LED Lights |
| Warranty | 3-Year |
| Features | ETL / cETL / cUL/ UL certified, ENERGY Star Certified, NEMA 4 rated (IP66 equivalent), Cable management included, Easy to install – 3 wires + 4 mounting screws |
| What's in the box | EV Charger, SAE J1772 Connector Holster (wall mount); Connector Lock & Keys) |
| Weight | 21 lbs (9.5 kg) |
| Features | Tethered, Alexa & Google Home, Charge Scheduling |
ClipperCreek HCS-D50 – Level 2 EV Charging Station (40 Amp) Charging specifications
When you have two EVs in your home, you basically have two options: The first option is to buy 2 chargers which you connect to your home circuit. Now the precondition here is that they must have a power sharing function since they'll most likely be connected to the same circuit breaker and you do not want to blow the fuse the second you start charging the second car. Devices like the Enel X JuiceBox or the Wallbox fit this description. The other option is to buy a Dual EV Charger such as the Grizzl-E Duo or this one from Clippercreek inc.
This ClipperCreek HCS-D50 is a dual EV Charging station which can charge two vehicles simultaneously, automatically splitting power between two vehicles that are connected to it. And speaking of this power, you'll be happy to know that this electric vehicle charger can output up to 40 Amps of electrical current and 9.6 kW of power.
Let's put those numbers through some maths and a realistic scenario. Let's say you have two Tesla Model Y cars with the 75 kWh battery pack, a generous one for now but what will become the standard in a few years. If you finish the day at a 50% charge left in both cars, it will only take about 9 hours when both cars are plugged in to get them fully charged. So if you plug in at 11 at night, you can have it ready to go at 8 in the morning. Now if you would plug in just one of them then the charger would direct full power to it and it would be done charging in about 4-5 hours.
Now if you connect 2 plug-in hybrids you are guaranteed to have them fully charged from 1% to 100% overnight since those use much smaller batteries.
ClipperCreek HCS-D50 – Level 2 EV Charging Station (40 Amp) Cable types and connectors
Now let's have a look at the charging cables in dual charging station: It's simple, there's two of them and they are 25 feet long (7.6 meters). Both use the standard J1772 connector that you'll find everywhere in North America.
Now in terms of the wall connector, there are two versions of this particular EV Charger: hardwired or plug-in. The HCS-D50 comes with no plug whatsoever, so you need to connect it directly to the home circuit however the HCS-D50P comes with a NEMA 6-50 or 14-50 connector.
Both of the cables are permanently attached to the charger, so you can't replace them but you can make them longer by buying a J1772 extension cord.
ClipperCreek HCS-D50 – Level 2 EV Charging Station (40 Amp) Features
This charger has no connectivity or smart features, instead it strives to be a simple to use, plug-and-go charger. You'll only find 4 indicating LED lights on the front of the case telling you if it is powered on, if it is charging the electric car or if there's a fault in getting power or delivering it for that matter. So given the situation, if you want to use more off-peak electricity and schedule your charging times accordingly, then you'll need to use your EV's on-board function.
One of the HCS-D50's biggest advantages is the rugged fully sealed NEMA enclosure which makes it perfectly suitable for indoor or outdoor installation.
This home charging station comes with Clippercreek's 3-year warranty and outstanding customer service as they call it. This is something we cannot weigh in on since we have not been a customer of theirs yet, however the consensus among long term customer reviews seem to indicate that.