We selected the perfect 3 Dual EV Chargers which can charge your 2 Electric Vehicles at the same time. They all come with 2 charging cables and are fully compatible with all EVs in North America.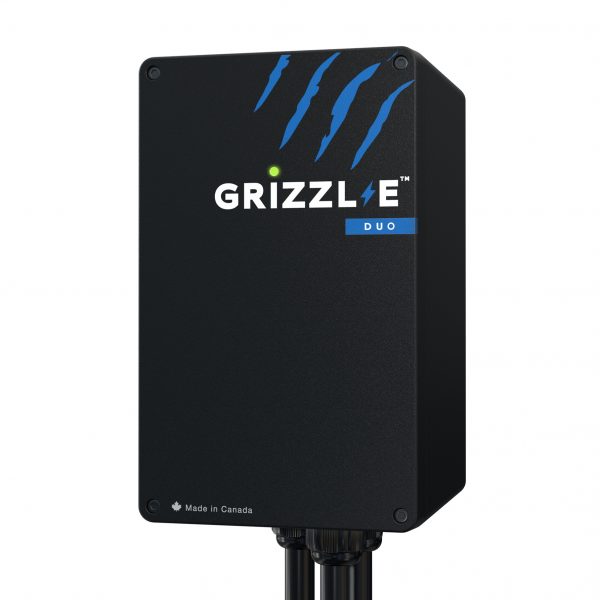 Let's have a look at each product in particular.
Grizzl-E Duo – Level 2 EV Charging Station (40 Amp)
The first and most successful Dual EV Charger in the US is the Grizzl-E Duo. This one is derived from the Grizzl-E Classic. What they basically did was add another charging cable and implemented power sharing amongst them.
The Duo comes with 2 charge cords, both of which have a length of 24 feet (7.3 meters). The charger itself is capable of outputting up to 40 Amps of electrical current and 10 kW of power. Now it is important to understand that this power will be distributed amongst the 2 chargers, so in reality for example if you want to charge 2 Tesla Model Y cars which have a generous 75 kWh battery pack from 20% to 100% it should take about 14 hours.
This would mean that you'd have to plug in at about 6-7 in the evening and you'll have it fully charged by the time you leave for work in the morning. However if you only plug in one Model Y, then it will be able to use all the power that the charger has to offer and it should be fully charged in about 7 hours.
You can connect it to your home circuit either by hardwiring it to a 50-Amp circuit breaker or by using the included NEMA 14-50 connector. Both charging cables use the SAE J1772 connector which is the standard throughout North America.
The Grizzl-E Duo doesn't come with any smart charging features, so you don't get wifi connectivity or a smartphone app. You'll need to rely on your EV for the charge scheduling function.
But one of its strongest advantages in the EV space is the fact that it has an IP67 rating which makes it one of the toughest and most durable chargers that you can buy since it can withstand not just rain, snow, heat and fire but it can also be immersed in water for a short wile and it will still work after that. This dual charger is covered by a 3-Year warranty.
ClipperCreek HCS-D40 – Level 2 EV Charging Station (32 Amp)
Then we have our second Dual EV Charger, which is called the ClipperCreek HCS-D40. This one can also charge two electric cars at the same time with the help of 2 cables that span up to 25 feet long (7.6 meters).
This particular dual charging station doesn't have the charge speed of the Grizzl-E because it can only output up to 32 Amps of electrical current and 7.7 kW. When considering the fac that this amount of power will need to be distributed to two distinct EVs you realise that it will take more time to charge the same Tesla Model Y from 20% to 100%, more specifically about 18 hours.
So this electric vehicle charging station is better suited for EVs with a smaller battery pack, though if you do the math, the average american drives about 26 miles per day and a full charge on a Tesla Model Y will last more than 10 days at that rate so you would only end up charging it on the weekend but of course, the amount of miles varies greatly from person to person.
Now the standard version of this residential charging station is meant to be hardwired, however there is also the option of buying the HCS-D40P which comes with a 6-50 / 14-50 NEMA connector.
Just like the Grizzl-E Duo, it is not a smart charger either so it lacks Wifi connectivity and the option of a smartphone app. You won't find an LCD display on the charging unit either, only 4 indicating LED lights, one to tell you if it is getting power, one to tell you if that power is getting delivered and two for any kind of fault that could appear with either of these 2 processes.
And also just like the Duo, this one is a tough and durable home charger because it has a NEMA 4 rating which is the equivalent of IP66, so it can charge 2 vehicles simultaneously indoor and outdoor.
ClipperCreek HCS-D50 – Level 2 EV Charging Station (40 Amp)
The last Dual EV Charger that we're going to review here is the fast charging version of the ClipperCreek HCS-D40 which is the D50. This EV charging station can output up to 40 Amps of electrical current and up to 9.6 kW of power. Basically this is the only difference between this one and the D40, just in speed because in every other aspect they are literally the same.
But how does this translate into extra miles of range per hour of charge? Well, this one can charge 2 Tesla Model Y cars in exactly the same time as the Duo since they have almost the same power rating, so you can expect about 14 hours to fully charge it from 20% to 100%. That time will go down to about 7 hours when you charge a single EV.
Given that you'll be charging 2 cars and have to split power amongst them, it would be our choice to purchase this one over the D40, especially if you own electric vehicles with large battery packs.