The ClipperCreek LCS-20P is a tough and versatile EV Charger which can be great if you own a plug-in hybrid or an EV with a small battery.

PROS:NEMA 4 rated enclosure (IP66), 3-Year warranty, multiple wall connectors.

CONS: The charging speed is not the best. No smart features.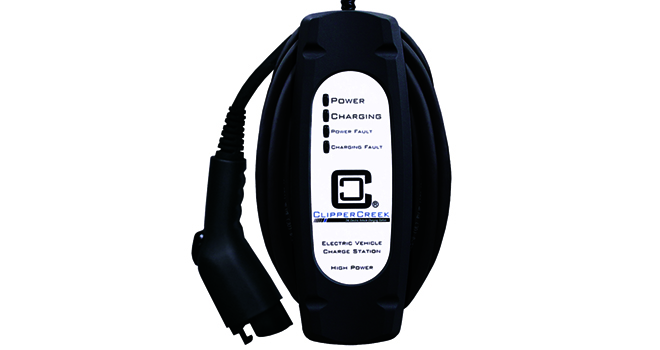 ClipperCreek LCS-20P – Level 2 EV Charging Station (16 Amp) Specifications
| | |
| --- | --- |
| Amp rating | 16 Amp |
| Level | Level 2 |
| Type | EV Charging Station |
| Cable Length | 25 Feet (7.6 m) |
| Nema | NEMA 6-50, 14-30 or 14-50 |
| Power | 3.3 kW |
| Voltage | 240V |
| Connector | J1772 |
| Connectivity | None |
| IP Rating | NEMA 4 (IP66) |
| Display | 4 LED Lights |
| Warranty | 3-Year |
| Features | ETL / cETL / cUL/ UL certified, ENERGY Star Certified, NEMA 4 rated (IP66 equivalent), Cable management included, Easy to install – 3 wires + 4 mounting screws |
| What's in the box | EV Charger, SAE J1772 Connector Holster (wall mount); Connector Lock & Keys) |
| Weight | 5.6 lbs (2.5 kg) |
| Features | Tethered, Alexa & Google Home, Charge Scheduling |
ClipperCreek LCS-20P – Level 2 EV Charging Station (16 Amp) Charging specifications
This is the ClipPerCreek LCS-20P, which is their entry-level charger that can output up to 16 Amps of electrical current. It is a charging station, so it is meant to be mounted on the wall, it is not designed to be portable.
Now this is a Level 2 charger, so it will need to plug into a 240V outlet so you'll need to make sure you have one of those in your home. We'll talk about the specific connectors in a minute. Right now we want to focus on the power output because that is what counts in the end.
This charger can output up to 3.3 kW of power and we'll explain what that means with 3 cars as examples: If you drive a Mitsubishi Outlander PHEV with a 20 kWh battery pack it is going to take about 7 hours to fully charge its battery from 1% to 100%. Now if you are the EV owner of a Nissan LEAF with a higher 40 kWh battery size, then it is going to take about 14 hours. Now that is manageable because if you come home at 8 o'clock in the evening, plug in then drive away at 8 in the morning, in practice your car will always be on a full charge.
Now if you drive a Tesla Model Y with the 75kWh battery pack then it's going to take about 25 hours to fully charge it. But still, you're usually not going to use the entirety of the car's battery in one day. Studies show that the average american drives about 26 miles per day.
ClipperCreek LCS-20P – Level 2 EV Charging Station (16 Amp) Cable types and connectors
Now let's look at the connectors: This charger can be plugged into either a NEMA 6-50, a 14-30 or a 14-50 household outlet. When you purchase the Clippercreek LCS-20P charging station you will need to choose which kind of connector you want, however if you have to change outlets later, you can buy adapters for that on Amazon.
It comes with a 25 ft. charge cable which uses an SAE J1772 connector. That specific connector is the standard for all EVs that are manufactured and distributed throughout North America with of course the notable exception of Tesla cars, however do not fear as you can charge any Tesla car with your CliperCreek LCS-20P EV Charger because all Tesla models now come with an adapter when you buy them.
This charger is tethered, meaning you can't simply change the EV charger cables because they are permanently connected to the charger. This is the custom with chargers in the US as those in Europe tend to be more untethered.
ClipperCreek LCS-20P – Level 2 EV Charging Station (16 Amp) Features
The ClipperCreek electric vehicle charging stations don't have any kind of smart charging features, instead they rely on the idea of durability and ease of use. This means you don't get wifi connectivity or charge scheduling. The scheduling feature is often found built into EVs, so you're probably not going to miss that and we encourage you to use it, since it is the best tool to make the most of off-peak electricity and reduce your charging cost.
There is no LCD display either on this EV charging station, just the usual 4 indicating LED lights: one which tells if you if the charger is getting power, one if it is delivering that power to the electric car and two for faults.
Now one of the big advantages of the CliperCreek LCS-20P is its sealed NEMA 4 rated enclosure which is indoor-outdoor rated. NEMA 4 is the equivalent of IP66, making this home electric vehicle charger able to withstand any kind of weather be it freezing rain, snow or dust storm. It is also safety certified, you can read the entire list of certifications (UL Certified, Energy Star Certified) in the specs table and we won't get into that.
One of the big advantages for this price point is the fact that it has 3 full years of warranty. Usually in this price range you get either one which is usually the case with portable chargers or maybe two. If this electric car charger is not fast enough for your EV, then have a look at the Clipper Creek LCS-25 which is a bit faster.