The ClipperCreek LCS-25P is a great 20 Amp Level 2 EV Charging Station which can easily charge a small EV overnight and is protected by a sealed NEMA 4 enclosure making it suitable for outdoor installation.

PROS: Decent charging speed, NEMA 4 Enclosure.

CONS: No smart features.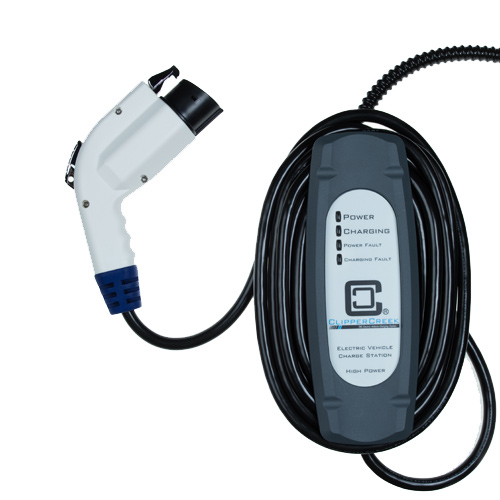 ClipperCreek LCS-25P – Level 2 EV Charging Station (20 Amp) Specifications
| | |
| --- | --- |
| Amp rating | 20 Amp |
| Level | Level 2 |
| Type | EV Charging Station |
| Cable Length | 25 Feet (7.6 m) |
| Nema | NEMA 14-30 or 14-50 |
| Power | 4.8 kW |
| Voltage | 240V |
| Connector | J1772 |
| Connectivity | None |
| IP Rating | NEMA 4 (IP66) |
| Display | 4 LED Lights |
| Warranty | 3-Year |
| Features | ETL / cETL / cUL/ UL certified, ENERGY Star Certified, NEMA 4 rated (IP66 equivalent), Cable management included, Easy to install – 3 wires + 4 mounting screws |
| What's in the box | EV Charger, SAE J1772 Connector Holster (wall mount); Connector Lock & Keys) |
| Weight | 6.6 lbs (3.0 kg) |
| Features | Tethered, Alexa & Google Home, Charge Scheduling |
ClipperCreek LCS-25P – Level 2 EV Charging Station (20 Amp) Charging specifications
The ClipperCreek LCS-25P is an electric vehicle charging station which can output up to 20 Amps of electrical current. This device is a Level 2 charger which can output up to 4.8 kW of power. So let's have a look at how this translates to realistical charging times.
So if you drive a standard Tesla Model Y, it's going to take about 9 hours to charge it from 50% to 100% and about 18 hours to fully charge it from 1% to 100%. So given that the regular american drives about 26 miles per day, this one will have your car ready for much more than that after an overnight charging session.
If however you drive a Nissan Leaf with the 40 kWh battery pack, then you can expect your car to fully charge overnight from 1% to 100% because it only takes about 9-10 hours.
ClipperCreek LCS-25P – Level 2 EV Charging Station (20 Amp) Cable types and connectors
Let's have a look at the connectors and charging cables of this electric vehicle charger. You can plug it into a NEMA 14-30 or 14-50 household outlet. With ClipperCreek products, if the device has a "P" at the end of the name, then it comes with some kind of plug but otherwise it is usually hardwired and this is something that a licensed electrician can easily do.
The charge cord is about 25 feet long (7.6 meters) and it plugs into the car's charge port using a standardized SAE J1772 connector as it is customary with every EV Charging Station in North America. Now the only rebels in the picture are Tesla because everyone else uses J1772 and they decided to develop their own proprietary charge port, but even they provide a J1772 adapter so you should be fine.
The cable is fixed to the charger, you can't just swap it for another cable. If it is too short, you can buy a J1772 extension cord off Amazon, they're about 150$ a piece and can double your length. From this point of view, European chargers are smarter because you buy the EV Charger and then plug in whatever cable suits your situation most.
ClipperCreek LCS-25P – Level 2 EV Charging Station (20 Amp) Features
The ClipperCreek LCS-25P is not a wifi-enabled charge solution and there are no smart features of any sort. The device itself is pretty basic, you just get 4 indicating LED lights, one which can tell you if the device is getting power from the grid, one that tells you if it is also sending that power to the car and two are reserved for faults either in charging the car or with getting power from the outlet.
Now the question would be: Am i missing anything by not instead opting for a smart charger? Well the first and most important would be charge scheduling which is a function that helps you tell the charger the time of day when you want it to use power and you'll usually want to do that late at night since electrical energy is the cheapest during those hours, however most EVs have this kind of function built into them so you'll very likely have it. Then there are detailed reports on charging sessions and real-time data which you can do without if you're not interested.
One of the best things about it is its sealed NEMA 4 (IP66) enclosure which protects the LCS-25P EV Charger from rain, snow, dust and anything else that the weather can throw at it. This in itself represents a great EV charge solution for the indoor and outdoor.
The charger is also backed up by a 3-Year warranty.