The Electrify America Homestation is a very fast EV charger for your home which provides all the smart charging features that you will ever need. It can fully charge more than 95% of the EVs on the market overnight.

PROS: Fast charging speeds, Wifi connectivity & Smartphone app, Great design.

CONS: The enclosure is not weatherproof.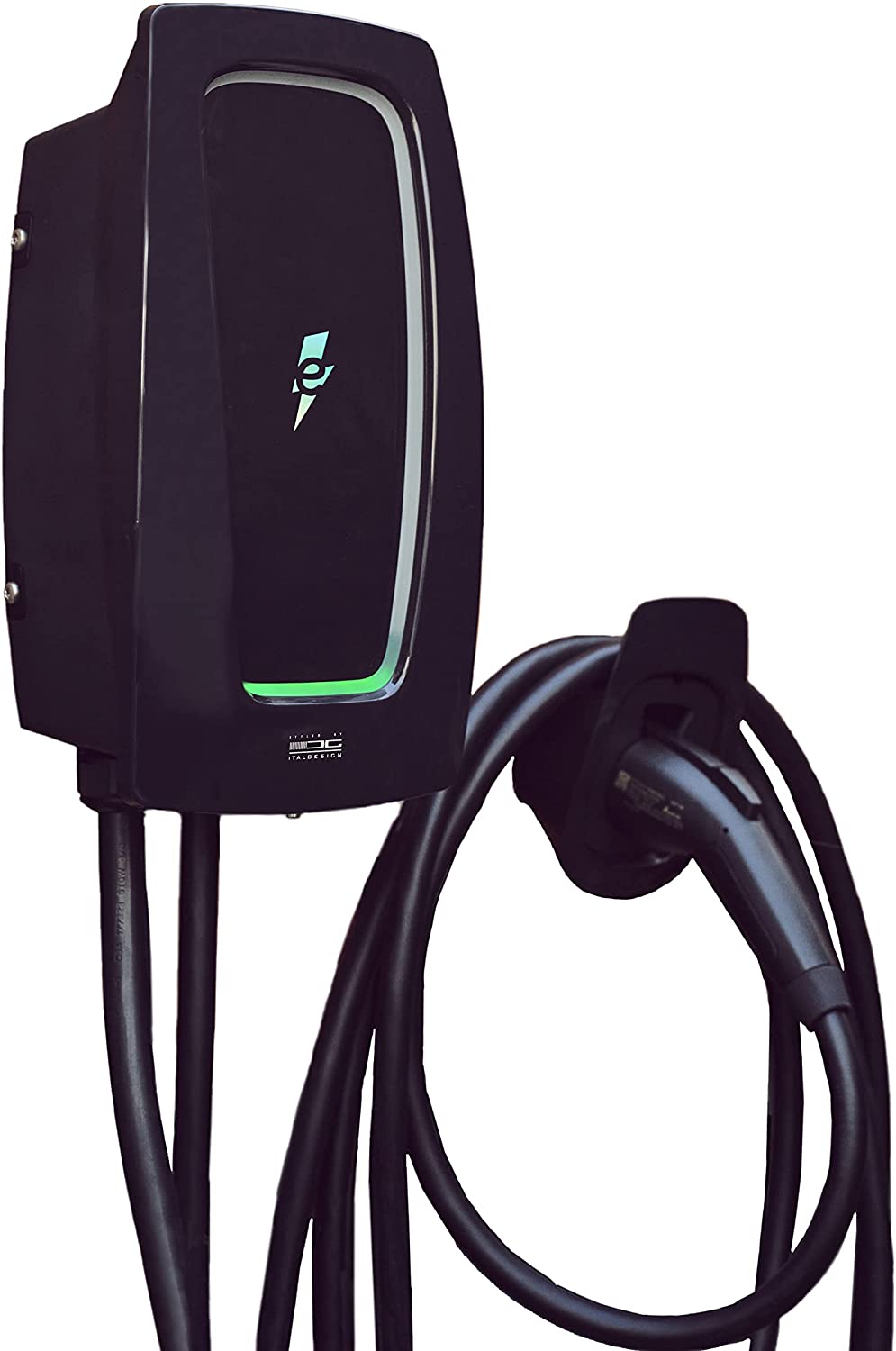 Electrify America Homestation – Level 2 (40 Amp) Specifications
| | |
| --- | --- |
| Amp rating | 40 Amp |
| Level | Level 2 |
| Type | EV Charging Station |
| Cable Length | 24 Feet (7.3 m) |
| Nema | NEMA 14-50 |
| Power | 9.6 kW |
| Voltage | 240V |
| Connector | J1772 |
| Connectivity | WiFi |
| IP Rating | NEMA 3R (IP14) |
| Display | None |
| Warranty | 3-Year Limited |
| Features | |
| What's in the box | |
| Weight | 19.85 lbs (9 kg) |
| Features | Tethered, Alexa & Google Home, Charge Scheduling |
Electrify America Homestation – Level 2 (40 Amp) Charging specifications
Now Electrify America is a company that's known for its public charging spots. At the time of this writing they operate more than 3300 EV chargers spread throughout the entire US. Their mission is clearly stated in the name and that's what they intend to do.
Now part of that mission includes a home charger which will ultimately help decrease dependency on public charging networks.
So let's have a look at this home charging station. It is a powerful 40-Amp Level 2 charging station which can deliver up to 9.6 kW to your electric vehicle. Now to put those numbers in perspective, let's say you drive a Tesla Model Y with a 75 kW battery pack. You arrive home with 20% left and you plug it in.
It should only take 7 hours before your Tesla is fully charged and ready to go. So no matter what you do or how much juice you have left, if you plug in your electric car when you go to sleep, by the time you wake up it will be almost always fully charged. This applies even if you drive other EVs like the Nissan LEAF or the Kia Niro EV.
Probably the only one which will give it a run for its money is the F-150 lightning but even with that, if you plug in the standard model in the evening at 8 with 20% juice left, by the time you wake up at 8 the next day it should be fully charged.
Electrify America Homestation – Level 2 (40 Amp) Cable types and connectors
The Electrify America HomeStation uses a charging cable that is 24 feet long (About 7.3 meters) and which is fixed to the charger, as is the case with all electric vehicle EV Chargers which are sold in the United States.
You can plug it into a 240-volt outlet because it comes with a NEMA 14-50 connector or you can hardwire it. Any licensed electrician can help you with that as it is a straightforward process of connecting a few wires and usually upgrading the fuse on the panel.
On the other end of the charging cable is a J1772 connector, the standard charge port for all electric cars in North America, also known as a Type 1 connector.
Electrify America Homestation – Level 2 (40 Amp) Features
This is a device which comes with smart charging features so first and foremost you do get Wifi connectivity and there's a smartphone app to connect to it.
Electrify America uses more or less the same approach as ChargePoint does for the ChargePoint Home Flex: one app which you use to find a public charging stations and to control your home charger.
The app lets you remote control it so you can start it or stop it from a distance as you wish, it can give you reminders to plug in or that the car is fully charged and ready to use. You can control and manage up to 10 of these and of course it can schedule charging times, something that is crucial.
The idea is that you can take advantage of off-peak electricity by having the EV charging station deliver power to the car only during off-peak hours when energy is much cheaper. But the Homestation also has an off-peak feature which can do that automatically in certain areas where it is applicable.
One of its cool features is that it can also be integrated with Amazon Alexa, so you can give it voice commands.
The charger is NEMA 3R rated which means that it is best suited for an indoor installation where it can't rain or snow on it. This is certainly not the toughest charger out there so you need to be a bit more careful with where you install it.
Every Electrify Homestation Level 2 charger comes with a 3-Year warranty from its manufacturer.