If you have a large lawn at your business' headquarters or you want to offer it as a service, then you might be wanting to look into what is a commercial robot lawn mower. This is a device that can mow the lawn all by itself without any intervention

We selected the 4 best robotic lawn mowers to handle a large workload for you or your customers, to be adjustable, safe and have anti-theft features but also reliable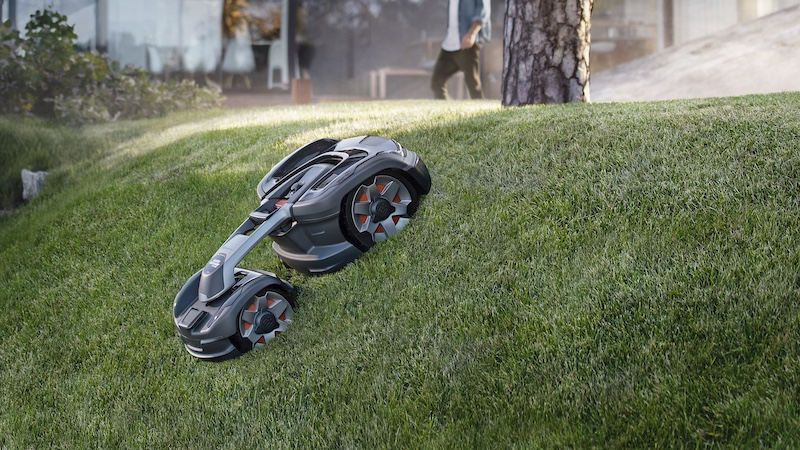 Let's have a look at each product in particular.
Husqvarna Automower 450XH
The Husqvanra Automower 450XH is the best commercial robot mower on the market. That is because in principle it has the biggest area coverage of them all, just one mower can handle a 1.25 Acres (5000 sq. m2) area.
This is mainly because after its 60 minute charging time, it has a full run time of 270 minutes. That's right, its battery life is 3 times longer than the best Worx mower. But there is no need to worry when it runs low on battery because the software will just tell it to follow the boundary wire back to the charging station, recharge and head back out for cutting grass.
You can program it for a cut height between 2″ and 3.5″ (5 to 9 cm) through the smartphone app but its cut width is fixed at 9.45″ (24 cm) and it doesn't matter if the terrain on your lawn is uneven or if you live on a hillside because it can climb a slope of up to 24 degrees (45 %).
You can program your Husqvarna to mow the lawn in your yard or garden through the Automower Connect app: You can set mowing schedules, see where your device is, remotely start it or stop it or update its firmware remotely.
It can run day and night and because it can frequently cut the grass, you don't need a collector because most of the time it will just be shaving a small part of the top which then falls onto the ground becoming compost for the existing grass.
Because it is a commercial robot mower and an expensive one, it is fitted with all the necessary safety and security features. On the anti-theft part, there is an alarm system and a PIN Code, plus the GPS Tracking that allows you to locate it anywhere in the world via 4G. Also, if somebody does manage to take it and tries to connect it to a different charging station, Husqvarna gets notified of it and can help you retrieve it.
On the safety aspect, you get a tilt sensor and a lift sensor along with an ultrasonic collision sensor so that it doesn't hurt animals in your garden.
Even though it is a commercial-grade robot lawn mower, it is one of the most silent models on the market with a 60 Db noise level.
Worx WR150 Landroid L
The Worx WR150 Landroid L is the other commercial robotic mower that we will be looking into. This one can cover a lawn size of up to 1/2 Acres (2000 sq. m2), so not as much as the 450XH but still a reasonable coverage.
Its cutting height is adjustable from 1.9″ to 3.5″ (4.8 to 8.9 cm) with a fixed cutting width of 9″ (22 cm). The cutting height can be adjusted manually by turning the knob on the top and it is worth pointing out that the manufacturer has mounted the entire grass cutting system on the side so that it can cut right up to the edge, reducing the need for manual trimming.
So how does it fare in terms of technology? Well, you can control it with your Android smartphone or iPhone, there is a Worx Landroid app which you can download. It lets you set mowing schedules, find the device if you purchased the extra "Find my Landroid" option and you can tell it things like what grass species you have in your yard. You can control the device with your voice through Google Home and Amazon Echo smart home devices, it is fully programmable.
There are a host of sensors for everything: Rain sensor which tells it to stop mowing if it is raining, so it doesn't damage the lawn and a lift sensor and tilt sensor as safety features. It senses if you picked it up or lifted it and deactivates its low inertia blades.
Because it is battery powered, it has a limited autonomy but then so do all the other commercial robot mowers for business and home use, except this one has a running time of 90 minutes with a charging time that takes just as long. It will get out on the lawn and go back to the station to charge all on its own.
Worx WR153E Landroid L1500
Now the first two automatic lawn mowers that we showed are available in the US, but this one is available in Europe and the UK. So if you need one of the best commercial robot lawn mowers and you live there, these are the models which you can choose from.
The Worx WR153E Landroid L1500 is very similar to the US models. First of all, it can cover an area of 1500 m2 (0.4 acres), which is what we would expect from a mower which can be used commercially for businesses.
This is the model which can navigate your lawn for 90 full minutes on a single charge. Like the others, it requires a perimeter wire to be set up all throughout. You can buy a GPS module for it, but it is only used for tracking not for navigation.
This autonomous lawn mower uses the same app as the US models and has the same built-in sensors. The tyres have these cleats which don't hurt the lawn as much as regular ones, it has a rain sensor which can sometimes be too sensitive but works most of the time and you can control it via your smartphone or the touchpad on the top.
It is a fair bit noisier though at 67 Db compared to the 63 Db noise level you get with the other range, but you do get the same 3-year warranty on it.
Flymo Easilife 500
The second commercial robot lawn mower for the European market is the Flymo Easilife 500. Now this is the top of its range with the highest coverage of up to 500 m2.
It has an adjustable cutting height from 0.7″ to 2″ (2 to 5 cm) with a fixed cut width of 6″ (16 cm) and the ability to climb a slope of up to 20 (35 %).
The battery lasts for 65 minutes on a charge but it does go back to the station and recharge for another 60 minutes. You can control it via your smartphone but it is not integrated with Alexa or Google Home.
It does have some smart features: The LawnSense function will adapt the mowing schedule to the rate at which the grass is growing, the PassageSense function makes it easy for it to navigate through tight spots and the FrostSense function keeps it at the station when it is too cold for mowing and it could hurt your lawn.
In terms of security features, it has a PIN Code and an alarm and as for safety features, there is a collision sensor so it doesn't bump into other objects or small animals and also a lift and tilt sensor. Each one of these smart lawn mowers comes with 2 years of warranty.
Which commercial robot mower is right for me?
For people living in North America, we recommend the Husqvarna 450XH if you have a very big lawn, it makes no compromises but it does cost a lot. If your lawn can be covered by the Landroid L, then that is also a great choice.

However if you live in the UK and you need a commercial robotic lawn mower, then the Worx WR153E Landroid L1500 would be the best choice because if you will be using it commercially either for a business headquarters or store, then there is a big chance you will need to cover a larger area.