The Grizzl-E Duo is a great dual EV Charger which can charge both of your EVs overnight and can withstand any kind of weather outside with its IP67 rating.

PROS: 2 Charging cables, IP67 Water and Fire resistant, Fast charging speeds.

CONS: No smart features.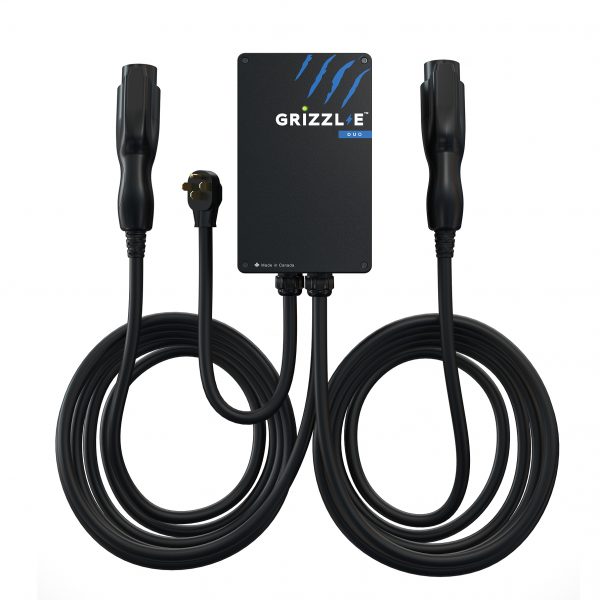 Grizzl-E Duo – Level 2 EV Charging Station (40 Amp) Specifications
| | |
| --- | --- |
| Amp rating | 40 Amp |
| Level | Level 2 |
| Type | EV Charging Station |
| Cable Length | 2 x 24 Feet (7.3 m) cables |
| Nema | NEMA 14-50 |
| Power | 10 kW |
| Voltage | 240V |
| Connector | J1772 |
| Connectivity | None |
| IP Rating | IP67 |
| Display | None |
| Warranty | 3-Year |
| Features | |
| What's in the box | |
| Weight | 49.9 lbs (22.6 kg) |
| Features | Tethered, Alexa & Google Home, Charge Scheduling |
Grizzl-E Duo – Level 2 EV Charging Station (40 Amp) Charging specifications
This is the Grizzl-E Duo is a more unusual home charging station and that is because instead of having one EV Charging cable, it has two. Forget power sharing, this is straight up a 2-in-1 charger.
It is capable of outputting 40 Amps of power which when you are charging both your electric cars at the same time, is split amongst them evenly. Because this is a 40-Amp charger, it is capable of achieving a 10 kW Charging rate. But what does 10 kW mean in reality? Well, for example let's say you drive a Tesla Model Y which has the standard 75 kWh battery pack, a generous size by 2022 standards. If you were to come home with the battery almost depleted at 1%, it would take about 8-9 hours to fully charge it to 100% so even if you arrive home late in the evening and just plug in at midnight, by morning you should have it fully charged and ready to go.
Now because this is a dual charger, we need to look at how fast two cars will charge. So let's say you have the same 2 Tesla Model Y cars and they both have their battery depleted. The assumption is that 5 kW of power get delivered to each vehicle through its intelligent power-sharing, however this may vary but in the end, regardless of how power is distributed to have them both charged will take about 17 hours. The average american drives about 26 miles per day, so in theory a sunday charge should have you covered for the weekend.
Grizzl-E Duo – Level 2 EV Charging Station (40 Amp) Cable types and connectors
Now let's talk a bit about its premium cables and connectors: This EV charger basically has 2 charging cables both of which can stretch out to be 24 feet long (About 7.3 meters). On the other end of each of them you'll find a standard SAE J1772 connector, making it compatible with all EVs in North America and that includes Tesla cars which although have their own proprietary charge port, they do come with a J1772 adapter so be sure you can charge 2 Teslas just fine with this charger.
It comes with a NEMA connector, so you can plug this into a 14-50 household outlet running at 240V or you can hardwire it directly, it's up to you.
Both cables are permanently attached to this home charger, they can't be disconnected and hot swapped for other lengths or other types. This is what we would call a tethered charger and it has become the norm in the US.
Grizzl-E Duo – Level 2 EV Charging Station (40 Amp) Features
Now the Grizzl-E Duo Level 2 Charger doesn't have any kind of smart features or connectivity, in this sense it is mostly similar to the standard Grizzl-E Classic. If you do want smart features, then you'll need to go for the Grizzl-E Smart which is an OCPP-compliant charger but that of course only has one charging cable and our assumption is you're probably looking for a dual charger if you're reading up on this.
So what will you be missing? Well, probably the most important feature on a smart charger is charge scheduling which allows you to use off-peak electricity as much as possible, however you'll also find this one implemented in most new EVs. If you don't care about reports on each session and real-time data, you'll be just fine.
One of the Grizzl-E Level 2's main advantages is the fact that it is indoor-outdoor rated, a claim which is backed up by an IP67 rating, the best in the industry. It is water, snow and fire resistant. You can actually immerse it in water and this electric vehicle charging station will still be able to function after that. It is also backed up by a 3-Year warranty.
It is not a light charger by any means and that's because it weighs almost 50 lbs.