We selected the 3 most popular Home Chargers from the biggest EV Charger Brands in the US and review them based on their charging performance and smart features.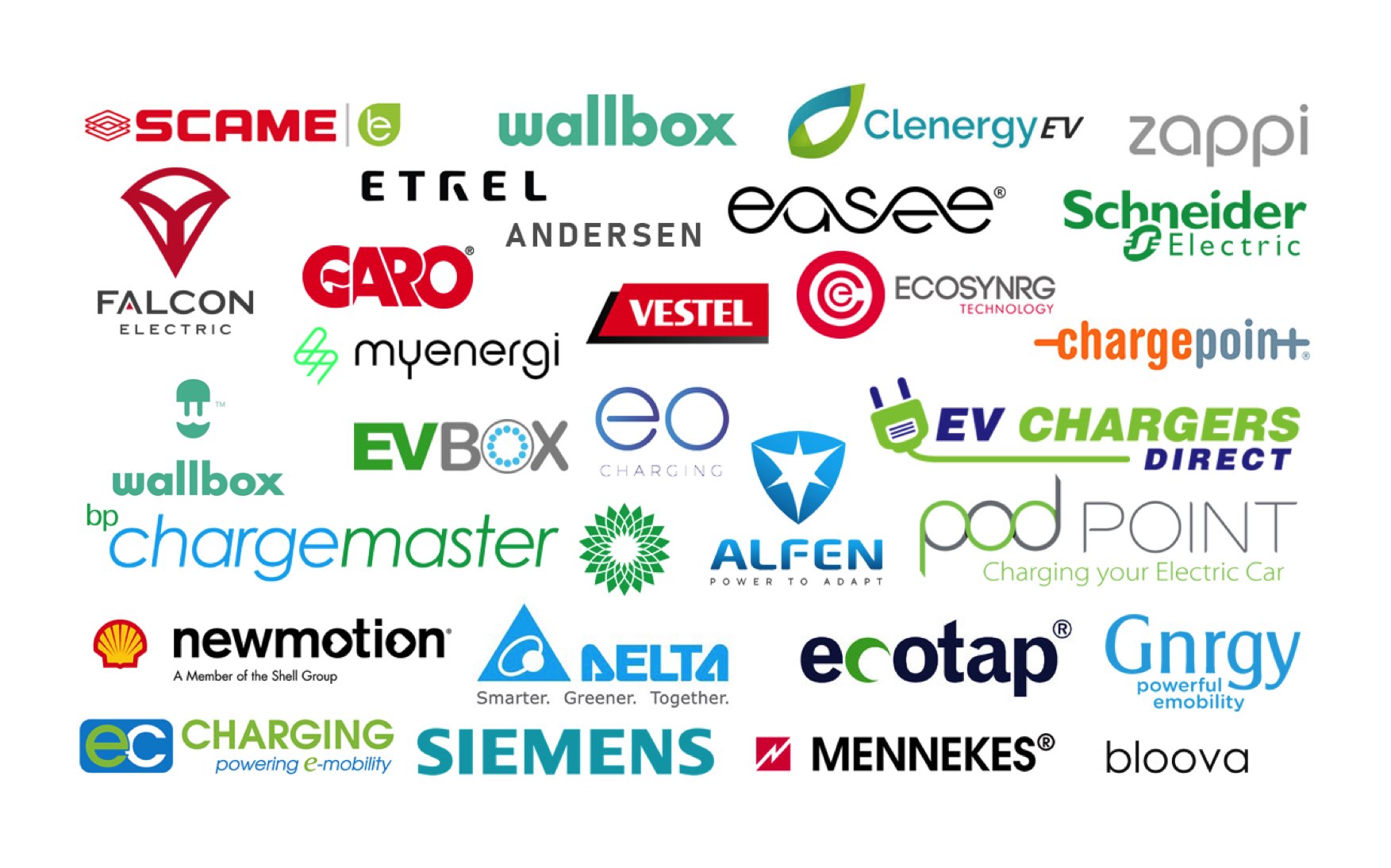 Let's have a look at each product in particular.
ChargePoint Home Flex – Level 2 EV Charging Station (16-50 Amp)
The biggest EV Charger brand by far in the world is ChargePoint. There is no name more recognizable in North America or Europe than ChargePoint and you'll find their logo on more than 170,000 public charging spots in the world.
Now to complement their public charging business, they also launched a powerful charger for home use called the ChargePoint Home Flex EV Charger. It can output 50 Amps of electrical current and up to 12 kW of power. You can plug it into a NEMA 14-50 or 6-50 outlet running at 240V but that will only get you up to 40 Amps. If you want to unlock the full power of this electric vehicle charging station you'll need to hardwire it to a 60-Amp circuit breaker. It uses a 23 ft long charging cable which can plug into any SAE J1772 car charging port.
This is a smart charger, so when you set it up you sync it with the ChargePoint app, the exact same one that you would use to access their public charging network. It lets you set custom charging schedules for each day of the week and shows you detailed logs for all your past charging sessions.
This home EV charger can be integrated with smart home technologies such as Amazon Alexa and Google Assistant and of course you can turn it on or off remotely just by using your voice but it succeeds at being more than that because you can actually ask it "How much have I spent on charging my EV this month?" which is a useful and smart charging feature, regardless if you're more of a tech geek or not.
Unlike its public charging stations, this particular device is better suited towards indoor installation rather than outdoor since it is only NEMA 3R rated but it does come with a 3-Year warranty and 24/7 customer support.
Wallbox Pulsar Plus – Level 2 EV Charging Station (40 Amp, 9.6 kW)
The other big EV Charger brand is Wallbox. While they also offer public charging solutions, they're name is mostly associated with the high-performance Home EV Charger that has received great reviews and is one of the best-sellers. Now Wallbox is a big brand in home charging not just in the US but also in Europe.
Their flagship model is the Wallbox Pulsar Plus which comes in 2 versions, a 40-Amp and a 48-Amp. We'll focus on the 40 Amp charger here which can output 9.6 kW of power and can be plugged into any NEMA 14-50 connector. The charging cable stretches out to a maximum of 25 feet (7.6 meters) and uses a J1772 connector.
The Wallbox is designed to make maximum use of clean energy and renewable energy through its solar excess feature which if activated can start the charging process only when excess energy is being produced by the solar panels on your roof, so that it doesn't draw any energy from the grid. You can also set a ratio between the two.
Of course, all the usual smart features are there which includes the ability to set custom charging schedules, some nice charts that show your power usage and smart home integration. It's also pretty tough on the outside too because it has an IP54 rating, making it waterproof to the extent that you can charge your electric car in the pouring rain. It also comes with a 3-Year warranty.
ENEL X JuiceBox 40 – Level 2 EV Charging Station (40 Amp)
The next big EV Charger brand in the US is the ENEL X JuiceBox 40. Now the reason this is big is because this brand was basically created through the merger of two separate brands. ENEL which is an italian energy company with operations in more than 26 countries which is trying to cleverly brand itself as a progressive green energy company.
They created a branch within the company called Enel X which is focused on things like electric vehicles, smart homes, basically all things energy-efficient for the common folk. Then they bought out a company called eMotorWerks which at the time was manufacturing the JuiceBox, one of the most popular EV Chargers. While under Enel X ownership, they came up with a completely new JuiceBox and thus this product of an EV Charger brand and an electrical energy brand was created.
This is an EV Charging station that comes in 2 versions, a 32-Amp which can output 7.7 kW of power and this one, the 40-Amp which can output up to 9.6 kW. both of these can be plugged into a 14-50 outlet. It has a decent cable length too because its charge cord can stretch out to be 25 feet long (About 7.6 meters). It uses a J1772 connector making it virtually compatible with all EVs in North America including Tesla cars which now come with an adapter for that.
The JuiceBox is a wifi connected charger that you can remote control using the JuiceNet mobile app. Not only can you do that, but you can also get detailed reports on each charging session and of course, set charging schedules in order to use as much off-peak electricity as possible.
In terms of how tough it is on the outside, this one is the best out of the three because of its IP66 rating so you can easily install it outside and leave it in the rain or snow and it will still work properly. It too is backed up by a 3-Year warranty.
There's also a commercial version of this charger called the JuiceBox pro which can also let you monetize the charging process by having people pay for the power they use through their credit card.
Other notable mentions of EV Charging brands would be Grizzl-E and their flagship Grizzl-E Classic 40-Amp charger together with the Grizzl-E Duo which is a dual port charger and also ClipperCreek.