Here is our shortlist of the 4 Best Nissan LEAF Home Chargers which are guaranteed to get it fully charged overnight whether it's the 40 kWh or the 62 kWh version. We review them based on charging performance but also smart features and durability.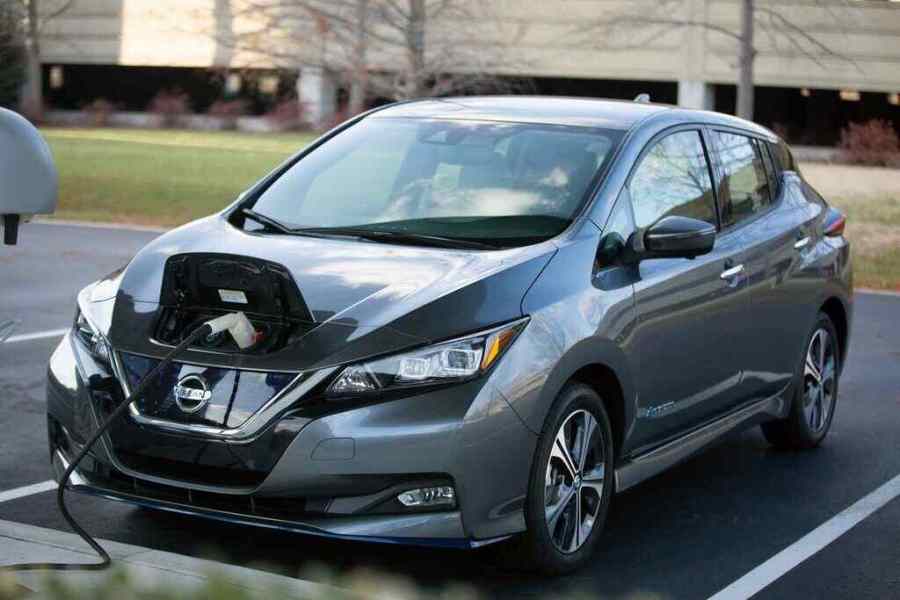 Let's have a look at each product in particular.
ENEL X JuiceBox 32 – Level 2 EV Charging Station (32 Amp)
Here is our first Nissan LEAF charger, the ENEL X JuiceBox. This comes in 2 versions, a 32-Amp which can output 7.7 kW and a 32-Amp which can output 9.6 kW. Now we'll be focusing on the 32-Amp version because this one most matches the LEAF's maximum on-board charging performance of 6.6 kW, it really doesn't make sense to spend extra on a 40-Amp given that it's not going to charge this particular car faster.
If you drive the standard version with the 40 kWh battery pack then you'll be able to charge your EV in about 7 hours using the 32-Amp edition, but if you drive the 62 kWh Nissan LEAF Plus version, then it's going to take about 11 hours to charge your Nissan Leaf.
The JuiceBox can be plugged into a 240V NEMA 14-50 outlet or hardwired directly to your home circuit. It comes with a 25 ft charge cable that uses a J1772 connector at the other end.
You'll also find plenty of smart features on this Nissan LEAF charging station like charge scheduling which will allow you to tell the charger to only use off-peak electricity, a detailed charging log on each past charging session so you can keep track of the Nissan LEAF's charging costs and the ability to start or stop the charging process remotely.
The JuiceBox is fit for indoor or outdoor installation because it is IP66-rated which means it is waterproof and dustproof. It also comes with a 3-Year warranty. The JuiceBox in itself represents a good balance between getting the maximum power that the electric car can take from a home charger and smart features without overpaying.
Wallbox Pulsar Plus – Level 2 EV Charging Station (40 Amp, 9.6 kW)
Another great Nissan LEAF Level 2 home charger is the Wallbox Pulsar Plus. This is a 40-Amp charging station which can output a whooping 9.6 kW of electrical power to your LEAF. That's more than the car can take but this is actually the entry version of the Wallbox because they also make a 48-Amp charger.
It can be plugged into a NEMA 14-50 outlet running at a 240V voltage and the other end of the cable can plug into any J1772 charge port. Now because the on-board charger of the Nissan LEAF is limited to 6.6 kW, the time that it takes to charge it will be the same as with the Enel X, even though this is a faster charger.
This home charging station is capable of power sharing, meaning that if you connect two of these to the same circuit they will distribute power evenly so that they don't overload the circuit. Another great feature is the ability to use excess solar energy produced by the solar panels on your roof (If you have any installed).
Then there is the fact that it has wifi and bluetooth connectivity which allows you to sync your smartphone with it and set custom charging schedules, get data on past charging sessions and remote control it even by using your voice. All the features that you may need are built into this smartphone app.
This charging station for Nissan LEAF owners is IP54 rated so it can withstand rain and bad weather and it is covered by a 3-Year warranty.
Morec – Level 2 Portable EV Charger (32 Amp)
Then we get to the Morec which is a great Nissan LEAF Portable Charger. This is a 32-Amp Level 2 charger that can output 7.68 kW. What makes this different from the previous two LEAF charging stations is that you won't have to install it on your wall, you just plug it into any existing 14-50 or 6-50 outlet. In terms of costs this is a notch down because you spend no money on installation, only on an appropriate 240V outlet if you don't already have one. The connector type for the car is J1772 just like with the others.
It will essentially output the same amount of power as the JuiceBox for a lower price and it weighs just 10 lbs so you can easily carry the device in your trunk. But of course, there are downsides and one of these is that it provides no kind of connectivity or smart features. So you can't keep track of your costs, set custom charging schedules or remote control it. You might be the kind of user that wants to do this or not, in the end it's going to be up to you.
There's just a little LCD display on the control box that tells you some basic info on the charging status like the speed, amperage and duration. The control box is IP66 rated and the this electric vehicle charger is backed up by a 1-Year warranty.
MEGEAR – Level 1 Portable EV Charger (16 Amp)
Now in terms of costs, this particular EV Charger for the Nissan LEAF beats all of them and we'll explain why. With an EV charging station you'll incur costs from the more expensive device itself, installing an appropriate outlet together with the installation of the charger itself.
Now the previous portable charger would cut on the charger installation but this one, the Megear Level 1 Portable Charger is the most cost-effective of all because it doesn't require neither installation nor a 240V outlet, you can just plug it into any typical 5-15 outlet running at a 110V voltage.
And you may ask yourself, are there downsides to this portable electric charger? Yes, you will be giving up the fast charging speed because this being a 16-Amp charger with a 1.92 kW charging rate it will take about 24 hours to fully charge the 40 kW Nissan LEAF and about 38 hours for the 62 kWh version. It will add about 3 times fewer miles of range per hour of charge than the previous fast chargers.
The control box on this portable ev charger is IP55 rated so you can charge in the pouring rain as well, there's no LCD display mounted on it, just 4 indicating LED lights and it is covered by a 1-Year No-Hassle warranty. It's also very light because it weighs just 7 lbs.
Because of its versatility, you can use it for charging at home and as a workplace charger since it is virtually guaranteed that both places will have a 110V outlet.
These are our 4 Nissan LEAF charging options. We tried to cover different scenarios with each product since everyone's context is slightly different and we hope we helped you in your decision. Check out our website for more charging guides.