There are those times when 25 feet just isn't long enough which is why we created this list of the Best EV Chargers with a long cable

We'll be reviewing them based on what kind of cable length they offer, their charging performance but also smart features.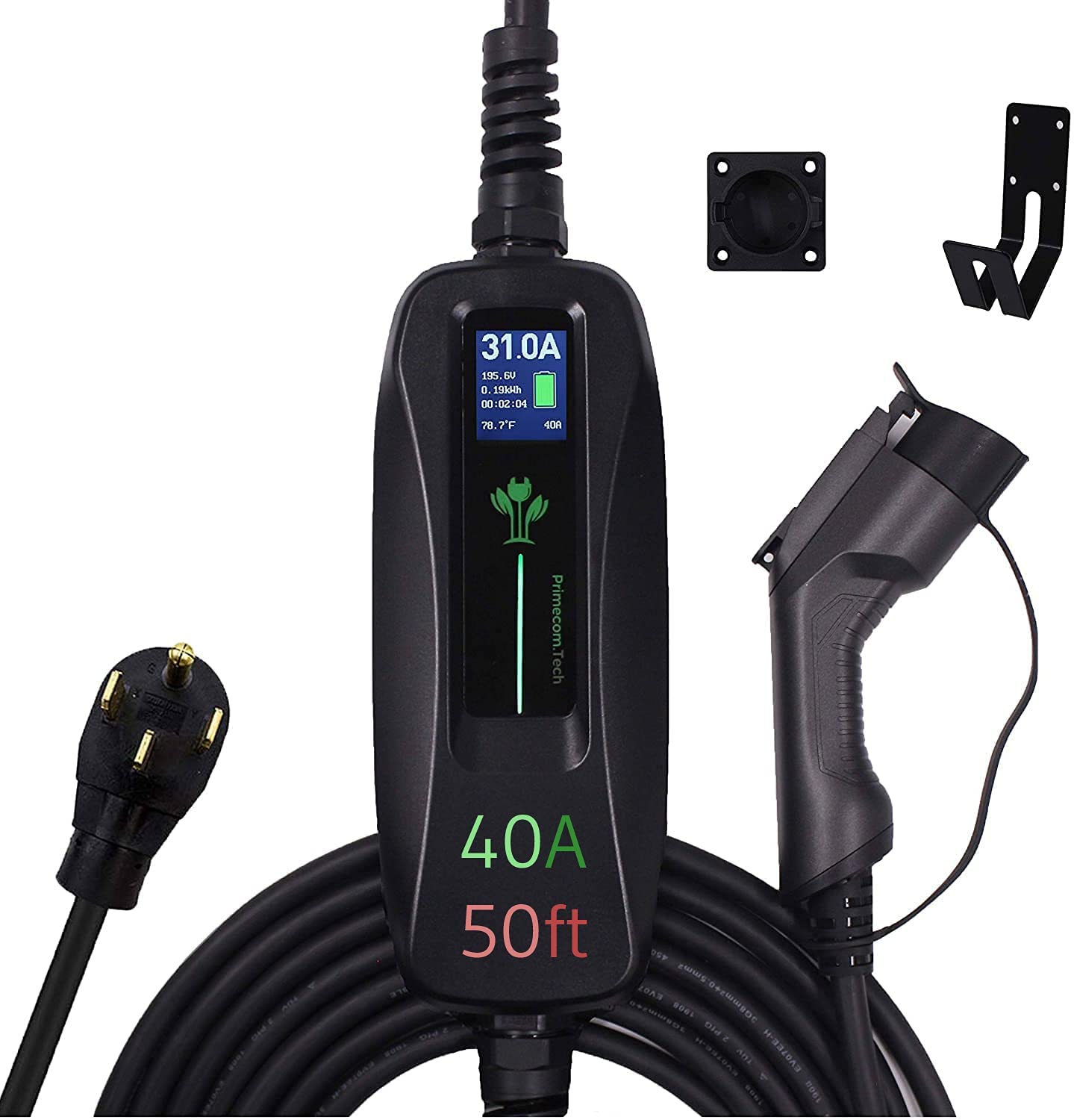 | Product | Amp rating | Level | Cable Length | Nema | Power | Price |
| --- | --- | --- | --- | --- | --- | --- |
| PRIMECOM – Level 2 Portable EV Charger (16 Amp) | 16 Amp | Level 2 | 30 Feet (9.1 M) & 50 Feet (15.2 M) | NEMA 14-30, NEMA 10-30, NEMA 14-50, NEMA 6-20, NEMA 6-50, NEMA 10-50 | 3.84 kW | Click for more info |
| PRIMECOM – Level 2 Portable EV Charger (32 Amp, 50 feet) | 32 Amp | Level 2 | 30,40 & 50 Feet (15.2 M) | NEMA 14-50, NEMA 10-50, NEMA 6-50 | 6.7 kW | Click for more info |
| Wallbox Pulsar Plus – Level 2 EV Charging Station (40 Amp, 9.6 kW) | 16 – 40 Amp | Level 2 | 25 feet (7.6 m) | NEMA 14-50 | 9.6 kW | Click for more info |
| ChargePoint Home Flex – Level 2 EV Charging Station (16-50 Amp) | 16 – 50 Amp | Level 2 | 23 Feet (7 M) | NEMA 14-50 & NEMA 6-50 | 12 kW | Click for more info |
Let's have a look at each product in particular.
PRIMECOM – Level 2 Portable EV Charger (16 Amp)
We'll start with the PRIMECOM 16-Amp portable charger as our EV Charger with a long cable. This is a very popular model which has done really well for itself in terms of sales, no doubt because this is PRIMECOM's best selling unit out of more than 10 different types of chargers that we know they distribute.
You can buy this with one of two charging cables: A 30-foot cable (9.1 meters) or a 50-foot cable (15.2 meters). These are well above the standard 25-feet that you would get from most manufacturers. The charging cable type is compatible with all J1772 plugs so you can expect to be able to charge any EV, even Tesla models since now they come with an adapter included (Tesla have their own proprietary charge port).
No the power cable for this charger comes with a host of plugs which include: NEMA 14-30, 10-30, 14-50, 6-20, 6-50, 10-50. The charger itself can be basically plugged into any 240V outlet.
But the important thing is how much power will it deliver? This is a Level 2 charger that can deliver 3.84 kW of power at 16-Amps. This is not enough to completely charge a 62 kWh Tesla Model 3 overnight but you should be able to bring it from 0 to 50% in about 9 hours. A full charge would take more than 18 hours.
You won't find any smart features on this PRIMECOM charger, there's just a little LCD that will display some basic info like the amperage, how much power is being delivered, the temperature of the unit, voltage and a charging timer. There are also 3 indicating LED lights on it.
The control box for this EV Charger with a long cord is IP55 rated so it can withstand a bit of bad weather and the EV charger itself together with the charge cable have a 1-Year No-Hassle warranty.
PRIMECOM – Level 2 Portable EV Charger (32 Amp, 50 feet)
The next EV Charger with a long cable which we'll be looking at is also a PRIMECOM portable charger, but this one is a 32-Amp charger with a power output of 6.7 kW. This puts it in a completely different league than the first one and you'll understand why.
At this rate, the same 62 kWh Tesla can be fully charged in 10-11 hours, making this device perfectly suitable to charge your EV overnight, so there is quite a big difference in charge speed. There's also a 40-Amp version of the exact same charger that delivers 9.6 kW per hour bringing down the charging time of the same Tesla to 7-8 hours.
But now let's have a look at the charging cable lengths because that's what we're here for. You can choose to get this with 3 EV Charging Cable types: a 30-ft cable, a 40-ft cable and a 50-ft cable. So you get even more flexibility when it comes to the length of the electric car charging cable than you would with the other one. This is also a J1772 EV charger and so all of the cable options are fully compatible with any EV in the US.
This charger can only be plugged though into a NEMA 14-50, 10-50 or 6-50 outlet, so you have less options there, but this is naturally because of the higher power output.
Now the form factor of this charger is completely different from the 16-Amp, they have different control boxes and different cables. The control box on this one has much bigger color LCD but which basically displays the same information as the previous only on a nicer layout.
However this does come with an extra button that sets a charging timer delay. This is a more basic version of charge scheduling. Instead of setting a schedule from your app, whenever you plug it in the evening, you estimate when off-peak hours start and just set an appropriate delay. Effective and simple, just not as elegant.
Wallbox Pulsar Plus – Level 2 EV Charging Station (40 Amp, 9.6 kW)
If the first to EV chargers had very long cables, then why did we include the Wallbox and the ChargePoint where the length of charging cable is just 25 & 23 feet? Well because there's more than one way to get a charger with a long cable and you don't have to be limited to the PRIMECOM line.
You can just buy a smart EV charging station like this one and then buy an
EV extension cord
like this one that will add another 12, 21 or 30 feet to the length of the charging cable. Sure, it is not as elegant as the PRIMECOM which has an uninterrupted cable of that length but this is when you want the smart features and the long cord.
And here are a couple of really good reasons for why to choose the Wallbox. It is an electric vehicle charging station that comes in a 40-Amp and 48-Amp version. The 40-Amp which we'll be looking at here can deliver 9.6 kW of power and can be plugged into a 14-50 outlet. The 48-Amp can deliver 11.5 kW but doesn't come with a connector and can only be hardwired.
Both the 40-Amp and the 48-Amp versions will fully charge a 62 kWh or 75 kWh EV overnight while you get some well deserved sleep.
It is capable of power sharing so if you connect two of these to the same circuit, they'll communicate and distribute power between them so that they don't overload it, you can tell it to only use solar power when it's available so that you don't use any from the grid and it has wifi connectivity which lets you remote control it through the smartphone app.
The charging station and the EV cable are IP54 rated and come with a 3-Year warranty.
ChargePoint Home Flex – Level 2 EV Charging Station (16-50 Amp)
The last EV charger with a long cable which we'll be reviewing is the ChargePoint Home Flex. Just like the previous one, this doesn't actually have a long EV Charging cable but you can pair it with this
j1772 extension cable
compatible with all EVs in the US, including the Nissan Leaf, Kia Niro, Audi E-tron or BMW i3 and you'll get a ChargePoint with either a 35, 44 or 53 ft. long charging cord. The ChargePoint has a very flexible charging cable that can also withstand cold temperatures without any problems, flexing even in the harshest winter.
This home charger is capable of delivering up to 50 Amps of electrical current and 12 kW of power. In terms of fast charging with home chargers it doesn't get any better than this. It is one of the best-selling EV chargers on the planet.
Unlike the Wallbox, it doesn't come with power sharing or the solar excess feature but it does come with a host of smart features that are available on the ChargePoint app (The same app that you would use to find public charging spots): You can schedule charging times, check on your past charging sessions and find out how much energy you've used and paid in each of them and it also has voice integration through Amazon Alexa and up to the point where you can bluntly ask it "How much have I spent on charging my EV this month?".
Every ChargePoint is NEMA 3R rated so it is better suited for indoor installation and comes with a 3-year warranty together with 24/7 customer support.
Are ev charging cables universal?
Locally, yes. Internationally? No. There are 3 types of charging cables used for AC Charging: In the United States the J1772 cable is used however in Europe the most common is the CCS plug and in China they use the GB/T plug.


How long can an ev charging cable be?
While the NEC requirements limit the cable to 25 feet, in reality it can be longer than that. Most cables are manufactured like that just to comply with this rule but you'll find chargers that work just fine with 50 feet.


Does a longer cable affect charging times?
In theory, yes. A longer cable will provide more resistance and thus charging will be slightly slower. Everyone points to the XDA experiment with the USB charging cable which proved that longer cables do charge slower but in reality, you shouldn't expect a big delay.