We selected 4 Waterproof EV Chargers that are perfect for outdoor charging at home and we'll be reviewing them based on their charging performance, features and level of protection against water and anything that the weather might throw at them.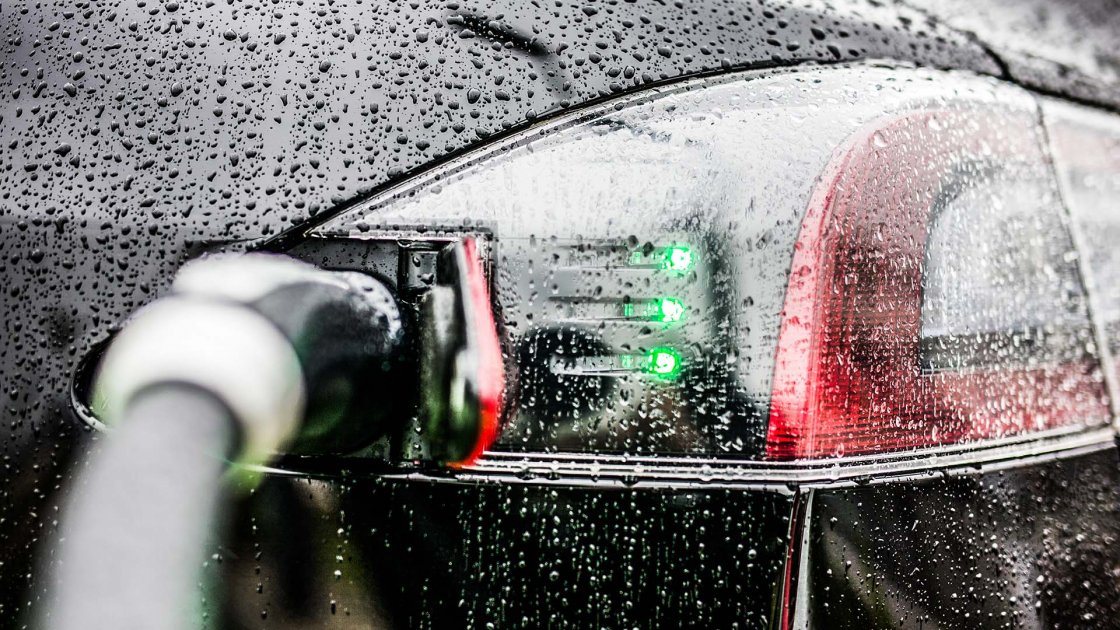 Let's have a look at each product in particular.
Grizzl-E Classic Charger – Level 2 EV Charging Station (16-40 Amp)
If you're looking for the perfect waterproof charger, look no further than the Grizzl-E Classic. This is the toughest device you'll find of any of the home chargers out there with its IP67 rating.
So what does IP67 mean exactly? The first digit in the IP rating refers to its ability to withstand solids and this gets a 6 which is the maximum for dust protection of up to 8 hours. To put it more bluntly, it can withstand a dust storm. The second digit in the IP rating refers to its ability to withstand water and here it gets a 7 out of 8. This means you can immerse it in water up to 1 meter deep for 30 minutes and it will still work after that.
So in terms of being weatherproof it gets an A+. Now what about the specs? It is a 40-Amp Level 2 EV Charging Station which can output up to 9.6 kW of power. It can be plugged into a 14-50 or a 6-50 outlet or hardwired directly to your home circuit. The charging cable is 24 feet long (About 7.3 meters) so it will be able to work even if your car isn't parked right next to it.
Because of its high power, this electric vehicle charger will have no problem fully charging a 75kWh Tesla Model Y overnight. Now the Classic version of this charger has no smart features however there is a Smart version of this charging station with wifi connectivity with which is OCPP-compliant. What does that mean? It means that you can connect to it using any smartphone app that uses that specific protocol, unlike most other chargers which can only sync with their specific app.
Now open standards are great, but the app that comes with the Grizzl-E needs a lot more work because the design and functionality is subpar compared to what you would get with a ChargePoint, Juicebox or Wallbox. The Grizzl-E comes with a 3-Year warranty.
ENEL X JuiceBox 40 – Level 2 EV Charging Station (40 Amp)
Our next waterproof EV Charger is the Enel X JuiceBox. This one is NEMA 4X rated, the equivalent of IP66 which means that in terms of protection against solids, it matches the Grizzl-E, however it is not as well protected against liquids. A level of 6 for water protection means that it can withstand powerful jets of water. Still, what this means in reality is that it is more than suitable for outdoor installation because of its weather protective case and so rain, sun or snow should not be an issue.
This electric car charger comes in 2 versions, a 32-Amp which will output 7.7 kW of power and a 40-Amp which will output 9.6 kW. Now it is important to note that both will be able to fully charge a 75kWh Tesla overnight, but that the 40-Amp will do it in about 9 hours compared to about 12 on the 32-Amp. Both can be plugged into a NEMA 14-50 plug or simply hardwired. The charger cable measures 25 feet (7.6 meters) and uses an SAE J1772 connector.
When it comes to smart features, the Juicebox is up there with the best because it has Wifi connectivity and can sync with your phone through the Juicenet app. It allows you set charging schedules for each day of the week so that your charger can use as much off-peak electricity as possible.
You can get real-time data on the charging process showing you how fast it is charging, how long it has to go until the car is full and technical info like amperage, voltage, power output, etc. And it isn't just about the real-time data, you can also access a detailed log showing you each of your charging sessions, how much energy you've used and so you can have a better grasp on how much you're actually spending and saving with your smart electric vehicle. It is also good to know that the Juicebox is backed up by a 3-Year warranty.
Wallbox Pulsar Plus – Level 2 EV Charging Station (40 Amp, 9.6 kW)
Our third waterproof EV charger is the Wallbox Pulsar Plus. Now this home electric vehicle charge station is IP54 rated, which means that it is not as durable as the first two, but is still suitable for outdoor installation. It is dust protected and when it comes to water, it can withstand splashes from all directions which means it will be able to charge your car in the rain too.
The Wallbox comes in two versions: A 40-Amp charger which can output 9.6 kW of power and can be plugged into a NEMA 14-50 power outlet and a 48-Amp hardwired unit which can output 11.5 kW and doesn't come with a NEMA connector. The best way to take advantage of the 48-Amp unit's full power is to hardwire it to a 60-Amp circuit breaker. Regardless which one you buy, you can fully charge an EV overnight.
It not only comes with wifi connectivity but also Bluetooth, something unique to EV chargers. And the smart features don't end there because this charger can do power sharing meaning that if you plug in 2 of these to the same circuit, they will communicate with each other and adjust their power usage automatically so that the circuit doesn't get overloaded.
There's another great feature that allows you to tell the charger only to use power when the solar panels on your house are generating excess solar energy and you can also set a ratio between the amount of grid energy and solar energy for the charger to use.
Of course, you can connect to it using the Wallbox app which will provide real-time charging data, help you set a schedule, provide detailed charging logs and voice integration through Amazon Alexa or Google Assistant, so you can remotely start it or stop it using your voice. Just like the previous ones, it comes with a 3-Year warranty.
Mustart – Level 2 Portable EV Charger (40 Amp)
The last waterproof EV charger which we'll be reviewing is the Mustart Level 2 Portable Charger. We chose it is because it has an IP65 rating meaning it is fully protected from dust and large amounts of water splashes. But another reason is because it provides an alternative to charging stations that have to be professionally installed and mounted on the wall, while with this one you just plug it into a 14-50 or 6-50 connector and you're good to go. You can also carry around with you everywhere you go.
It can output 9.6 kW of power so you can charge a 75 kWh battery pack in about 9 hours while you sleep or go through a workday. The charge cord is 25 feet long which will be more than enough for most situations and it uses a J1772 connector, making it compatible with virtually any EV charge port in the US, including Tesla models with the help of the included adapter (That comes with the car, not the charger).
One of the disadvantages of portable chargers is that they don't come with any smart features, on this one for example you only get 2 buttons, one which will cycle between different Amp settings and one which can set a timer delay, a more basic form of charge scheduling. Instead of setting a schedule, you just delay the charging process by a certain number of hours. There's also an LCD on the control box which can display basic charging information.
But while it is not a smart charger, it is cheaper than the charging stations and does come with a 2-Year No-Hassle warranty.