The EVbase portable charger is a moderately fast charger which you can easily carry around with you and which is equipped with and LCD screen to provide key information.

PROS: Good charging speeds, IP66 rated control box, LCD screen instead of indicating LED lights.

CONS: Cable is short.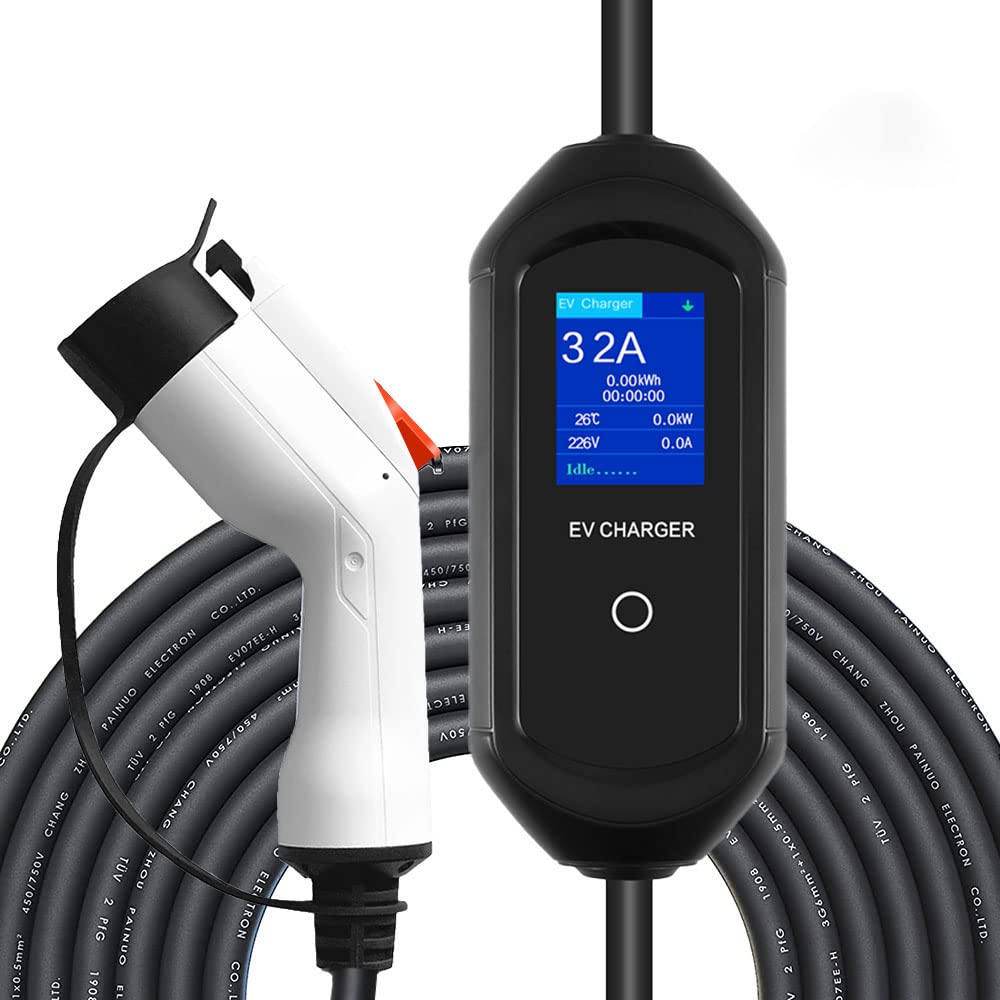 EVbase – Portable EV Charger (32 Amp) Specifications
| | |
| --- | --- |
| Amp rating | 32 Amp |
| Level | Level 2 |
| Type | Portable EV Charger |
| Cable Length | 16 feet |
| Nema | NEMA 14-50 |
| Power | 7.68 kW |
| Voltage | 240V |
| Connector | Type 1 (J1772) |
| Connectivity | No |
| IP Rating | IP66 |
| Display | LED indicators |
| Warranty | N/A |
| Features | |
| What's in the box | |
| Weight | 7.56 lbs |
EVbase – Portable EV Charger (32 Amp) Charging specifications
It seems these days that every company is manufacturing an EV charger and EVbase is no different. They manufacture components for Tesla vehicles and that includes charging adapters and parts. The EVbase portable EV charger is a level 2 charging device which can provide 32 Amps of current to your electric vehicle.
Why portable and not fixed? Well for starters, there is no wall mounting process that you need to undertake. You just plug it into whatever 240V outlet you have at home and you're good to go. And once you're done, you can just put it in your trunk and use it somewhere else for example as a workplace charger.
It can deliver up to 7.68 kW of power but what does that even mean anyway? Let's take a Tesla Model 3 with the increased 62 kWh battery size as an example. It is going to take about 7.5 hours to fully charge the vehicle from 20% to 100%. This can be considered decently fast charging by modern standards.
Sure, if you want a really fast charger for electric cars at home, you should probably go for the 50 amp models like the Chargepoint but you also need to remember that many electric vehicles are limited to about 7.4 kW by their on-board charger. Side note, this limitation only applies to AC charging, DC fast charging is a different story, every car can be charged either through AC, usually at home or DC which you'll find in public electric car charging stations.
They say that their charger is "9 times faster than other types of chargers" but that doesn't make any sense because even if you compare it to a Level 1 charger which can output 1.74 kW, it is still just about 4.5 times faster.
You need to remember that since this is a Level 2 charger, it can only work at its full potential when connected to 240V outlets.
EVbase – Portable EV Charger (32 Amp) Cable types and connectors
Now let's look at the situation with the charging cables. First of all, the device plugs into the car using the SAE J1772 charge port which is universal to EVs in North America.
When you want to plug it into the outlet, there you're going to need a NEMA 14-50 outlet because that's the only one which can max out its power.
The cable itself is 16 feet long and that is shorter than average since most chargers are about 25 feet long. We've noticed lately with more and more chargers usually coming out of China that they use shorter cables. This is a tethered charger which means the cable is fixed to the control box so you can't simply disconnect it and use a longer one but you can just buy an extension cable.
EVbase – Portable EV Charger (32 Amp) Features
It may not be a smart charger but then no portable charger is. But we do appreciate that EVbase have taken the time and effor to add a very nice LCD screen which can display the charging status, current amperage, voltage, power delivered and a timer. It is equipped with a button which allows you to cycle between different AMP settings.
It has all the safety features and protection that you might expect and this includes protection from: Lightning, Leakage, Grounding, Over Voltage, Under Voltage, Overcurrent and Overheating.
The enclosure is IP66 rated and the connector is IP54 so you don't have to worry if it rains or snows because it will keep on charging. They also provide a nice bag to carry everything around.