The WoShion Flex is a really good all-round portable EV charger. It has fast charging speeds, a long cable and an IP66 rated control box with the ability to set a charging timer.

PROS: Fast charging speeds, LCD Display, IP66 waterproof control box.

CONS: No connectivity.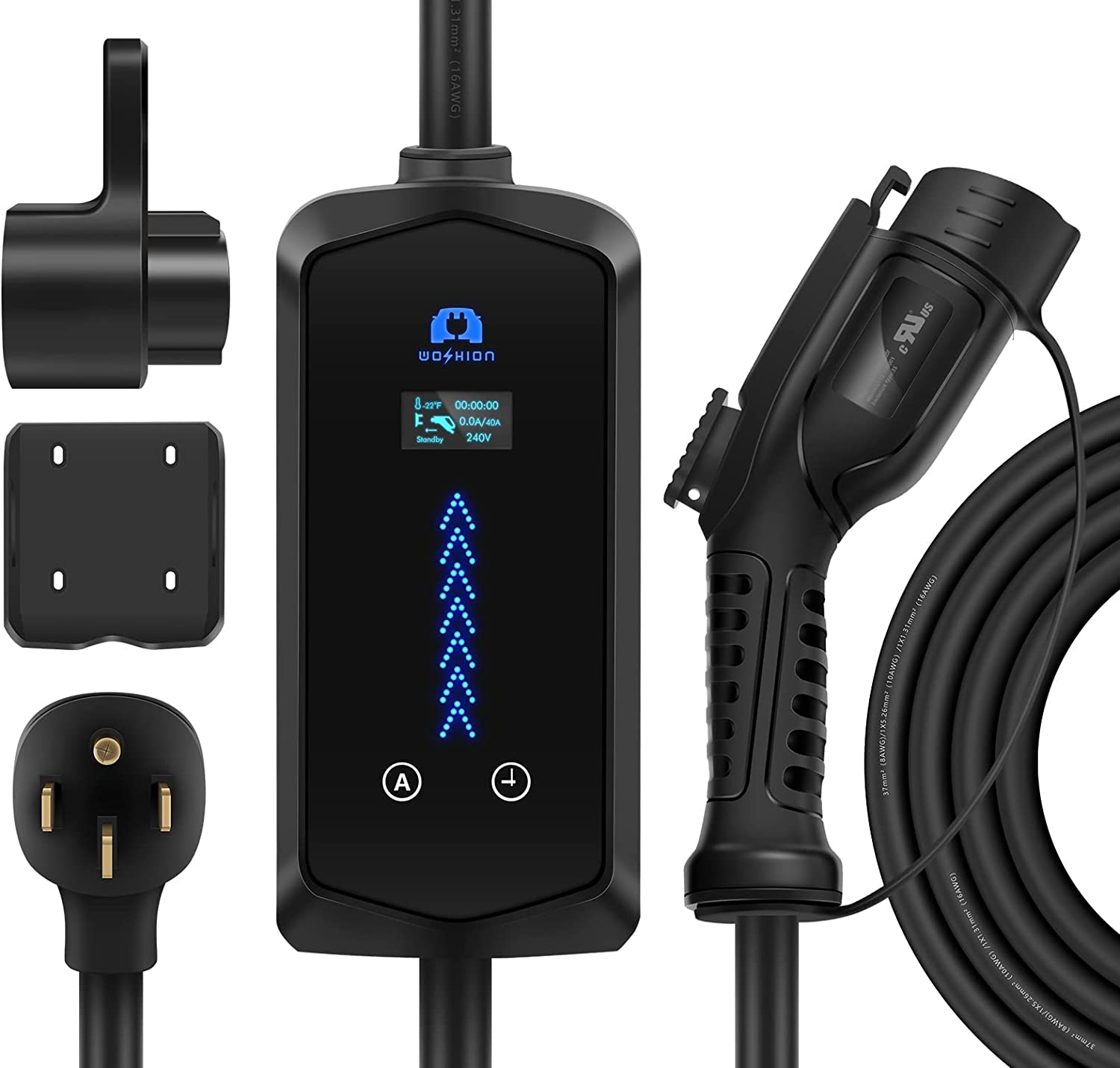 WoShion Flex – Portable EV Charger (40 Amp) Specifications
| | |
| --- | --- |
| Amp rating | 40 Amp |
| Level | Level 2 |
| Type | Portable EV Charger |
| Cable Length | 25 feet |
| Nema | NEMA 14-50 |
| Power | N/A |
| Voltage | 240V |
| Connector | Type 1 (J1772) |
| Connectivity | No |
| IP Rating | NEMA 4 (IP66) |
| Display | LCD Display |
| Warranty | 2-Year |
| Features | |
| What's in the box | |
| Weight | 14.3 lbs (Total package) |
WoShion Flex – Portable EV Charger (40 Amp) Charging specifications
These days everyone is making an EV charger. In the space of a year, we probably had at least 20 new EV charger brands. Now in all fairness there's a lot of rebranding being done, so the same Duosida control box will be found on at least 10 other EV charger brands. It's the same product, just a different logo.
So when we get an electric car charger with a completely new control box, we get excited. This one from Woshion is a new one and you can tell by the sleek design with the LED arrows. No other manufacturer has anything like this.
So this is a portable home electric vehicle ev charger which means it can charge your car at home and when you're done, you can just put it in the trunk and charge on-the-go wherever you'll find a 240V outlet available, because this is exclusively a Level 2 EV charger. WoShion even mentions the fact that you will need the 240V outlet as a pre-requisite.
The charger can deliver up to 40 Amps of current to your vehicle. Now the strange thing is that WoShion has not mentioned the maximum amount of power that the charger can deliver and another interesting bit of info is that you won't find that information on the LCD display either. But it shouldn't be a mistery as it is safe to assume it is a value anywhere between 7.4 kW (32-Amp) and 9.6kW (40-Amp), more likely towards the higher end.
This would mean that a Long Range Tesla Model 3 which uses an 82 kWh battery pack will charge in anywhere between 7.5 to 10 hours from 20% to 100%. That's the timeframe which you can expect.
WoShion Flex – Portable EV Charger (40 Amp) Cable types and connectors
Now let's look at the cable situation: Here things are looking good in terms of size because the cable is 25 feet long. This is the standard for most EV chargers even though lately we've noticed an influx of new chargers from China which only measure 16 feet in length and the WoShion was a pleasant surprise. If this is not long enough, you can always buy an extension cable from Amazon and make it basically as long as you want since it will not affect the charging process and speed.
It uses an SAE J1772 plug to connect to your vehicle so you should be fine there as long as you live in North America since it's compatible with all vehicles including Tesla cars (Which have their own proprietary port but come with an adapter). When you plug it into your home outlet, you'll need to have a NEMA 14-50 one installed.
WoShion Flex – Portable EV Charger (40 Amp) Features
The WoShion Flex 40-amp Level 2 ev charger does not have any kind of connectivity like you'll find in electric vehicle charging stations such as the chargepoint home flex charger. But you won't find wireless connectivity in any portable charger for that matter. They are made to be cheap and easy to use. It is true that lately they have gotten to be as powerful as the fixed charging stations.
There is an LCD display on the control box which will show you for how long it has been charging, the amperage, voltage and unit temperature. There are also 2 buttons on the unit with whcih you can adjust the amperage and thus the speed but also set a charging timer so that you can take advantage of that off-peak electricity at night.
The control box is NEMA 4 rated which equivalates to IP66 and this is important because it means that the charging process can continue in the rain and snow. You don't want to have to worry about this stuff.
Every WoShion comes with a 2-Year warranty from the manufacturer and this is the standard for this price range.