We selected the best Hyundai Kona Home Chargers that you can find on the market today. As of 2022 the Hyundai Kona comes with a 64 kWh battery pack and its on-board charger can handle a charging power of 11 kW

That is why selected the charging stations that are fully compatible with the Hyundai Kona, Santa Fe Plug-In Hybrid, Tucson Plug-In Hybrid and the Hyundai Ioniq Plug-In Hybrid.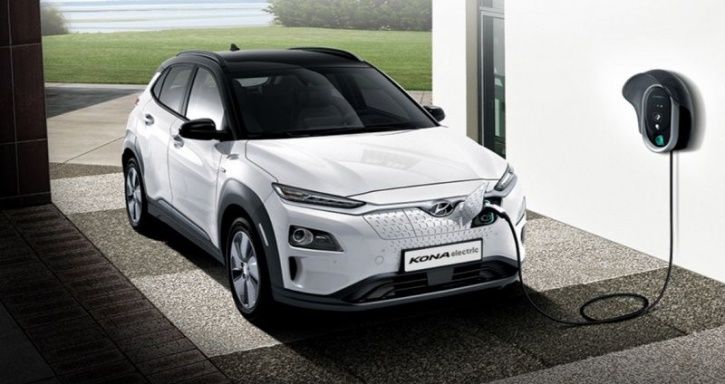 Let's have a look at each product in particular.
ENEL X JuiceBox 40 – Level 2 EV Charging Station (40 Amp)
The first Hyundai Kona Home Charger we're going to review is the Enel X JuiceBox 40. This Level 2 charger can output 10 kW of charging power and 40 Amps of electric current.
But how does that translate into actual charging times? Based on our estimations, this EV Charging station can charge your 64kWh Hyundai Kona electric vehicle in jut a bit over 7 hours. Now this estimation doesn't take into account things like potential software throttling from the on-board charger that could slow down the charging rate in order to protect the battery and extend its lifespan.
You can plug it into a NEMA 14-50 outlet or you can hardwire it. If you don't have that outlet but still want full power out of it, you'll need to hardwire it to at least a 48 Amp circuit breaker. On the other end, the connector type is J1772, the standard for electric cars in North America. All the EVs made by the Hyundai Motor Company will use this kind of port.
The charging cable stretches out 25 feet (7.6 meters), which should be more than enough even if your Kona is parked in front of the garage. The cable is permanently fixed to the charger, because it is a tethered charger as are all in the US, you can't unplug and replace with a different one.
This is a smart EV Charger so it has WiFi connectivity which allows you to connect to it and either remotely start it or stop it from charging, check extensive reports that track how much you've spent each day on charging your Hyundai but also find out how much CO2 has been saved from the air by you using your EV, so there are bragging rights too.
It can also do power sharing, so let's say you have a Hyundai Kona but also a Ioniq electric or a Tucson Hybrid and you want to have 2 Enel Chargers plugged into the same circuit, they will communicate with eachother and distribute power so that they don't overload the circuit.
The entire housing of the unit is IP66 rated so you can be sure it is waterproof and dustproof, in addition the manufacturer will offer a 3-year limited warranty.
Grizzl-E Classic Charger – Level 2 EV Charging Station (16-40 Amp)
Then there is the Grizzl-E Classic, a different approach to what a Hyundai Kona Home Charger should be. While the Enel packs plenty of smart features in it, this does not. Instead it focuses on being durable and simple to use.
The Grizzl-E is capable of delivering 40 Amps of electrical current at a charging rate of 9.6 kW. You can plug it into either a NEMA 14-50 or a NEMA 6-50 outlet at a voltage between 208-240V.
It uses a 24ft charging cable with a J1772 connector at the end, so no surprise there. The unit is IP67 rated though, which means it will be able to withstand water even better than the Enel, up to the point where you can actually immerse it in water for a short time and it will still be able to work after that. Very few EV chargers for home have this kind of IP rating.
Of course, it has all the safety features that one would expect like Overcurrent, Overvoltage, Undervoltage, Ground Fault, Overtemperature protection, plus power outage recovery. It is water-resistant and also fire resistant. The amperage is adjustable anywhere betwee 16 to 40 Amps and Grizzl-E offers a 3-Year warranty.
Wallbox Pulsar Plus – Level 2 EV Charging Station (40 Amp, 9.6 kW)
Our third Hyundai Kona Home Charger is going to be the Wallbox Pulsar Plus. This is a fierce contender to the Enel X because it offers most of the smart features and then some. It is a 40-Amp Level 2 Charger with the ability to output 9.6 kW of power, so you given that the battery capacity is the same and the charging rate remains the same, this will have the same charging time as the Enel or the Grizzl-E.
For charging at home, you can connect it to a NEMA 14-50 outlet or just hardwire it. The cable extends up to 25 ft long (7.6 meters) and is fitted with a J1772 connector.
There are all the smart features that you can think of from charge scheduling to remotely starting it and stopping it plus Alexa integration so let's have a look at what sets it apart. First of all the Wallbox app has better data visualization features because it can create some really nice charts with the data logs from previous charging sessions, allowing you to get a much better grasp on the data.
Power sharing is also a key feature, so if you have a second Wallbox plugged into the circuit, they will distribute power accordingly. But making use of solar excess is a feature that sets it apart. The idea is that if you have solar panels mounted, you can tell the charger how much power you want to draw from solar and how much from the grid which is a big money saver.
The outer case is IP54 rated so it will withstand rain and splashes and the device comes with a 3-Year warranty.
Mustart – Level 2 Portable EV Charger (40 Amp)
The final EV charger for your Hyundai Kona is the Mustart and we chose this one because it is a different form factor. This is a portable charger that you do not have to mount on your wall, so there will be no installation costs. You just plug it into a NEMA 14-50 or a NEMA 6-50 outlet and you're good to go.
It only weighs about 14 lbs. (6.3 kg) so you can carry it around with you and this can be the home charger and the workplace charger for your Hyundai Kona EV. The cable is long enough too, measuring 25 feet (7.6 meters).
Now this does not come with the smart features that the other charging stations have, there's no wifi connectivity or smartphone app, just 2 buttons to change the amperage and set a delayed charge timer, which basically tells the charger to start charging only after a certain number of hours. It also features an LCD display that tells you key info about the charging capacity, status, battery level, amperage, voltage and much more.
Still, it is much cheaper than the others and portable. The unit is IP65 rated and comes with a 2-Year warranty. If you just want to plug and go, this could be your charger.