The Feyree portable EV charger line-up offers two devices, one which is priced very low and one which offers faster charging speeds. Both are waterproof and likewise both have a short charging cable. The LCD display is a welcome bonus.

PROS: Low price (16-Amp Version), Decent charging speeds (32-Amp version), LCD Display (Both versions)

CONS: Short cable, no smart features.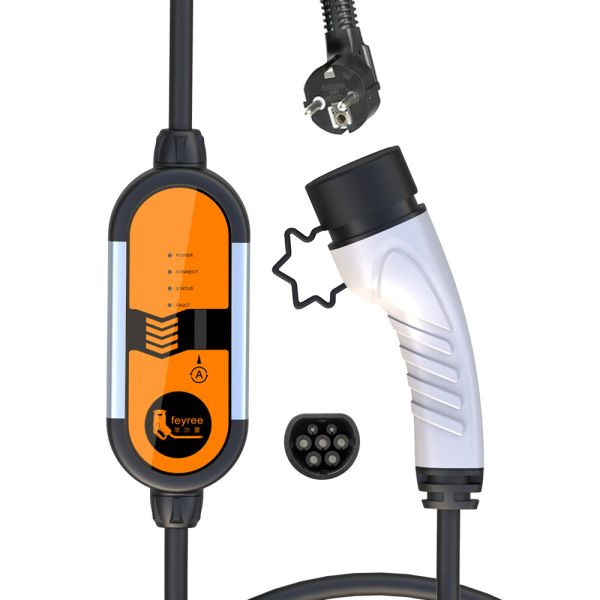 Feyree – Portable EV Charger (16 Amp) Specifications
| | |
| --- | --- |
| Amp rating | 16 Amp |
| Level | Level 1 & 2 |
| Type | Portable EV Charger |
| Cable Length | 18 feet |
| Nema | NEMA 5-15 |
| Power | 3.5 kW |
| Voltage | 110V / 240V |
| Connector | Type 1 (J1772) |
| Connectivity | No |
| IP Rating | IP66 |
| Display | LCD Display & 4 LED lights |
| Warranty | N/A |
| Features | |
| What's in the box | |
| Weight | 5.2 lbs (Entire package) |
Feyree – Portable EV Charger (16 Amp) Charging specifications
The Feyree portable charger line-up consists of 2 devices: A 16-Amp and a 32-Amp charger. Both of these are Level 2 chargers but the 16-Amp can also double as a Level 1 unit depending on which outlet you connect it to.
The 16-Amp unit can deliver a full 3.5 kW to your car while the 32-Amp device should be able to reach 7 kW without any problems.
The 32-Amp charger can only work on 220-240V outlets while the 16-Amp version can work from 110V to 240V.
Feyree – Portable EV Charger (16 Amp) Cable types and connectors
The charging cables are almost the same in terms of length, the 16-Amp version comes with a cable that measures up to 18 ft while the more powerful unit comes with a 16 ft cable. Now it is worth mentioning that both are shorter than what you can expect to get from the average EV charger since most manufacturers will offer a 25-foot charging cable.
The end of the cable that plugs into your electric vehicle uses an SAE J1772 connector which is the universal standard throughout North America with the exception of Tesla models which require an adapter while the other end that plugs into your home outlet differs for each. You can plug the 16-Amp into a NEMA 5-15 outlet while the 32-Amp can only be plugged into a NEMA 14-50 socket. And the choice of outlets makes sense because only the 14-50 can handle the needed amperage to make it work.
Both chargers are tethered which means that if the cable is too short for your needs, you can't simply disconnect and replace it, you need to buy an extension cable. Amazon has plenty of those on their website at every length which you might need.
Feyree – Portable EV Charger (16 Amp) Features
Neither of these has any kind of connectivity built into them and you shouldn't expect a portable charger to be smart since 99% of the devices on the market in this category are not. So that means no Alexa integration, no smartphone app and no charge scheduling.
What is nice though is that both devices come with an LCD screen which displays some key charging info like the charging rate, the amperage, voltage and unit temperature. Now the more powerful 32-Amp model has a bigger color screen with a higher resolution but it is important to know that it is essentially the same information that you're getting regardless of screen size.
Both devices come with a button which when pressed can cycle between different Amp settings. The control box is IP66 rated for being waterproof and dustproof however there have been reports of the 16-Amp control box refusing to charge in low temperatures even though it is specified that the device can work down to -25 Celsius.
Both units come with overheating protection, over-voltage, over-current and leakage protection. The whole package for the 16 Amps weighs 5.2 pounds and the one for the 32-Amp weighs 7.3.
What is a welcome bonus is that regardless of which charger you buy, you will receive a free carrying bag. Now if you're deciding between these two, you need to know that there is a considerable price difference between the two. The 32-Amp retails for twice the price of the 16-Amp but it does come with twice the speed.