The Jump Booster portable EV Charger line-up brings two very solid devices to the table with fast charging speeds, an IP66 rating for both units and a low cost for the 16-Amp version.

PROS: Fast charging speeds (40-Amp version), IP66 waterproof (Both versions), LCD Screen, Long cable.

CONS: No smart features with the exception of delayed charging.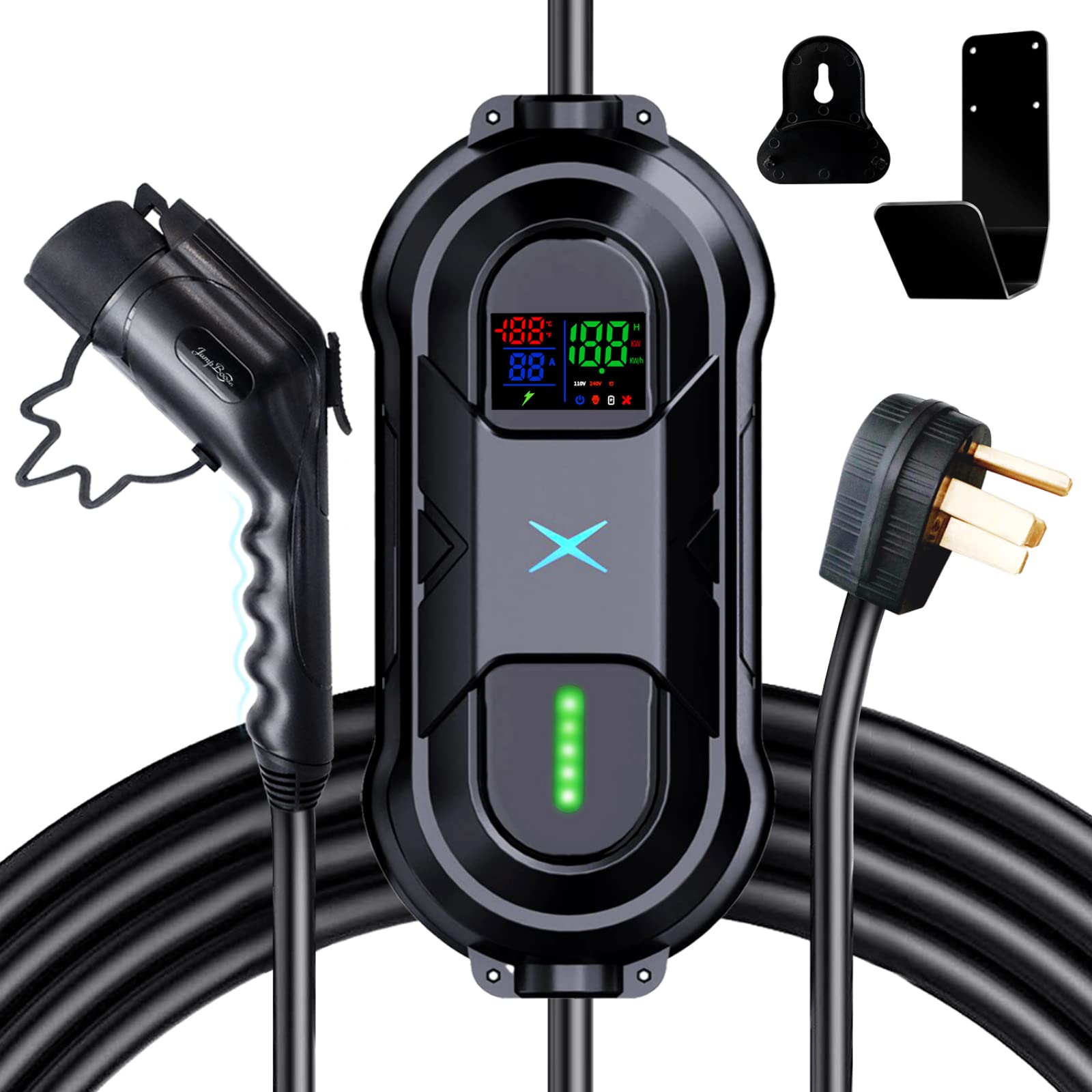 Jump Booster – Portable EV Charger (16 & 40 Amp) Specifications
| | |
| --- | --- |
| Amp rating | 16 Amp & 40 Amp (Adjustable) versions |
| Level | Level 1/2 (16-Amp version), Level 2 (40-Amp version) |
| Type | Portable EV Charger |
| Cable Length | 25 feet |
| Nema | NEMA 5-15 & NEMA 6-20 (16-Amp version), NEMA 14-50 (40-Amp) |
| Power | 3.8 kW (16-Amp version),9.6 kW (40-Amp) |
| Voltage | 110V/240V (16-Amp version), 240V (40-Amp) |
| Connector | Type 1 (J1772) |
| Connectivity | No |
| IP Rating | IP66 (Control Box), IP55 (Connector) |
| Display | LCD Display |
| Warranty | 1-Year |
| Features | |
| What's in the box | |
| Weight | 9.92 lbs (Entire package) |
Jump Booster – Portable EV Charger (16 & 40 Amp) Charging specifications
The Jump Booster portable EV Charger line-up consists of two interestingly looking units. There's a 16-Amp one which is meant to do two things right: work on all sorts of outlets and be cheap. The 40-Amp version is meant to do one thing: Charge fast. Now neither of these have a fixed amperage, they're adjustable. The 40-Amp device can cycle between 16A, 20A, 32A and 40A while the 16-Amp can cycle between 10A, 13A and 16A.
The 40-Amp unit is a pure Level 2 charger, there's no doubt about that and it is not going to change. But the 16-Amp model can double down as a Level 1 or Level 2 charger depending on the outlet in which you plug it into.
But what about power delivery? Because at the end of the day that's one of the main things that matters. Well, the 16-Amp can deliver 1.8 kW when connected to a 110V socket and up to 3.8 kW when plugged into a 240V outlet. The 40-Amp can deliver up to 9.6 kW of power if plugged into the right outlet.
Jump Booster – Portable EV Charger (16 & 40 Amp) Cable types and connectors
Now we need to look at the length of the charging cable because this is a place where lately we have become increasingly disappointed with the newer EV chargers coming on the market with shorter and shorter cables. I can name at least 10 models that were put out in 2022 which have a charging cable that's less than 20 feet long. Fortunately, that's not the case here and the cable is long enough, 25 feet to be exact. That's exactly what you would expect from the standard charger.
The 16-Amp version can connect to either a NEMA 5-15 or NEMA 6-20 outlet which makes it the flexible one of the two while the other one can only connect to a NEMA 14-50 outlet because it is the powerful of the two. Things get simpler at the other end of the cable because both of them come with an SAE J1772 connector that plugs into any electric vehicle in North America.
Because the chargers are tethered, if you're not happy with the length of the charging cable the only option is to buy an extension cable.
Jump Booster – Portable EV Charger (16 & 40 Amp) Features
Jump Booster mentioned a host of safety features for both chargers and they include leakage protection, lightning protection, ground protection and overheating. But how well do these two devices handle the real world where it rains and sometimes floods? Well the control box is IP66 rated while the connector is IP55 and this info is applicable to both units. Now this means that it can easily withstand the rain, snow or summer heat and keep on charging.
Don't look for connectivity or smart features because you won't find any. Portable chargers are meant to be really simple and rudimentary allowing you to plug in without much fuss. This means you can't set a charging schedule in order to take proper advantage of off-peak electricity.
But luckily most EVs have this function built-in so you might not need to rely on the charger. Some portable chargers do come with a button to delay the charging process by a number of hours and that is exactly what you'll get with these two chargers.
There are a series of safety features which you'll find in both these units like short circuit protection, leakage protection, protection against lightning, overvoltage, overload and high temperatures.
It does come with an LCD display which can display key info like the actual charging power, charging time, temperature of the unit, voltage and the set charging delay timer we talked about earlier.
One welcome bonus is the carrying bag which you'll get for free regardless of which version you buy. And also regardless of which device you choose, you'll get a 1-Year warranty.