The QubEV is a 32 Amp EV Charging socket which can deliver fast charging speeds and comes with great weather protection. It can be installed indoor or outdoor and comes without a charging cable giving you extra flexibility.

PROS: Fast charging speeds, IP65 weather protection, Untethered

CONS: No smart charging features.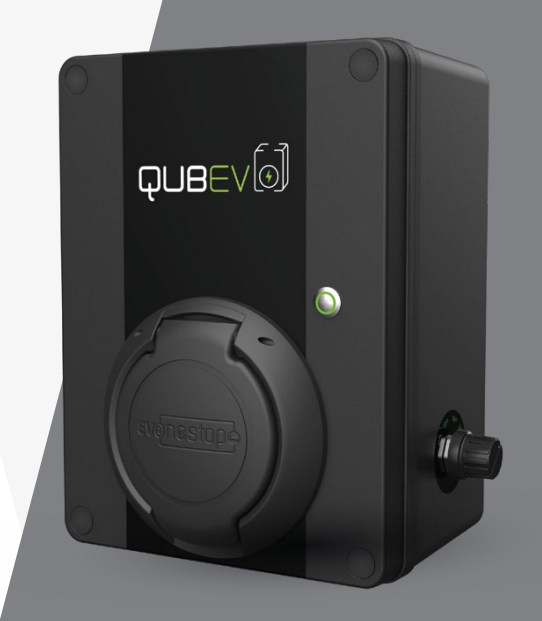 QubEV – Level 2 EV Charging Station (32 Amp) Specifications
| | |
| --- | --- |
| Amp rating | 32 Amp |
| Level | Level 2 |
| Type | EV Charging Station |
| Cable Length | No cable included |
| Nema | Hardwired |
| Power | 7.2 kW |
| Voltage | 230V |
| Connector | Type 2 (Mennekes) |
| Connectivity | No |
| IP Rating | IP65 |
| Display | LED indicator light |
| Warranty | 1-Year |
| Features | Adjustable Amps (10A, 16A, 20A, 25A & 32A), AC Overload Protection (C40A MCB) and AC & DC Fault Current Protection (Type B RCD), WEATHER/HEAT RESISTANT | With an IP65 weatherproof rating for the enclosure and IP54 for the socket |
| What's in the box | 1 x QUBEV 4 x wall plugs 4 x washers 4 x fixing screws 1 x fixing template 1 x Installation & User Guide |
| Weight | 3.3 lbs (1.5 kg) |
QubEV – Level 2 EV Charging Station (32 Amp) Charging specifications
The QubEV is a 32-Amp Electric Vehicle Charging station which has a 7.2 kW power rating. This EV Charging Unit comes with just the plug without a charging cable and it works at a 230V voltage.
Now the 32 Amp charging rate doesn't say much, so let's have a look at a specific real-life example of how fast it would charge your car. If you drive a Tesla Model Y which has a 75 kWh battery pack and an on-board charger which can handle more power than this charger can deliver then you'll be interested to know that it should take a little over 9 hours to charge it from 20% to 100%. So you can plug it in as late as 11 pm and leave in the morning at 8 AM with a full tank.
This is a realistic scenario since you're always likely to have some juice left in the battery at the end of the day. The average american drives 26 miles per day and given the Model Y's range of 318 miles, when you do the maths you realize that an overnight charge can easily last you for almost the entire week.
QubEV – Level 2 EV Charging Station (32 Amp) Cable types and connectors
As we said before, the QubEV is basically a charging socket which doesn't come with any charging cable and that's because this is an untethered charger. In Europe, some of the EV chargers are tethered (Cable is permanently fixed to the charger and can't be disconnected) and some are untethered (You just buy the charging unit without an EV Charging cable and then choose the cord that suits you).
It doesn't come with a wall plug, instead you will need to hardwire it using the 3 wires. If you don't know how to do this yourself, a licensed electrician can easily handle the task. Don't forget to also upgrade the fuse on your electrical panel to at least 40 Amps.
The charging connector on the socket is a standard Type 2 connector (AKA Mennekes) and from there on, whichever cable you buy is your choice. You can get a Type 2 cable or even a Type 2 to Type 1 cable, that's the great thing about having the flexibility of an untethered charger.
QubEV – Level 2 EV Charging Station (32 Amp) Features
There is no wifi connectivity and no smart charging features on this device as it is meant to be a simple plug-and-go unit. Usually one of the key features which you'll find in smart chargers is scheduled charging but you'll usually have that built into your EV, so you can adjust it from your dashboard. There's no LCD Display on the unit either, just an indicating LED light.
The enclosure is IP65 rated while the socket itself is IP54 rated which means that you can reasonably expect this charging station to be completely waterproof. You can install this unit outdoor and it should handle any kind of weather from rain to snow and extreme heat. The QubEV is also covered by a 1-Year warranty. The charging unit itself is very light because it weighs just 1.5kg.
If you are looking for a simple, affordable home charging solution to reduce your reliance on charging points, the Qubev universal EV charger can be a great option.