The Flir TG297 is the extended temperature version of the Flir TG267 with a thermal scope that goes up to 1030 C. So what else is different? Find out in our complete Flir TG297 review.

PROS:Widest temperature range on a sub-1000$ camera, MSX image enhancement, IP54 waterproof, great thermal sensitivity.

CONS:No radiometric thermal data stored in the images.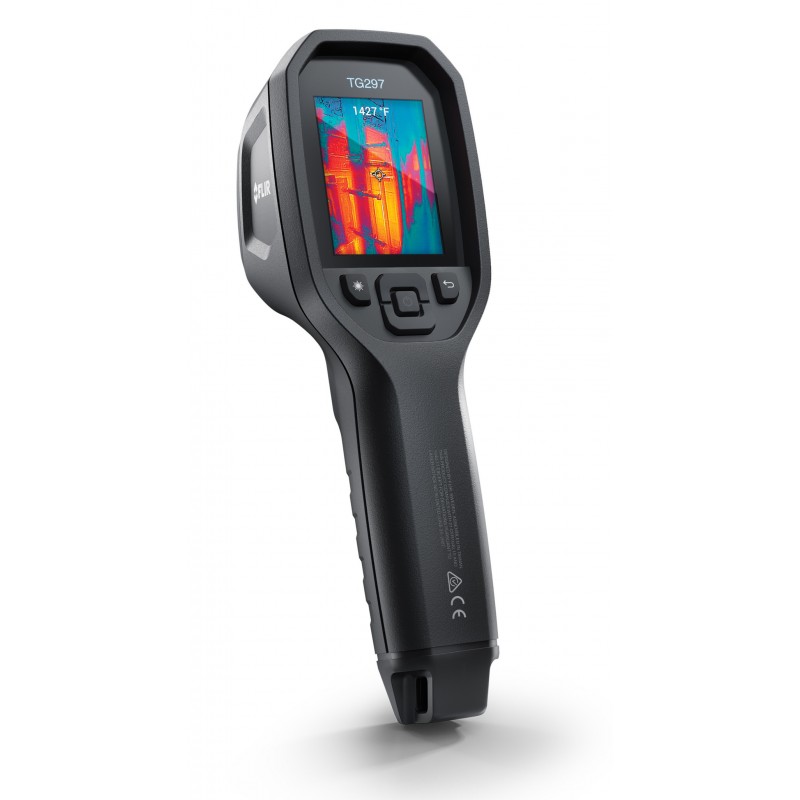 Flir TG297 Specifications
| | |
| --- | --- |
| Type | Handheld |
| Resolution | 160 x 120 |
| Pixels | 19200 |
| Connectivity | USB-C, Bluetooth |
| Temperature range | -13 F to 1886 F (-25 C to 1030 C) |
| Accuracy | 3 C |
| Thermal sensitivity | 0.07 C |
| Distance | |
| Storage Type | Internal Storage 4GB (50,000 images) |
| Battery capacity | 5 hours |
| Dimensions | 138 x 84 x 24 mm (5.4 x 3.3 x 0.94 in) |
| LCD screen | 2.4″ |
| Refresh rate | 8.7 Hz |
| Applications | HVAC inspection, Electrical inspections, Plumbing, Roofing, Automotive Diagnostics |
| View Angle | 57 |
| Features | Waterproof, Dustproof, Manual Focus, Visual Camera |
Flir TG297 – Specs & Review
The Flir TG297 is a handheld thermal camera designed for very high temperature and extreme heat that packs in an infrared sensor, 1600 x 1200 visual camera and a Laser.
Yes, the bullseye laser that we loved is back and it looks as sleek as it did before. Not only that, but it helps you pinpoint the exact hot spot that you are measuring, making a thermal inspection much more comfortable. There is also and 100 lumens LED light on the back for darker spots.
You can download the captured thermal images either via Bluetooth or via USB cable (It has a USB-C 2.0 port). You can connect it to your smartphone via Bluetooth and the Flir Tools app and do 2 things: Transfer the captured thermal images and also stream the live temperature reading from the camera.
Now let's move our Flir TG297 review towards how it is to use the camera. The software is very similar to the one on the TG267. You get a choice of the following color palettes: Arctic, Lava, Rainbow, Iron, White Hot and Black Hot.
The settings menu lets you adjust the emissivity depending on how shiny the material is, the language of the menu, date and time together with temperature units (Fahrenheit or Celsius).
You can view and delete all the thermal images that you've captured from the gallery.
Flir TG297 – Thermal imaging quality
Let's have a look at how the image quality is on this new thermal infrared camera. First of all, the IR sensor has remained the same as on the TG267, with an output resolution of 160 x 120, totaling 19,200 pixels. But alongside the thermal vision sensor, there is also the 1600 x 1200 megapixel visible light camera used for blending the two images together. This is done using the MSX image enhancement feature because in the photo you'll be able to tell the edges and objects while having the thermal view on top. MSX stands for Multi Spectral Dynamic Imaging.
Although it costs as many dollars as the number of degrees it can measure, one thing that it lacks is the ability to store the radiometric thermal data in the digital images for every pixel. That was understandable on the TG267 which costs half the price, but at this level, it's hard to find an infrared thermal imaging camera that doesn't have this feature.
But it can store 50,000 JPG images at a 1600 x 1200 resolution for that matter on its 4GB internal storage.
As with all Flir products, the refresh rate is limited to approximately 9 Hz and this doesn't seem like it will change for a while. There is no manual focus either, it is a fixed focus camera with a minimum focus distance of about 0.98 feet (30 centimeters).
Flir TG297 – Temperature Range, Accuracy
So now, let's look at its temperature measurement capabilities because that is where this camera shines.
The best thing about it is without a doubt, the camera with the widest temperature range under 1000$. Its object temperature range starts from -13 F to 1886 F (-25 C to 1030 C), which means that it has almost 3 times the temperature range of your average thermal camera. It is so wide, it made our list of thermal cameras with the widest temperature range.
And on top of that, it is also very reactive with a thermal sensitivity of 0.07 C.
You can use it to easily detect fires, but of course it is suitable for HVAC inspections, Diagnosing electrical systems, plumbing and roofing.
Flir TG297 – Battery life & Memory
An aspect that also got an upgrade on the Flir TG297 thermal camera is the rechargeable battery life and the device now has a 5 hour battery life.
It is waterproof and dustproof just like the TG267 and has an IP54 rating. The rating means you can splash it with water and it will continue to function and also withstand a 1.8 meter drop test.
The images are captured and displayed on its 2.4″ screen with a 320 x 240 resolution which is visible enough to view in broad daylight and then there is the 2-10 warranty that Flir Systems offers for all of its devices: 2 years for the infrared thermal camera and 10 years for the thermal sensor, just as long as you register your product within 60 days after you purchased it.