We researched 4 thermal cameras that have a 160 x 120 resolution. Each of them is great in its own class and we have taken an in-depth look at all the 4 models looking at their temperature measurement accuracy, range and sensitivity but also on connectivity, LCD size, the range of color palettes and how easy it is to use

Here is our list of the 4 best thermal cameras with an infrared resolution of 160 x 120 pixels: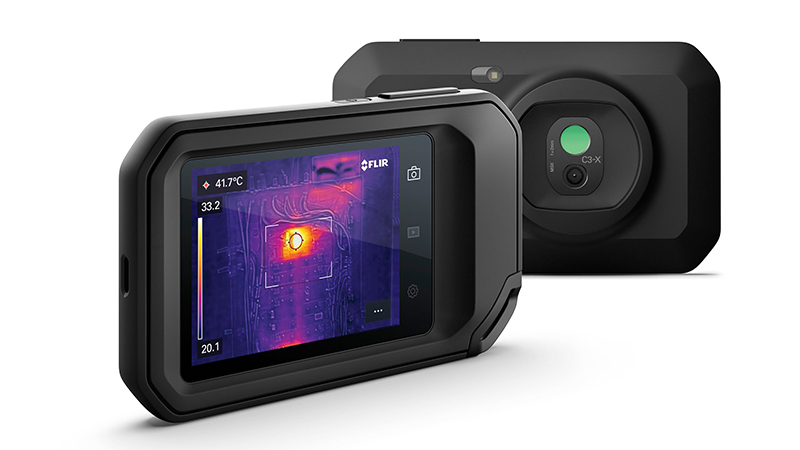 Let's have a look at each product in particular.
FLIR C5
The Flir C5 is the best pocket thermal camera with a 160 x 120 resolution that you can buy with this Infrared Resolution. It is the newest camera in the C line from Flir which also includes the Flir C2 and Flir C3.
This infrared camera comes with literally everything that a 2020 user could expect and it starts with the fact that it has wi-fi connectivity and USB-C.
One unique thing about this camera is its cloud connectivity as it can capture and send your thermal images directly to the Flir Ignite cloud, the first online platform for infrared thermal imaging cameras as of 2020. It also is one of the few devices to get automatic OTA firmware updates.
Another big selling point of this camera is its MSX Multi Spectral Dynamic Image enhancement technology which is a fancy name for a very good algorithm that overlaps the thermal image and visual image, but one which delivers on its name because it is probably the best in the industry. The shapes, outlines, depth perception all are at a superior level with MSX in comparison to what we've seen on other cameras with the same thermal resolution.
It has a huge 3.5″ LCD display that is also a touchscreen, it is high resolution and visible in broad daylight.
In terms of temperature measurement, it also performs well with a 0.05 C sensitivity, a wide temperature range between -20 to 400 Celsius and a slightly subpar accuracy of +/- 3.
On the main screen you get a fixed center spot measurement and dynamic points that continuously update showing you the coldest and the warmest spots.
Another great thing is that it captures the images in JPG format and saves all the thermal data inside them in radiometric form, so you get the temperature for each pixel, allowing you to change color palletes and adjust the color scale.
Not only that but this compact thermal imaging camera is waterproof and dustproof with an IP54 rating. Out of all the thermal cameras featured here, this is the only one that is waterproof.
There is much to like about this camera and probably the only downside is its higher price tag.
FLIR ONE Pro
| Product | Type | Resolution | Battery capacity | Waterproof | LCD screen | Price |
| --- | --- | --- | --- | --- | --- | --- |
| FLIR ONE Pro | Smartphone (2 different versions – Android & iOS) | 160 x 120 | 45 minutes | No | Uses Smartphone screen | Click for more info |
The Flir One Pro is a different approach. It is a thermal imager that attaches to your smartphone via USB-C, micro USB for Android and Lightning port for iPhone. You need to choose your connector before you buy it.
How does that work? You plug it in and use it with the Flir One app available for Android and iOS. It uses the phone's screen as the display and its internal storage for memory. The app is great and dare I say nicer to use than the Seek Thermal Compact's app.
As it stands, it is the best smartphone thermal infrared camera with a 160 x 120 resolution especially because it also features Flir's MSX technology to boost up its IR resolution.
But let's have a look at how it does with measuring temperature: It can measure between 20 to 400 Celsius with a sensitivity of 0.07 C. The fact that it cannot measure low temperatures is a minus for it.
It has some of the core features from the C5, the ability to change image modes, fiddle with the basic settings like emissivity and reflected temperature, switch between 9 color palettes, capture the infrared images with thermal data in them and also record videos in MP4 (Android version) or MOV (iOS version) format.
There is a lot to like, but there is also something to not like about this camera and that is the battery. Flir put in a 350mah battery that only lasts for 45 minutes and charges separately. One of the biggest complaints that users have is about its battery.
FLIR E5-XT
The Flir E5-XT is our third thermal camera with a 160 x 120 resolution and this one is a different form factor because it is a handheld model meant to be used by professionals, especially given its higher price tag.
The connectivity is there in the form of USB and Wi-fi and the IP54 rating is there too because it is waterproof and dustproof. The camera can sync with your smartphone via Wi-fi to transfer the captured images there automatically via the Flir Tools app.
All the images are stored in radiometric form so you know they hold all the thermal data and you can later edit them and measure the temperature in different parts of it.
The temperature range varies between -20 and 400 celsius with a slightly higher thermal sensitivity of 0.10 C but with great accuracy of +/- 2C.
It also has a 4-hour battery life that takes just 2 hours and 30 minutes to charge up to 90%. As with all the Flir cameras, you get a 2-year warranty on the entire camera and 10 years for the infrared sensor if you do the product registration.
What we don't like about this camera is that the internal storage is very small, it only holds 500 images and it has a narrower field of view.
Acegmet
The last one on our list is a low cost thermal camera with a 160 x 120 image resolution. Acegmet doesn't manufacture infrared cameras as their primary activity, they are actually a company that makes tools.
The first thing we notice is that it doesn't have a visible light camera bundled in, just an infrared sensor so it is only a pure handheld thermal imaging system and also for storage it doesn't have an internal memory and instead you get an SD card slot. These things set it apart from the other 160 x 120 Flir cameras featured here. Without the MSX feature, it is no surprise that the images seem to have a low resolution in comparison to the Flir devices.
Where it outperforms all of the cameras listed above is in its IP 65 rating. That means it not only handles splashes but can also be submersed and still function.
It doesn't have the MSX technology, or the radiometric thermal data, but it can still be used for detection of hot spots or temperature screening and it does that at a lower cost. It is going to be good enough for HVAC inspections, checking for leaks in the plumbing system or electrical inspections to find out if any fuses overheat.
Best 220 x 160 Thermal cameras to buy
If you are looking for a higher thermal resolution camera, here are the best cameras you can buy that have a 220 x 160 resolution:


Hti HT-18 – a highly succesful low cost handheld thermal camera


Seek Thermal Reveal – A pocket thermal camera with 10-hour battery life that can detect heat at up to 500 feet. A best-seller in its class.


Seek Thermal CompactXR – A smartphone thermal camera with a range of 1800 feet and video recording.


So which thermal imaging camera with a 160 x 120 resolution should I get?
As an all-rounder, the Flir C5 is by far the best because of its features and image quality.
If you are a professional, then either the E5-XT or the Flir C5 will suit you.
For people buying their first thermal camera just to inspect their home issues, the Flir One Pro can handle that perfectly.
If budget is an issue and you want a rugged and sturdy device, then we suggest the Acegmet.