We review 4 thermal camera with a 320 x 240 resolution. All of these can achieve this number of pixels, but not all have the same image quality

We selected two low-cost models from PerfectPrime, a Pro model and a smartphone thermal imager from Seek Thermal to help you find the exact camera that you need

All of these devices have been researched before, have been widely used and recommended by their users.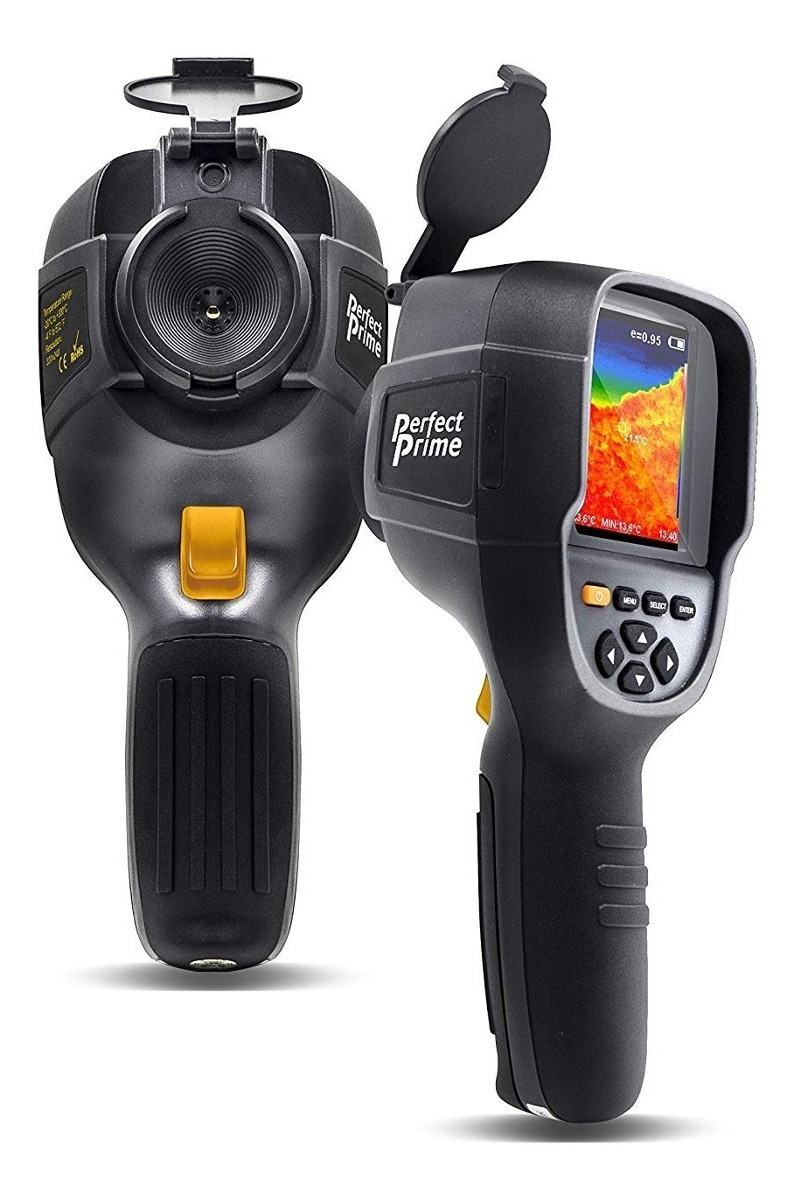 Let's have a look at each product in particular.
FLIR E8 XT
The Flir E8-XT is the best thermal imaging camera that has a 320 x 240 resolution that you can find on the market right now and we'll explain why.
Along with its IR sensor, it has a visual camera for MSX image enhancement. Now the others have this too, this is not a new thing however the algorithm that blends the two images together is far better on the Flir than on the PerfectPrime cameras. The images look very sharp with lots of detail while seamlessly blending in with the thermal layer.
Its temperature measurement capabilities are unmatched because it has the widest thermal scope of any camera here from -4°F to +1022°F (- 20 to 550 C) and it can achieve the highest measurement accuracy with a +/- 2 C value throughout most of that range and a sensitivity of 0.05 C.
You can download the thermal images from it via USB Cable, but you can also stream them to your smartphone or tablet via Wi-fi and Bluetooth.
It is waterproof and dustproof with an IP54 rating, so you can use it in harsh conditions and it will work even if you drop it from 2 meters. It has a 4 hour battery life and a large 3″ LCD screen.
You get a 2 year warranty for the device and 10 years for the thermal vision sensor itself. This is a professional grade thermal camera and the only downside is its considerably higher price.
PerfectPrime IR0006
The PerfectPrime IR0006 is our second thermal camera with a resolution of 320 x 240 pixels. It is a pocket infrared camera in a form factor similar to the Flir C2, Flir C3 and Flir C5.
On the back of this thermal imaging camera you will find three things: Its infrared sensor that outputs 76,800 pixels, an LED light and a visual camera because this device blends the two images to create a sharper and more accurate picture.
Let's look at the PerfectPrime IR0006's temperature measurement performance. It has a temperature range between -20 to 300 Celsius and a thermal sensitivity of 0.07 C. In terms of accuracy it performs well with a +/-2 C accuracy.
You get 3GB of storage in the form of an included SD Card which is more than enough for thousands of thermal images, especially since they are not stored in radiometric form.
We like the fact that it has a large 3.2″ LCD screen and that it has USB connectivity to transfer the images.
You get 3 spot thermal measurements, one for center spot and two dynamic points showing the hottest and coldest points and there are 5 color palettes to choose from.
PerfectPrime IR0019
The PerfectPrime IR0019 is our third Thermal Camera with a 320 x 240 IR resolution. It too has a high resolution visual camera for image enhancement to complement its thermal resolution and you can switch between image modes to the degree of overlapping that you want. What we like is that there is a cap to cover the lenses so that dust or dirt doesn't get in there.
It is not as accurate as the IR006, with +/- 2.5 C accuracy, but it has the same range of temperature and sensitivity.
It has a slightly larger integrated SD memory card with 4GB and also uses a rechargeable Li-Ion battery. The LCD screen size is the same too. This is something we want to see on other thermal cameras, whether high resolution or low resolution.
The color palette choice is the same and so are the settings where you can adjust the emissivity, reflected temperature and auto shutdown. The PerfectPrime menu is easy to use and doesn't require any special training, a quick look over the user manual should do.
Seek Thermal Revealpro
The Seek Thermal Revealpro is a thermal camera with a 320 x 240 resolution with the highest image quality among the cameras listed here. Even though the infrared resolution is the same, we found the sensor on the RevealPro to have superior image quality.
Even though it doesn't have a visible light camera, the details in the picture are clearly distinguishable and the detection distance at which it can find hot spots is up to 1800 feet away. And to use that distance, the camera has a digital zoom feature but which we found tricky to use.
The combination of digital zoom, long distance and color palette can make this look like a really professional night vision camera, similar to the thermal vision devices that you see in military use.
If we look at its temperature screening performance, we notice it also has a wider temperature range between -40 to 330 Celsius which translates to -40 to 626 Fahrenheit. It is also more sensitive to temperature differences because it can react to a +/- 0.05 C change.
It doesn't have an SD Card slot though, Seek have fitted this compact thermal imaging camera with a 4GB internal memory that can hold more than 4000 thermal images.
The reason it stores fewer images than the PerfectPrime models is because unlike them, it also stores the thermal data in the pictures in radiometric form, which gives you the possibility to measure and find not only the warmest or coldest spots, but any pixel in the image. This is a feature that is also found on thermal imaging cameras made by Flir Systems.
To transfer the digital images, you just use the provided micro USB cable in the package and you should know that the device comes with a 1-year warranty.
We would have liked a larger LCD than the 2.4″ one integrated. But what we do like is the fact that it offers 4 hours of battery life.
Out of the 4 cameras here, we find this one to be the best for professionals. HVAC inspections will move much faster, you can use it to find leaks in the plumbing, inspect roofs for poor insulation or leaks, check the electrical circuits in your use or just measure your body temperature, something that seems to have become more popular in 2020.
Seek Thermal Compact PRO
The Seek Thermal CompactPro is a smartphone thermal camera with a 320 x 240 infrared resolution.
It wants to bundle the same functionality that you would get in the Seek Thermal Compact Pro, but put that superior resolution in a very small form factor. There are three different versions: USB-C, micro USB, both for Android phones and the third is with the Lightning port for iPhone, iPad and iOS devices.
It doesn't have a battery, screen, internal memory or visual camera and instead it uses the ones that you already have in your smartphone which does simplify things. We like this approach better than the one on the Flir One and Flir One Pro where they chose to fit them with their own small battery and visual camera. But unless you have a 5000mah battery in your phone, you can expect a 1-2 hour battery life from this infrared thermal imaging system.
It also can detect heat up to 1800 feet away. It keeps all the pluses of the RevealPro, like the temperature range and sensitivity. The refresh rate is the same at 9Hz, but bear in mind that 95% of infrared cameras are limited because of EAR export regulations.
We like the resolution, the temperature range and the app is decent, not as good as the Flir One app, but still usable. We would have preffered a wider field of view.
Which thermal camera with a 320 x 240 resolution to choose?
The best camera in this class and the one that we would recommend for a professional is clearly the Flir E8-XT, but it has a high price tag.

Our next favorite is the Seek Thermal RevealPro because of its splendid image quality, even though it doesn't have a visual camera. The battery life is great, it stores thermal data and for professionals, this is the one to choose.

But that doesn't mean the PerfectPrime models are not good too. They have simple and easy-to-use software and are great value for money. There are small HVAC companies who have started using these lower cost cameras because at this point they can also detect what the more expensive Seek and Flir cameras can.

If you need a smartphone thermal imager with a 320 x 240 resolution, the Seek Thermal Compact is the way to go.