We review 4 Flir Thermal Cameras which we consider are worth buying. Each one is the best of its kind in a certain class, whether it is a smartphone attachment or a professional camera

Every aspect is taken into consideration from thermal resolution to temperature range and extra features.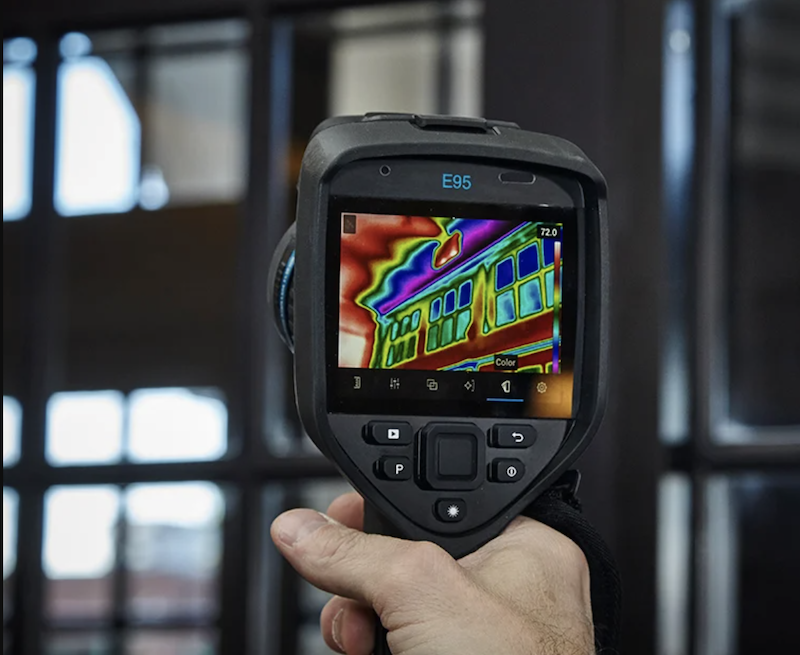 Let's have a look at each product in particular.
FLIR ONE Pro
| Product | Type | Resolution | Battery capacity | Waterproof | LCD screen | Price |
| --- | --- | --- | --- | --- | --- | --- |
| FLIR ONE Pro | Smartphone (2 different versions – Android & iOS) | 160 x 120 | 45 minutes | No | Uses Smartphone screen | Click for more info |
The first Flir thermal camera which we need to talk about is its most successful one, the Flir One Pro. This is what most people have in mind when you mention the company name.
It is a device which attaches to your phone through a USB-C, micro USB or a Lightning port (this is a thermal imaging camera for iOS and android). All 3 options are available but you have to decide on one before you buy. The advantage here is that you're paying just for the essential components: It has a thermal sensor, a visual camera and a small battery which unfortunately only lasts about 45 minutes. Now there are phones which can deliver power to other devices so in theory if you have one like that you could connect a cable from the phone to the One Pro, but this is something we have not tried.
The Flir One Pro thermal imaging camera has a thermal resolution of 160 x 120 totaling a 19,200 pixels resolution. That is coupled with a 1440 x 1080 visual camera and both images are cleverly blended together using MSX (multispectral dynamic imaging). Now the MSX image enhancement algorithm is widely considered to be the most polished on the market. The refresh rate is limited to 9 Hz as with all Flir thermal imagers and this is because of export regulations in the US not the technology itself.
Its temperature measurement range varies from -4 -> 752°F( -20 to 400 C) with a 0.07 C sensitivity. Its measurement capabilities are not something extraordinary given its price, but they are good enough for most situations that you'll be encountering.
To use the this thermal camera for smartphones, you just install the Flir smartphone app and you're good to go. You can use your phone's touchscreen to operate it and the images get saved straight to your phone's storage.
If this one is too expensive, there are other versions like the Flir One Pro LT or the Flir One Gen 3, but both have a lower 80 x 60 resolution.
Flir TG165-X
Then there is our next Flir Thermal Camera and that is the Flir TG165-X. This is their most popular camera to date, the successor to the already best-selling TG165.
It comes with an 80 x 60 thermal vision sensor which can provide up to 4800 pixels. That may not be much but it is supported by a 1600 x 1200 pixel visible light camera. And like all Flir cameras with MSX, the two images get nicely blended into something much better. The refresh rate is limited to 9Hz just like with all Flir consumer thermal imaging equipment. This hasn't been a problem in the past since all manufacturers in the US have been limited to that but it might be in the future since now chinese companies like Hikmicro and Hti have been delivering 25 Hz models for similar prices.
You'll be able to measure temperatures ranging from -13°F to 572°F (-25°C to 300°C) with a +/- 1.5 accuracy and a 0.07 C thermal sensitivity. It is moderately sensitive for its price range but highly accurate.
You can capture the images in radiometric form which is pretty helpful since you can later edit them in Flir Studio and get readings from any part of the image at any point afterwards. There's enough space on the 4GB internal storage too and like most Flir infrared cameras, the enclosure is waterproof (IP54). The battery life is good too because you get up to 5 hours of continuous use, 1 hour more than you can expect for this price.
If thermal cameras from Flir like the TG165-X don't provide good enough image quality, you may want to look at the Flir TG267 which is essentially the same form factor but just a step above in terms of quality but also price of course.
FLIR C5
The Flir C5 is another flagship Flir thermal camera and this is because of its modern features which we'll explain.
First of all, it comes with USB, Wifi and Bluetooth connectivity. Very few thermal cameras have all three. It does make great use of the wifi because it can connect to the internet and automatically update itself through OTA firmware updates. It can also store your thermal images in the Flir Cloud, the first of its kind dedicated to thermal imaging.
But it's not just about the connectivity because this compact thermal imaging camera uses a high resolution thermal sensor which can capture a 160 x 120 image (19,200 thermal pixels). This of course is coupled together with a 5 megapixel camera module and MSX image enhancement. The images look great and you can tell it uses a 5 megapixel camera. The software provides plenty of color palettes and all the images are stored in 14-bit radiometric form so you can adjust them afterwards.
The battery isn't that great, it only lasts 4 hours but the screen is because it's a 3.5″ touchscreen which makes the camera really easy to operate and intuitive.
It can measure anything between -4 to 752°F (-20 to 400°C) with an accuracy of +/- 3 C and a 0.05°C thermal sensitivity. The enclosure itself is waterproof and dustproof. Flir says the camera itself can withstand a 2 meter drop.
FLIR E6 XT
The Flir E6-XT is part of Flir's professional thermal cameras line-up along with the Flir E5-XT and Flir E8-XT. This one comes with a high resolution 240 x 180 pixel thermal sensor which adds up to a staggering 43,200 pixels. Just like with the C5, the infrared sensor is coupled with a visual camera and the result is an image with a large amount of details.
It can connect via USB, Wifi and Bluetooth to transfer the captured images or for firmware updates. The temperature range is much wider here because it can capture anything from -4°F to 1022°F (-20°C to 550°C) with a +/-2°C accuracy and a thermal sensitivity of just 0.06°C.
The main difference between these pro-grade thermal cameras is the resolution. The E8 offers more pixels while the E5 offers less. The battery lasts for 4 hours, but the problem is with the internal storage which only can hold about 5000 images, much too little by any standards. The enclosure of the E6-XT is completely waterproof and Flir offers a 10-year warranty for the sensor and 2 for the camera.