We review 3 Hyundai Ioniq Home Chargers which we consider to be worth buying at the moment. All of them can match or get close to the Ioniq's maximum on-board charging rate and some of them offer unique smart features.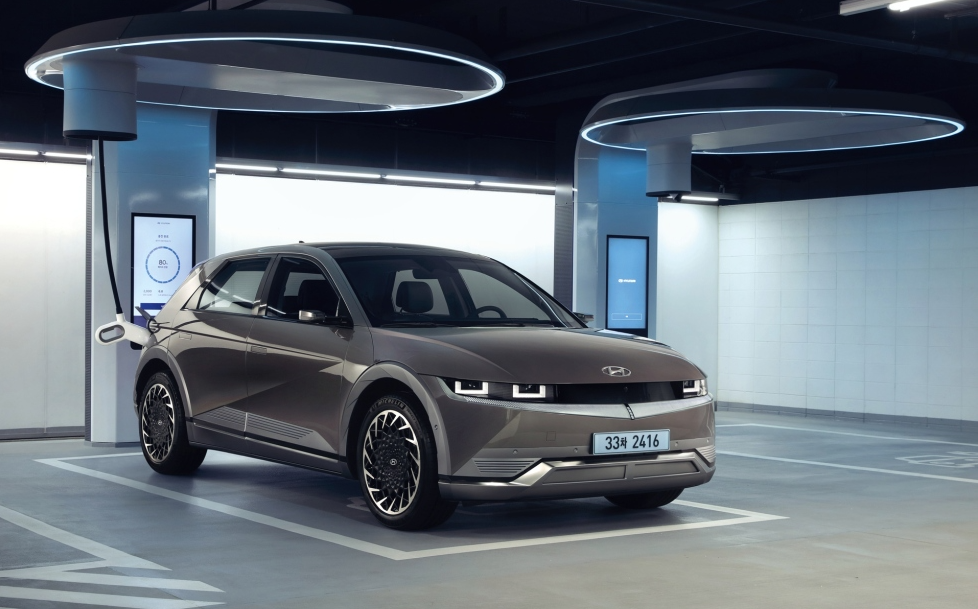 Let's have a look at each product in particular.
ChargePoint Home Flex – Level 2 EV Charging Station (16-50 Amp)
The first Hyundai Ioniq Home charger to look at is the obvious choice when it comes to EV Chargers: The ChargePoint Home Flex. This one is the benchmark when it comes to home charging and that's because not only does it pack a whooping 12 kW of power but also because it's packed with smart features.
Now in terms of the charging time, we know that the Ioniq's on-board AC charger can take a charging rate of up to 12 kW which is exactly what the ChargePoint can offer. For it to get up to full power, you'll need to hardwire it to a 60-Amp circuit breaker. But you can also plug it in and available connector types include NEMA 14-50 and NEMA 6-50.
But what matters to you is not the kW but the time it takes for charging your EV. You should be able to charge the 58 kW standard range version from 20% to 100% in about 4.5 hours and the 77.4 kWh extra-long range version should require about 6 hours for charging the vehicle in the same conditions.
This home charger comes with a J1772 plug which is compatible with most EVs in North America and Wifi connectivity together with a smartphone app so you can control it remotely. It can also integrate with Amazon's Alexa so that you can ask it things like "How much have I spent on charging my EV this month?". Of course it has features like charge scheduling to help you take advantage of off-peak energy prices, something which has become more important lately.
The Chargepoint app is well designed, it is the same one that you use to find public charging stations. This EV charging station only has a NEMA 3R rating so we recommend you install it inside a garage rather than outside since it is not fully waterproof. Each unit also comes with a 3-Year warranty.
ENEL X JuiceBox 40 – Level 2 EV Charging Station (40 Amp)
The next device that will charge your Hyundai Ioniq in no time is the Enel X JuiceBox 40. Now this is a 40-Amp unit so the time to charge is going to be slightly longer. How long exactly? For the 58 kW it should take about 5.5 hours and for the 77 kW version it should be about 7 hours. Still these are great charging times and if you plug in your Ioniq when you get home at night, it should be ready to go in the morning. The average american drives 39 miles per day which means the real-world range you get from a full night of charging is more than enough to get you through a full workweek.
Just like the ChargePoint, it uses a J1772 so it's fully compatible with all EVs on the market and this includes the Ioniq of course. It comes with a 25-foot cable and can be plugged into a NEMA 14-50 connector or hardwired directly, depending on what you prefer. There's a smartphone app with wifi connectivity to help you keep track of your charging costs, set a complex charging schedule or just start and stop it remotely. They even put in a feature that tells you how much CO2 you've saved since you've owned the charger.
The JuiceBox can do something the former can't and that is Power Sharing, so you if you have two of these chargers hooked up to the same circuit, they'll distribute power evenly so it doesn't overload the circuit itself. If the power goes out, the unit restarts itself automatically.
Another big advantage is the fact that it is NEMA 4X rated (IP66 equivalent) so it can withstand water, dust and fire. Every JuiceBox comes with a 3-Year warranty. Personally, I like the design of the unit more than the ChargePoint but that is down to personal preference.
Wallbox Pulsar Plus – Level 2 EV Charging Station (48 Amp, 11 kW)
The Wallbox Pulsar Plus is another great Hyundai Ioniq Home Charger and that's because it basically has the same charging rate as the Chargepoint together with all the smart features that you'll ever need.
It's fast charging rate comes from the fact that it can deliver 48 Amps of electrical current at a rated power of 11.5 kW. Now in order to achieve this, you need to hardwire it to a 60-Amp circuit breaker, there is no NEMA connector. The 25-foot charging cable that plugs into your electric car or plug-in hybrid uses a standard SAE J1772 connector.
In terms of how long it takes to charge the Hyundai Ioniq, you can take the Chargepoint's times as reference, so 4.5 hours for the standard version and 6 hours for the long range. So basically you'll be sleeping more time than it takes to fully charge your EV.
The Wallbox not only has Wifi but also Bluetooth connectivity. It's packed with smart features like power sharing but also a solar excess feature which lets you take full advantage of solar energy. The way it works is that when solar panels are producing excess energy, that can be used by the charger and it only starts when that excess is created, basically avoiding the grid almost completely. The smartphone app is well designed, you get charts showing you how much you've spent on energy each day and there's also Alexa integration. You can also set custom charging schedules for each day of the week.
This home charger is IP54 rated, so you can install it outside and it will sit in the rain and charge without any issues. Each Wallbox unit comes with a 3-Year warranty from the manufacturer. There's also a 40-Amp version which comes with a standard NEMA connector which will achieve the same charging times as the Enel JuiceBox which we talked about here.