The HANSSHOW is a cheap Portable EV Charger that is easy to carry around and provides fast charging speeds together with basic real-time charging data via its LCD screen.

PROS: Fast charging speeds, IP65 weatherproof, LCD Screen.

CONS: Short cable, No Smart features.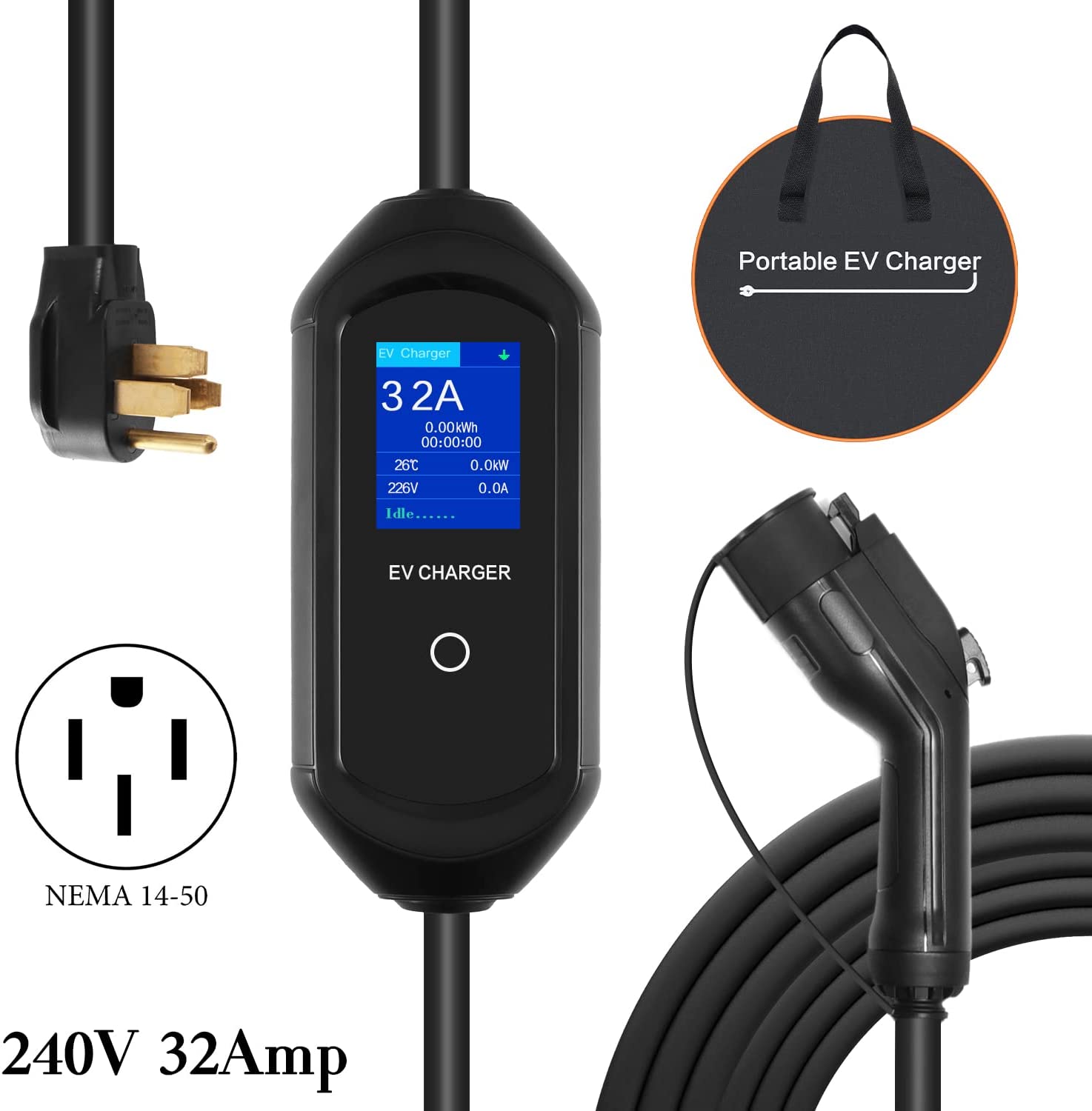 HANSSHOW Level 2 – Portable EV Charger Specifications
| | |
| --- | --- |
| Amp rating | 32 Amp |
| Level | Level 2 |
| Type | Portable EV Charger |
| Cable Length | 16 feet (5 meters) |
| Nema | NEMA 14-50 |
| Power | 7 kW |
| Voltage | 240V |
| Connector | Type 1 (J1772) |
| Connectivity | None |
| IP Rating | IP65 |
| Display | LCD Screen |
| Warranty | N/A |
| Features | |
| What's in the box | |
| Weight | 8.1 lbs |
HANSSHOW Level 2 – Portable EV Charger Charging specifications
HANSSHOW is a company that manufactures aftermarket parts for Tesla vehicles and its headquarters and manufacturing are in Guangzhou. They sell things like the yoke steering wheel, a power frunks and tesla charging adapters. But now they're selling charging equipment too.
The HANSSHOW EV Charger is a portable ev charger cable which can deliver 32 Amps of current to your electric car. Because it is portable, this means that you can use it as a home charger or workplace charger and just keep it in your trunk to use at any time. The only limitation is that you need to find compatible 240V outlets for this, since this is a Level 2 charger but this is something we'll talk about more in the next part.
Now since 32-Amp is the magic number, this translates to 7 kW of charging power but what does this really mean in reality? Let's take a standard Tesla Model 3 as a references since Tesla owners represent the majority of EV owners as of now. It has a 62 kWh battery and so it will take this charger about 8 hours to charge it from 20% to 100%.
HANSSHOW Level 2 – Portable EV Charger Cable types and connectors
One of the issues that I personally have with the HANSSHOW is the fact that the charging cable is significantly shorter than what you usually get with other charger cables for electric vehicles. The cable on the HANSSHOW portable mobile charge station is 16 feet long (5 meters), much shorter than the 25 feet you usually get. This 25-feet standard applies to most EV Charging Stations and also portable chargers.
Now it doesn't mean that the HANSSHOW won't reach your car, most of the time it is going to be long enough but for some specific situations it's not going to be enough. This is a tethered charger which means the cable is fixed to the control box and you can't simply disconnect it and replace it so if you want to make your cable longer, you can just buy an extension cable from Amazon.
The end that plugs into the car uses an SAE J1772 connector which is universal throughout North America with the exception of Tesla models that provide an adapter anway. The one that plugs into the outlet uses a NEMA 14-50 connector and this is why we mentioned that you need to be on the lookout for the proper outlet. Not everyone has this 240V socket installed at home or at the workplace. But it is completely worth it to install one at home if you want to take advantage of this HANSSHOW's fast charging rate.
HANSSHOW Level 2 – Portable EV Charger Features
So because this is a portable charger, you won't find any smart features like wifi connectivity, an app or things like advanced charge scheduling. Now in terms of this scheduling ability, you do get a button on the control box which allows you to delay the charging process by up to 3 hours in 30 minute increments but that's it.
You also get an LCD screen that displays some real-time info on the charging status like the actual Amperage and Power delivered to the electric vehicle. You also get the Voltage displayed, a timer that tells you for how long it has been plugged in and the current temperature of the unit.
The control box is IP65 rated which means that you can use this device to charge in the rain, snow or even more extreme heat. HANSSHOW have not provided any information regarding warranty though.
SEPTEMBER 2022 UPDATE: As of writing this, HANSSHOW for some reason has removed their electric vehicle charging device from online stores. On Amazon for example, they replaced it with j1772 charging adapters for Tesla cars. We do not know when or if it will be back.