The HIKMICRO B10 offers professional level features such as a high thermal resolution, wide temperature range, very good thermal sensitivity, the absolute highest 25Hz refresh rate and IP54 housing to protect all of this while keeping a lower price for the class in which it competes in.

PROS: 256 x 192 IR resolution, 25Hz refresh rate, Wide temperature range, IP54 waterproof enclosure, 2 Mp Visual camera.

CONS: No Wi-fi.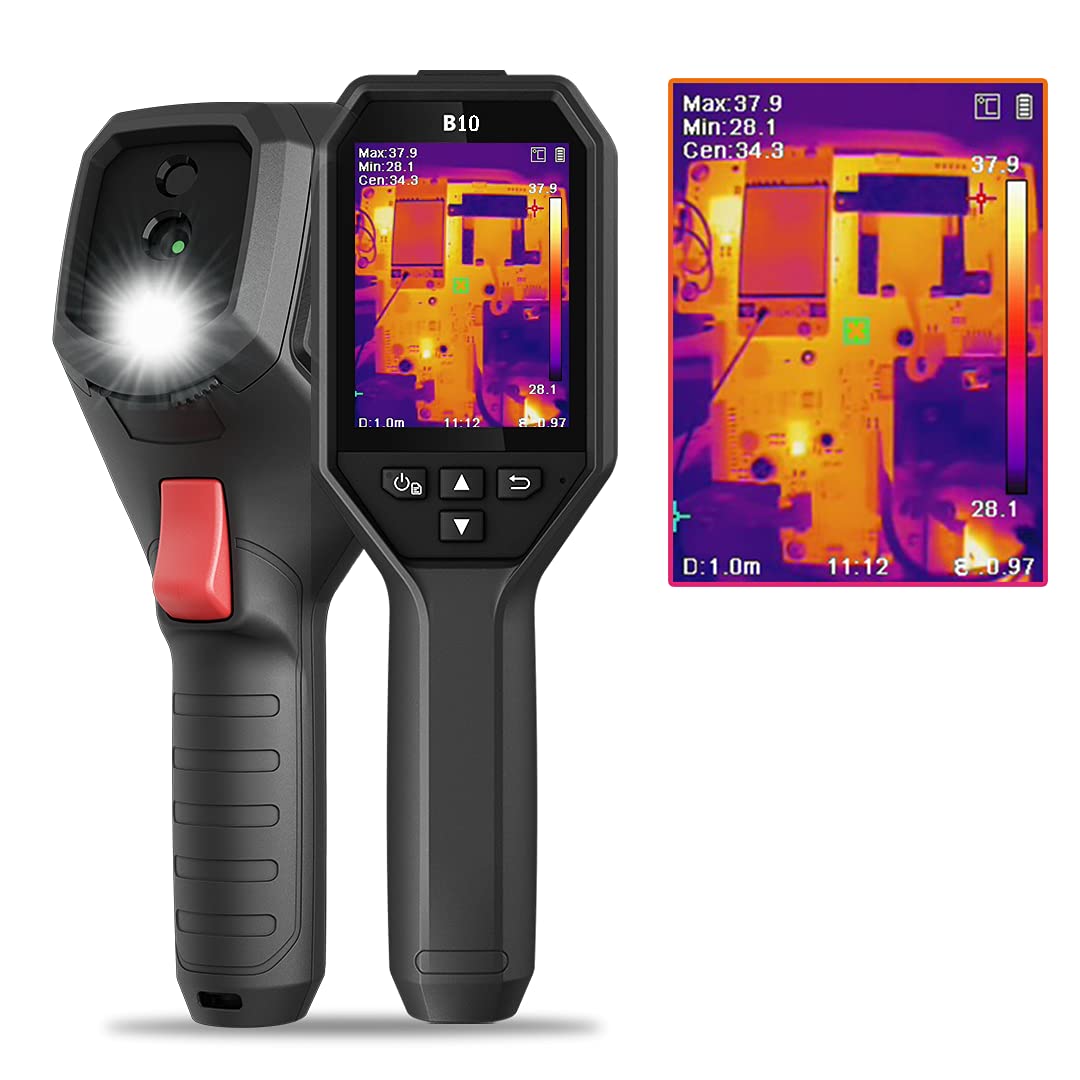 HIKMICRO B10 Specifications
| | |
| --- | --- |
| Type | Handheld |
| Resolution | 256 x 192 |
| Pixels | 49152 |
| Connectivity | USB-C |
| Temperature range | -4 F to 1022 F (-20 C to 550 C) |
| Accuracy | 2 C |
| Thermal sensitivity | 0.04 C |
| Distance | |
| Storage Type | eMMc storage 16GB (90,000 images) |
| Battery capacity | 6 hours |
| Dimensions | |
| LCD screen | 3.2″ |
| Refresh rate | 25 Hz |
| Applications | HVAC inspection, Electrical inspections, Plumbing, Roofing, Automotive Diagnostics |
| View Angle | 37.2 x 50 |
HIKMICRO B10 – Specs & Review
The Hikmicro B10 is a standalone handheld thermal imager with a very high thermal resolution. On the front of it there is a big LCD screen and 4 buttons to operate it and on the back you'll find an infrared sensor as well as a 2mp visual camera, meaning the device can blend together the two into one very detailed thermal image.
This thermal camera can capture the images and store them on its 16GB eMMc internal storage. Hikmicro says that should be good for 90,000 images. I'm not sure if you will ever have to delete a single file in the camera's lifetime. You can transfer these images to your computer or phone by using the integrated USB-C port. Unlike the Hikmicro B1L, this doesn't come with a wireless connection.
HIKMICRO B10 – Thermal imaging quality
Now let's look at this camera's thermal imaging quality because this is where the B10 shines. It can capture a thermal picture with a 256 x 192 pixel resolution. This amounts to 49,152 infrared pixels. Now this strong IR resolution is also backed up by a 2 megapixel visual camera and image blending technology so the result is pretty impressive.
But on top of that is the 25 Hz which really just puts it in its own category. You see, most cameras that are made by the big manufacturers like Flir are limited to 9Hz and this is because they are made in the USA where EAR export regulations don't allow you to export an infrared thermal imaging camera with more than a 9Hz refresh rate.
But HIKMICRO isn't based in the US, it's actually in China so they don't have to abide by that, so their entire product line has this feature including the Hikmicro B20, Hikmicro M10 and Hikmicro M30. The 25Hz refresh rate is impressive, it makes for a really smooth picture and just makes the experience of using it that much better.
Because it has a visual camera, it can offer several image modes such as: Thermal-only (Just the image from the thermal sensor), Optical (Just the optical picture from the visual camera), Fusion (An intelligent software blend of the thermal and visual images) and PIP (Picture-In-Picture).
There are also a few color palettes to choose from: White Hot, Black Hot, Rainbow, Ironbow.
HIKMICRO B10 – Temperature Range, Accuracy
Now let's have a look at this professional thermal imaging camera's capabilities. First of all is the temperature measurement range and here things are looking good: -4 F to 1022 F (-20 C to 550 C). This is a wide range since most infrared cameras in this price range will offer a temperature range of about 600 Farenheit, far less than this.
The thermal accuracy is on par with what you'd expect, about a +/- 2 Celsius. Then there is the thermal sensitivity where Hikmicro states that it is 0.04 C. Now I'd take this with a grain of salt since you only get this kind of sensitivity on high end Flir cameras that cost way more than this, however this claim needs to be tested.
In the software, you'll find a temperature alarm feature that notifies you when the spot measurement reaches it. There are also 3 measurement presets: Center Spot, Hot Spot, Cold Spot.
HIKMICRO B10 – Battery life & Memory
Now let's look at some practical aspects of the B10 handheld thermal imager. It uses a 16GB eMMc storage which can hold up to 90,000 images on it. You're likely not going to delete any infrared image from it. Ever. But then there is the battery capacity and here things are looking well too because the rechargeable battery will last up to 6 hours of continuous running. This is 1 hour of continuous operation more than the average camera can provide at this price.
As with other Hikmicro thermal imaging cameras, it benefits from a waterproof and dustproof IP54 rated enclosure so you won't have to worry if you get it splashed or drop the camera.
The images look great on the 3.2″ LCD screen which has a resolution of 320 x 240 pixels, even though the PPI number is just 125 pixels per inch.
All things considered, the B10 proves itself as a thermal camera that provides extremely good value for money, but also brings something to the table that its competition just can't: An unmatched 25Hz image frequency.