The Hikmicro B1L is a handheld thermal camera with a spectacular 25Hz refresh rate, high thermal resolution, solid IP54 water protection and a large temperature range. For what it costs, it offers everything you can think of.

PROS: 25Hz refresh rate, 160 x 120 resolution, IP54 water protection, Wide temperature range, Long battery life.

CONS: No visual camera.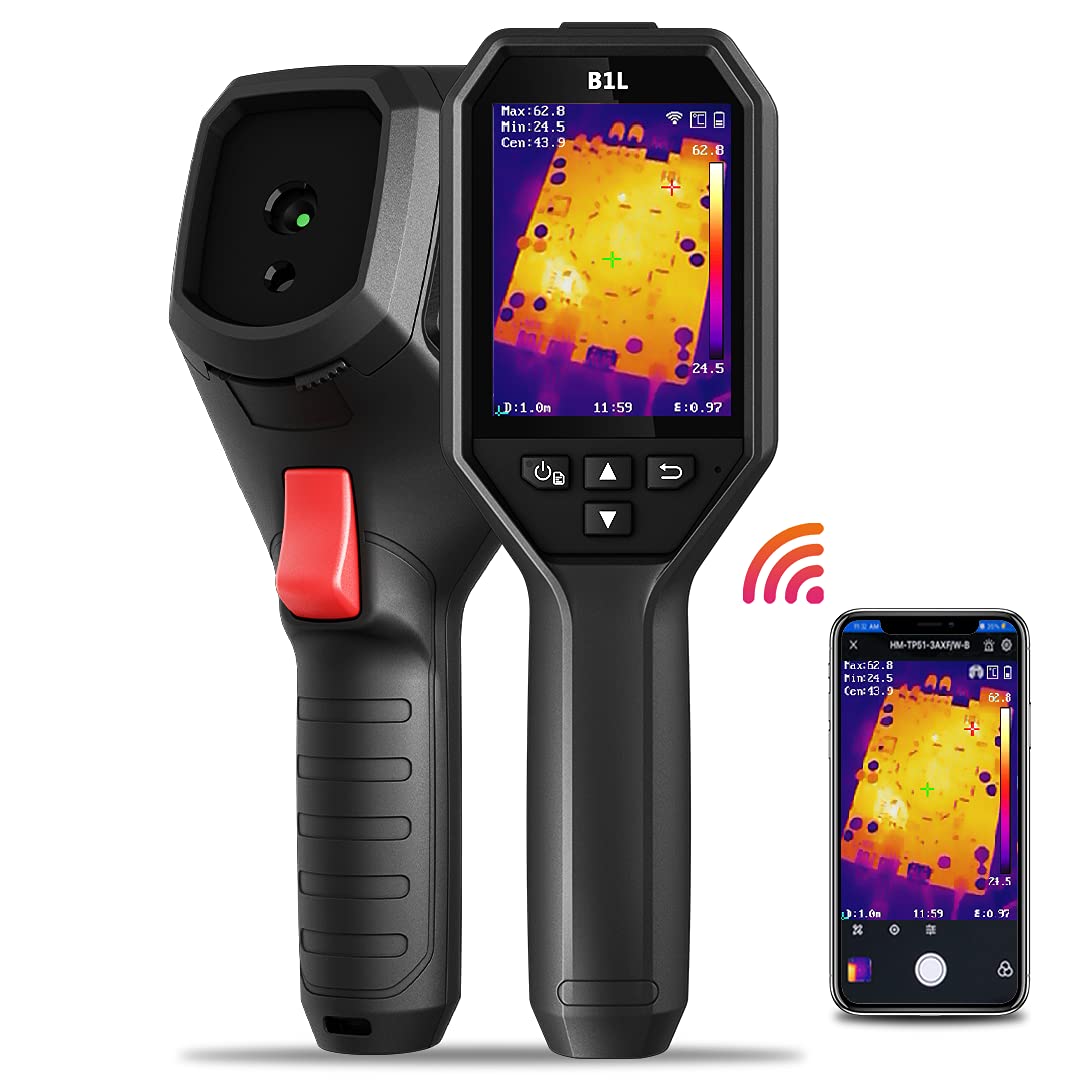 HIKMICRO B1L Specifications
| | |
| --- | --- |
| Type | Handheld |
| Resolution | 160 x 120 |
| Pixels | 19200 |
| Connectivity | USB-C, Wi-fi |
| Temperature range | -4 F to 1022 F (-20 C to 572 C) |
| Accuracy | 2 C |
| Thermal sensitivity | 0.04 C |
| Distance | 300 mm minimum focus distance |
| Storage Type | Internal Storage (4GB) |
| Battery capacity | 8 hours |
| Dimensions | |
| LCD screen | 3.2″ |
| Refresh rate | 25 Hz |
| Applications | HVAC inspection, Electrical inspections, Plumbing, Roofing, Automotive Diagnostics |
| View Angle | 32.9 x 44 |
HIKMICRO B1L – Specs & Review
The HIKMICRO B1L is a handheld thermal imaging camera made by the Hangzhou Hikmicro Sensing Technology Company. This is a manufacturer that's based in Hangzhou, China and why is that relevant you may ask? We'll explain later.
On the back of it you'll find the infrared sensor, there's a red trigger for capturing photos and on the front there's the 3.2″ LCD Screen and 4 buttons, one for power, two for navigating the menu and a back button.
This camera can capture and save thermal images on its internal storage and can also transfer them either via the USB-C cable and wirelessly because this is a thermal imaging camera with Wi-fi.
HIKMICRO B1L – Thermal imaging quality
The Hikmicro B1L thermal imager can capture and save thermal images with an IR resolution of 160 x 120 pixels. This is achieved without the use of any kind of visual camera. Usually, in order to bump up a low thermal resolution, what manufacturers do is install a visual camera so that you combine the 2 images together into something of a better quality. Now when you can output 160 x 120, that's a point where you don't need to do it anymore because the details are visible enough, however Flir still does it and the higher end models from Hikmicro have this as well.
Now in total, there will be 19,200 pixels in the image which is about on par with what the other manufacturers offer for this price.
What is very spectacular is the 25Hz refresh rate. It is literally refreshing to see that on a handheld thermal camera because the movement is so smooth, the image updates right as you move it and the whole experience is way better than what you'd get on 9Hz cameras. This is only possible because it is made in China where they don't have to abide by the EAR export regulations implemented in the US which usually limit them to 9Hz.
There are a few color palettes to choose from: White Hot, Black Hot, Rainbow, Ironbow. There's a temperature alarm feature built-in so that when it reaches a certain temperature, you get a warning.
HIKMICRO B1L – Temperature Range, Accuracy
Now one of the most impressive numbers on this camera is its extremely wide temperature range which can go from -4 F to 1022 F (-20 C to 572 C). This is quite a bold claim since most camera stop short much lower than that especially on the higher end.
And it doesn't stop here because the HIKMICRO B1L handheld thermal imaging camera also has a thermal sensitivity of just 0.04 C which really puts it out there with professional temperature screening devices.
In terms of the accuracy of the thermal sensor it does alright with an accuracy of +/-2 C and a fairly wide viewing angle of 32.9 x 44.
There are 4 measurement presets to choose from: Center spot, Hot spot, Cold spot, User Preset Point.
HIKMICRO B1L – Battery life & Memory
The images are stored on the thermal imaging camera's own 4GB internal storage which should be more than enough since the file size of each image is tiny regardless of image quality.
Its rechargeable battery can last for 8 hours continuous running which should have you covered for an entire workweek at least.
The infrared camera itself has a sealed housing to protect it, so it is waterproof and dustproof with an IP54 rating.
Its LCD screen is larger than usual because it measures 3.2″ in diameter with a resolution of 320 x 240 pixels so you get a 125 pixels per inch resolution.
For what it offers, the Hikmicro B1L is a really great camera. The Flir TG-165X may have the upper advantage in terms of MSX but the 25Hz Image frequency on this one makes it a completely different experience. Once you have this you never want to go back to 9Hz. Most chinese thermal cameras present themselves as a cheaper alternative to a Flir but this one actually has something that they don't.