The Hikmicro M10 is a professional thermal camera which costs less than its Flir equivalent and comes with a host of additional features. But is it as good?

PROS: Great thermal image quality, 25 Hz framerate, 10-Hour battery life (2 swappable batteries), Wide temperature range, 16GB SD Card, Video recording

CONS: Nothing notable.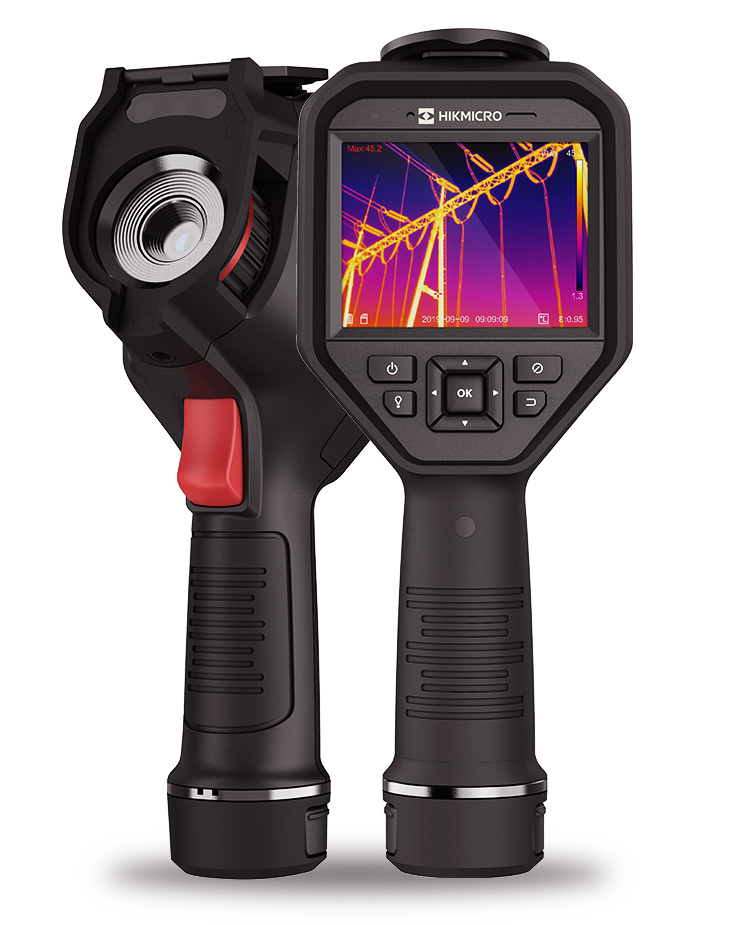 | Product | Type | Resolution | Battery capacity | Waterproof | LCD screen | Price |
| --- | --- | --- | --- | --- | --- | --- |
| HIKMICRO M10 | Handheld | 160 x 120 | 2 x rechargeable and interchangeable Li-ion batteries. 10 hour battery life | Yes | 3.5″ | Click for more info |
HIKMICRO M10 Specifications
| | |
| --- | --- |
| Type | Handheld |
| Resolution | 160 x 120 |
| Pixels | 19,200 |
| Connectivity | USB-C, Wi-fi |
| Temperature range | -4 F to 1022 F (-20 C to 550 C) |
| Accuracy | +/- 2 C |
| Thermal sensitivity | 0.04 (NETD <40mk) |
| Distance | 0.33 feet minimum focus distance |
| Storage Type | 16GB microSD card |
| Battery capacity | 2 x rechargeable and interchangeable Li-ion batteries. 10 hour battery life |
| Dimensions | |
| LCD screen | 3.5″ |
| Refresh rate | 25 Hz |
| Applications | HVAC inspection, Electrical inspections, Plumbing, Roofing, Automotive Diagnostics |
| View Angle | 25 x 18.7 |
HIKMICRO M10 – Specs & Review
The Hikmicro M10 is a thermographic handheld camera that wants to be taken seriously on the international stage. It costs less than the Flir E5-XT and seems to offer less specs and some improvements.
On the back of the camera under the lens cap, you'll find the thermal sensor, an 8 megapixel visible light camera and an LED flashlight.
On the front of the camera, there's a big 3.5″ LCD touchscreen with a 640 x 480 resolution so you get very good pixel density. But that's not all because it is also a touchscreen. Below the screen, you will find 9 buttons to help you operate the camera, but you have the choice between using the touchscreen or the buttons.
The captured images can be transferred to your PC via its USB-C port but also through the built-in Wifi connection.
HIKMICRO M10 – Thermal imaging quality
Now right out of the bat you'll notice the IR resolution. It's not that many pixels is it? A 160 x 120 thermal resolution which accounts to 19,200 pixels. Well its closest competitor in terms of price, the Teledyne Flir E5-XT also has the exact same resolution. So what's the catch? It's in very low thermal sensitivity and the fusion algorithm. Just like with DSLRs and digital cameras, megapixels are good to have but pointless if there's no extra detail in them.
The Hikmicro M10 thermal imaging camera can achieve a thermal sensitivity of under 40 mK NETD. This means that it will pick up even the most subtle temperature differences. Couple that with its 8 megapixel visual camera and you get pictures which are really sharp. Now the question is, are they as good as the ones on the E5-XT? In my opinion, no. The MSX algorithm just does a really wonderful job of defining those edges and details in ways that other infrared cameras can't.
But then we get to the refresh rate and here is where the balance tilts in favour of the M10, the refresh rate. It can achieve a 25 FPS framerate which is almost 3 times more than what US-made cameras can (Because of regulation, not technological limitation). The smooth framerate is clearly noticeable and provides a superior experience. Because this is a professional thermal imaging camera, of course you do get manual focus as well.
There are 7 color palettes to choose from, giving you plenty of options and they are: White Hot, Black Hot, Rainbow, Ironbow, Red Hot, Fusion, Rain. You can also switch between different image modes and they include: Thermal (Only the image data coming from the thermal sensor), Optical (The image from the visual camera), Fusion (A blend between the two and most likely the mode you'll be using most of the time) and PIP (Picture-In-Picture).
This infrared thermal imaging camera can also capture the images separately, so every time you capture an image, the optical picture and thermal picture can be stored separately. Along with the ability to capture images, it can also record video.
HIKMICRO M10 – Temperature Range, Accuracy
Now let's look at how well the Hikmicro M10 professional thermal imaging camera can measure temperature. First of all we need to mention one of the most important numbers here and that is the 40 mK NETD thermal sensitivity. As we mentioned before, this number is hugely important since it will basically determine the amount of detail that you'll get in the thermal image. This is on par with what you'd expect from a professional handheld thermography camera and it is one of the reasons for which you're paying this kind of money. There's also the question of accuracy and here, the M10 fares perfectly inline with other professional cameras having a measurement accuracy of +/- 2 C.
Then there is the temperature measurement range which spans from -4 F to 1022 F (-20 C to 550 C) and it is worth mentioning that this particular one is about 30% wider than the temperature range that other handheld thermal imaging cameras in this price range can measure, so extra points for the M10 here.
HIKMICRO M10 – Battery life & Memory
All the images are stored on a 16GB SD Card and here the camera has a huge advantage over the professional Flir cameras since they only provide an internal memory and it is usually much smaller than what you'd expect, given the price you're paying for the device. Some of them can only store 500 images.
Another advantage is the fact that it comes with 2 rechargeable and interchangeable Li-ion batteries and a charger which can simultaneously charge the two. So once you've depleted one, you can just replace it with the other in order to reach 10 hours of continuous operation with the help of both. This is something quite new to the handheld thermal camera industry since these devices don't really come with interchangeable batteries.
Of course as you'd expect, the housing is completely waterproof and dustproof with an IP54 rating. This is not the best protection you can get but it is good enough for the camera to withstand rain and light splashes of water. The camera is also backed up by a 3-Year warranty plus a 10-Year warranty for the sensor itself.