The Flir One Edge Pro is a revolutionary new smartphone thermal camera which wirelessly connects to your device whether it is an Android or iOS phone.

PROS: Increased battery life, compatible with both iOS or Android smartphones, Wide temperature range, MSX image enhancement technology.

CONS: Resolution could have been improved.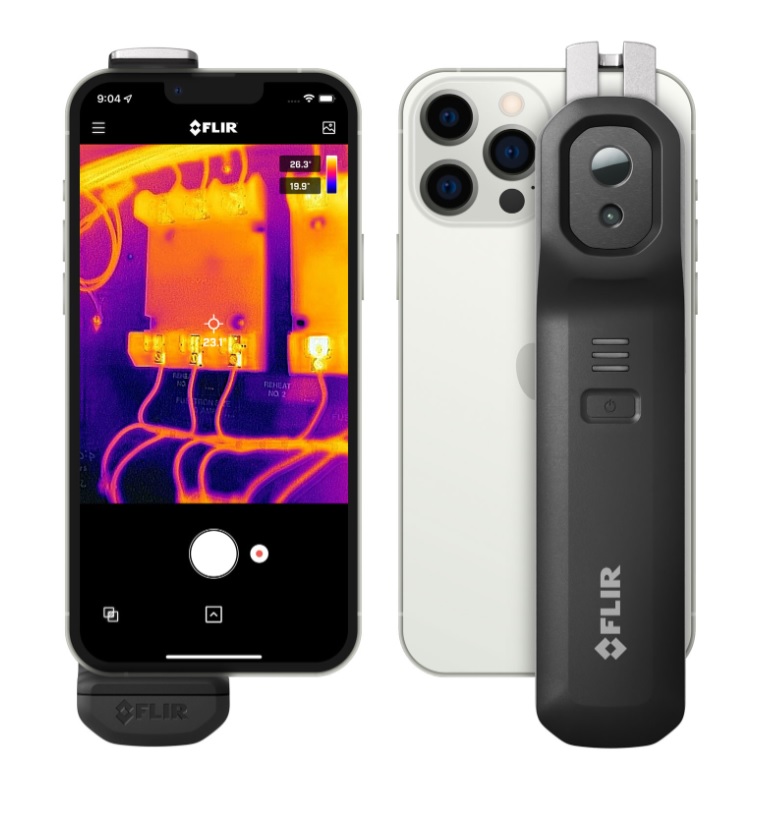 Teledyne FLIR One Edge Pro Specifications
| | |
| --- | --- |
| Type | Smartphone |
| Resolution | 160 x 120 |
| Pixels | 19,200 pixels |
| Connectivity | Wi-fi (802.11 a/b/g/n), Bluetooth, USB-C (Charging only) |
| Temperature range | -4 to 248°F (-20 to 120°C) and 32 to 752°F (0 to 400°C) |
| Accuracy | +/- 5% / 3 C |
| Thermal sensitivity | 70 mK |
| Distance | |
| Storage Type | Uses Smartphone Storage |
| Battery capacity | 1 hour 30 minutes (60-90 minute charging time, 15 min. charge = 40 min work time) |
| Dimensions | |
| LCD screen | Uses Smartphone Display |
| Refresh rate | 9 Hz |
| Applications | Home, Cars Inspections, Electrical Panels Check, HVAC Problems, Water Damage |
| View Angle | 54 x 42 |
Teledyne FLIR One Edge Pro – Specs & Review
The Teledyne Flir One Edge Pro is the new and completely redesigned version of the best-selling Flir One Pro. So how does this smartphone thermal camera work? When you buy one, basically what you get is a device which has a thermal sensor, a visual camera a tiny battery and wireless connection.
You then attach it to the back of your phone using the clever system that they designed, start the Flir One app on your iOS or Android smartphone and connect to it. Your phone's display acts as the screen and every image you capture gets stored directly on your smartphone.
The device comes with plenty of connectivity options including Wi-fi and Bluetooth. It also has a USB-C port but that one is just used for charging. Now most smartphone thermal cameras connect to your phone either through the USB-C or Lightning port depending on which device you're using, so this is a completely new approach.
There are 2 clear advantages to this approach: It is compatible with any phone whether it is an iOS or Android device, something which you don't get with other smartphone infrared cameras and the fact that it connects to the back of your smartphone, making it much more comfortable to use.
Here's another advantage: you can separate it from the phone, they don't need to be together all the time and this allows you to mount it somewhere and analyze the images from a completely different room, up to 100ft (30m) away from the device.
It's worth noting that this mobile infrared camera can also connect to the Flir Ignite Cloud Service to store images there, the only cloud platform that's specifically dedicated to thermal imaging.
Teledyne FLIR One Edge Pro – Thermal imaging quality
Now let's look at the image quality because that's what matters. It has the same infrared resolution of 160 x 120 totaling 160 x 120 thermal pixels just like the older one. Now here it loses ground against other thermal imaging cameras because these days, chinese manufacturers are selling devices which can capture 50% more thermal pixels for the same price. I would have expected Teledyne Flir to upgrade the sensor to a higher thermal resolution, but that's not what happened.
Now even though it has a lower number of pixels, the image quality is greatly improved by the VividIR and MSX image enhancement technologies which are proprietary to Flir and honestly speaking, probably the best in the business. Once MSX mode is activated, the pictures look extremely sharp and detailed so do not underestimate it purely based on the thermal resolution.
The refresh rate is still limited to 9 Hz as one would expect because this is not a technological limitation but one that is imposed by the EAR export regulations in the US for consumer thermal camera modules. There's no manual focus option either, but you can't expect to get this kind of feature in this price range. The minimum focus distance is 30cm, so you have to be at least 30cm away from the object to get a clear picture.
It can capture the images in Radiometric JPEG format. If you're not familiar with radiometric images, they are basically JPEGs which also hold the temperature for each specific pixel in the image. The advantage is that you can then process them in the Flir Thermal Studio software, change the color palette even after they were taken or adjust the temperature thresholds. It can also record video in MP4 format on Android and MOV on iOS.
There are several color palettes to choose from: Gray (white hot), Hottest, Coldest, Iron, Contrast, Arctic, Lava and Color Wheel. You can choose between 3 image modes: Infrared-only, Visual-Only (Just the image from the visual camera) and MSX which very nicely blends the two together.
Teledyne FLIR One Edge Pro – Temperature Range, Accuracy
Now let's have a look at the temperature measurement capabilities of this camera. Things look more of the same like with the old one because the thermal sensitivity of the sensor is still at 70 mK just like with the older model and the temperature range hasn't changed either from -4 to 248°F (-20 to 120°C) and 32 to 752°F (0 to 400°C).
For this sensor, Flir have specified an accuracy of +/- 3 C. Although this number seems big (because here smaller is better), you can expect it to at least be honest and accurate. The viewing angle is just slightly narrower than the older one but still good at 54 x 42 degrees.
Teledyne FLIR One Edge Pro – Battery life & Memory
Now because this is not a handheld thermal camera, basically all the thermal images that it takes will be stored directly on your smartphone. So it is going to be completely dependent on the amount of free space that you have on your phone.
One place where they greatly improved the Flir One Edge Pro is the battery. The older model used to come with a battery that would just last about 45 minutes but now the new one has almost doubled the battery life and it can now last up to 1 hour and 30 minutes. This is a significant improvement and a welcome one since battery life was a big problem with the older models.
The camera is not waterproof or dustproof and no smartphone will ever be since you need to house it in a special sealed enclosure. Anything that connects to your smartphone will have the USB connector exposed and thus won't be waterproof.