The PerfectPrime IR281 thermal camera is a decent device with a 205 x 156 resolution, Wifi, video recording and livestreaming capabilities and a 3.5 hour battery life.

PROS: High thermal resolution, Wifi, Video recording, Livestreaming, Radiometric data, Decent temperature range from -22 F to 626 F (-30 C to 330 C), Android OS.

CONS: Battery life could be longer.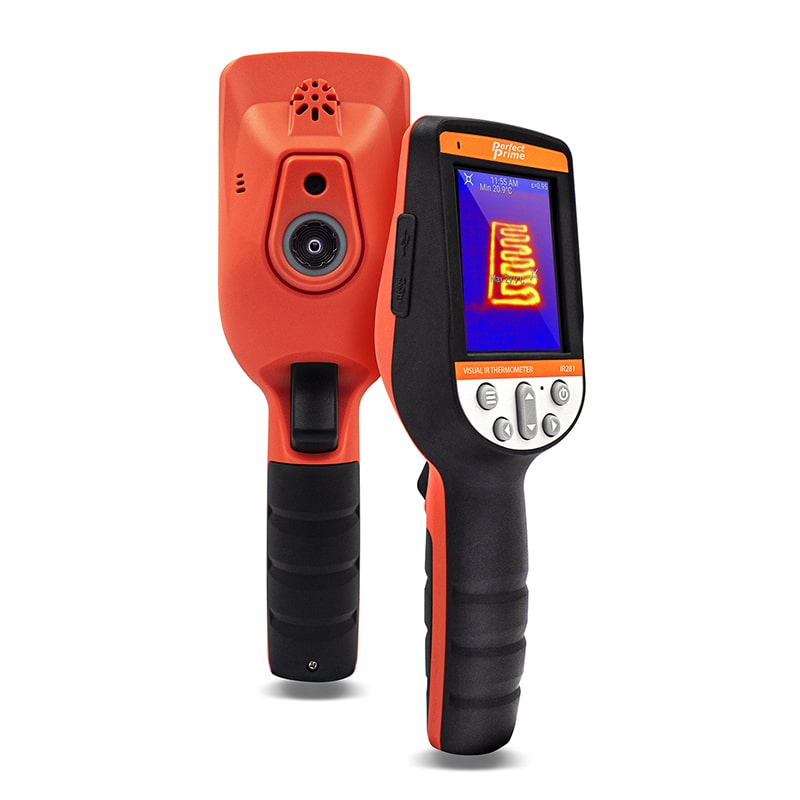 | Product | Type | Resolution | Battery capacity | Waterproof | LCD screen | Price |
| --- | --- | --- | --- | --- | --- | --- |
| PerfectPrime IR281 | Handheld | 206 x 156 | 3.5 hours – 3200 mAh – 18650 Li-ion rechargeable battery | No | 2.8″ Display TFT IPS panel | Click for more info |
PerfectPrime IR281 Specifications
| | |
| --- | --- |
| Type | Handheld |
| Resolution | 206 x 156 |
| Pixels | 32136 |
| Connectivity | USB-C + Wi-fi |
| Temperature range | -22 F to 626 F (-30 C to 330 C) |
| Accuracy | up to +/- 2.5°C |
| Thermal sensitivity | 0.07 C |
| Distance | |
| Storage Type | 32 GB SD Card Included |
| Battery capacity | 3.5 hours – 3200 mAh – 18650 Li-ion rechargeable battery |
| Dimensions | |
| LCD screen | 2.8″ Display TFT IPS panel |
| Refresh rate | 9 Hz |
| Applications | Electrical Inspections, Energy Loss, HVAC/R Inspections, Contractors, Inspectors, Engineers, DIY Homeowners |
| View Angle | 35.4 |
PerfectPrime IR281 – Specs & Review
The PerfectPrime IR281 thermal imaging camera can capture and store thermal images at a fairly high resolution. On the front of it you'll find a fairly decent 2.8″ TFT IPS panel and on the back of it a thermal sensor as well as a higher resolution visual camera which helps create a more detailed image. This is a common practice throughout the industry, to use a visible light camera in order to improve the IR resolution since IR thermal imagers have a fairly low amount of pixels to work with.
The captured photos can be transferred to your computer either via its USB-C port or wifi connection. Now we need to talk a bit about its software here because it uses an android operating system which opens the door to a lot of potential. The screen is actually a touchscreen and you interact with it in the same way as you would with a smartphone. For example, it can automatically update its firmware via the wifi connection.
PerfectPrime IR281 – Thermal imaging quality
Now let's have a look at the IR image quality because that's where it matters in the end. The thermal resolution is 206 x 156 which adds up to a total of 32136 thermal pixels. This is actually inline with what you can expect to get from thermal cameras at this price level, so no more and no less.
The refresh rate is a standard 9Hz and while this is ok for now, more and more chinese companies such as Hti and Hikmicro have started to raise the bar in that with their 25 Hz image refresh rate. Companies like Flir are basically barred from exporting anything over 9 Hz so they are stuck from this point of view. It will be interesting to see how this develops in the coming years.
Since the July 2021 update, the camera now outputs radiometric data from the thermal sensor, so you basically get the temperature of each pixel in the captured image. The temperature data is stored in a CSV file. Another cool feature that they brought in with this update is livestreaming directly to your PC. The camera also has the ability to do video recordings, something which very few IR cameras can do.
PerfectPrime IR281 – Temperature Range, Accuracy
In terms of temperature measurement, the Perfect Prime IR281's sensor does fairly well because it can handle a temperature range from -22 F to 626 F (-30 C to 330 C). That's a bit wider than what you would get from a thermal camera at this price but not by a large margin. It has a thermal sensitivity of 0.07 C which is exactly the standard for this price range.
In terms of temperature accuracy it can achieve a +/- 2.5 C accuracy in normal conditions, just 0.5 C less accurate than the other infrared IR thermal imagers in this price range. The sensor also has a viewing angle of 35.4 degrees.
PerfectPrime IR281 – Battery life & Memory
Now one place where it performs underwhelming is in the battery life sector because the 18650 battery is really only good for 3.5 hours at most and this is actually below the average battery life of 4 hours that you would get at this price point.
In terms of storage, you'll need to know that it doesn't have an internal memory, instead you get a 32GB micro SD Card which should be able to store plenty of data. On the manufacturer website it says that the Perfectprime IR281 infrared ir thermal camera comes with an internal memory and that may confuse potential buyers.
Now we couldn't find any data on the resolution of the screen, we just know it is an IPS touchscreen but the images but if we had to make an educated guess, it would be above the usual 320 x 240 pixel resolution that you may expect to find in most thermal camera screens.
The camera is not waterproof but then 75% of thermal imaging cameras in this price range aren't either, so you're lucky if the model you're going to get has a sealed enclosure.