We selected here 4 Kia EV6 Home Chargers which we consider to be worth purchasing for your new EV

They were selected out of more than 50 different devices based on their charging rate, unique smart features and IP rating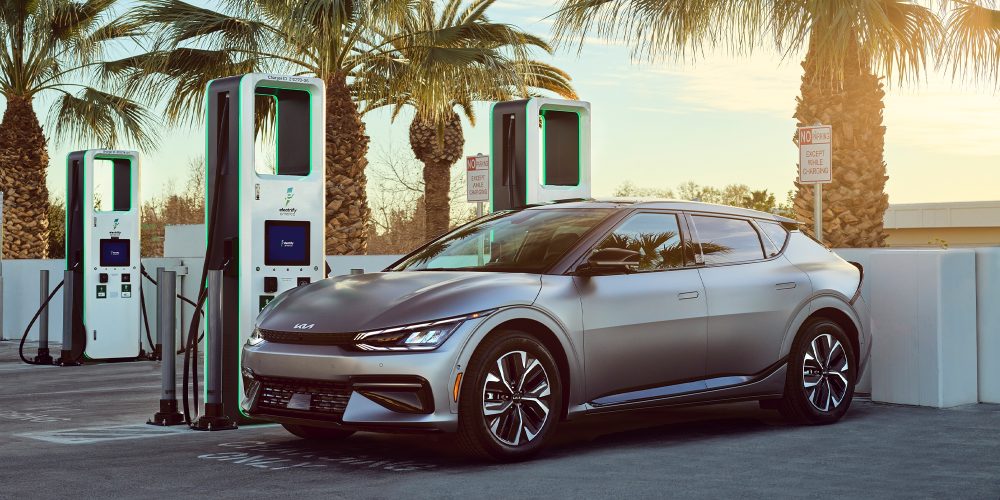 Let's have a look at each product in particular.
ChargePoint Home Flex – Level 2 EV Charging Station (16-50 Amp)
The first Kia EV6 Home Charger and the one which we always recommend is the ChargePoint Home Flex. This is because it is a pretty complete package. For one, it can deliver up to 50 Amps of electrical current at a charging rate of 12 kW. But what does that mean in reality for charging your Kia EV6?
The base model with the 58 kWh battery should charge from 20% to 100% in about 5 hours, given the AC charging rate is limited by the on-board charger to 11 kW. Now if you drive the Kia EV6 GT version, that one will come with a 77 kWh battery pack which will take about 6.5 hours to charge. Remember, the limitation is only for AC charging and the car is also compatible with DC fast charging which is a different story.
This home ev charging station comes with a 23 ft. charging cable which uses a J1772 connector. This connector type is the standard in the US for charging an electric car at home. To plug it to your home circuit, you can either plug it into a NEMA 14-50 OR NEMA 6-50 outlet or hardwire it directly.
You get wifi connectivity and you can use the ChargePoint smartphone app to connect to it and check the status of the charging process, get detailed logs on how much energy has been used each day and because it has Alexa integration, you can simply ask it "how much have I spent on charging my EV this month?".
The charger itself is not waterproof because it only has a NEMA 3R rating, so you'll need to be a bit careful where you install it, preferably inside your garage. This is a minus for the ChargePoint since most of its competitors come with at least an IP54 rating and can charge your vehicle outside in the rain. Each one of these home charging stations comes with a 3-Year warranty from ChargePoint and 24/7 customer support.
Wallbox Pulsar Plus – Level 2 EV Charging Station (48 Amp, 11 kW)
So then what about our next Kia EV6 Charging Station, the Wallbox Pulsar Plus? This is a 48 AMP charger which can deliver up to 11.5 kW to your Kia so you can be sure it matches the on-board charger's capacity. Because both the ChargePoint and the Wallbox max out that number, they basically post the same charging times, so take the previous ones we mentioned as a reference.
This one doesn't have a NEMA connector, you have to hardwire it directly to your home circuit when you have your charger installed. There is however a 40-Amp version available which does come with a connector. Now this Kia EV6 Charger uses the same J1772 connector that you'll find in all residential charging devices.
Now let's look at the smart features and there are plenty here. First there's power sharing, so if you have an additional electric vehicle apart from your Kia and you connect two of these chargers to the same home circuit, they'll know and automatically do load balancing so they don't overload the circuit. That's one, but it also has the solar excess feature which can help you charge your EV6 by only using excess solar energy produced by the solar panels on your roof, if you have any. It's literally free energy.
Apart from those, there's the smartphone app which gives you real-time charging data, keeps track of the cost to charge your Kia and helps you set custom charging schedules for each day of the week. Every Wallbox that you buy is IP54 rated so you're going to be able to charge your EV in the rain, snow and extreme heat. Plus the Wallbox will come with a 3-year warranty from the manufacturer.
Emporia Smart – Level 2 EV Charging Station (48 Amp)
Another great Kia EV6 Home Charger is the Emporia Smart which also provides 48 Amp rapid charging. Now in terms of the charging speeds is business as usual as with the previous two since it hits into the maximum charging rate that the on-board device can handle, since it can deliver up to 11.5 kW of power. So again, you can take the ChargePoint times as a reference.
This particular charger comes with a 24 ft. cable which has a J1772 connector (Fully compatible with your Kia EV6) on the car's end and a NEMA 14-50 connector at the other. This device is manufactured by Emporia and if you know anything about them, you'll know that they are into the energy-saving business. Everything that they build and sell is meant to optimize the energy use of their customers and their charger reflects that.
The 3 pillars of energy management here are: Solar excess which lets the charger use solar energy that's being produced in excess by the solar panels, TOU management which lets you set custom daily schedules to take advantage of those cheaper off-peak hours and Peak avoidance where the charger stops during peak demand.
It comes with a smartphone app which is maybe not as robust as the Wallbox app but still does the job. Every Emporia charger is IP66 rated and comes with a 3-Year warranty.
Mustart – Level 2 Portable EV Charger (40 Amp)
The last Kia EV6 home charger on our list is the Mustart Level 2 Portable charger which can deliver up to 40 Amps of power to your new EV. This means the charging rate is 9.6 kW so you can expect to wait about 6 hours for the standard Kia EV6 to charge from 20% to 100% and 7.5 for the Kia EV6 GT.
The Mustart is a portable device so it can be your home and workplace charger since you can just carry it in the trunk. It uses a J1772 connector at the end of its 25 ft. cable and you can plug it into your home circuit using a 14-50 or 6-50 NEMA connector.
There are no smart features, just 2 buttons which allow you to cycle through AMP settings and set a charging timer delay. There's a nice color LCD display which shows you the real-time charging status so you're getting some of the smart features just not in an app.
It is IP65 rated so it won't have any problems charging in the rain, snow or high heat. Mustart offers a 2-Year No-Hassle warranty on all these devices. If we were to go for a portable option for our Kia EV6, it would have to be the Mustart. It is one of the most powerful and smartest portable EV charger out there.