The MUETUX is a low-cost portable EV Charger which provides fast charging speeds, a weatherproof control box and lifetime warranty. You really get a lot for what you pay for.

PROS: Fast charging speeds, IP66 waterproof control box, Lifetime warranty, LCD screen.

CONS: No smart features.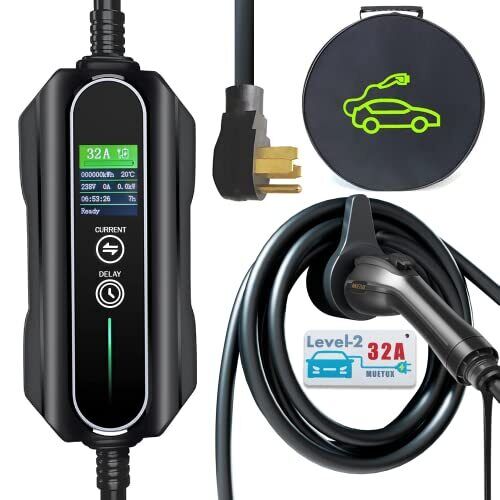 MUETUX – Portable EV Charger (32 Amp) Specifications
| | |
| --- | --- |
| Amp rating | 32 Amp |
| Level | Level 2 |
| Type | Portable EV Charger |
| Cable Length | 22 feet |
| Nema | NEMA 14-50 |
| Power | 7.68 kW |
| Voltage | 240V |
| Connector | Type 1 (J1772) |
| Connectivity | No |
| IP Rating | IP66 |
| Display | LCD Screen |
| Warranty | Lifetime Warranty |
| Features | |
| What's in the box | |
| Weight | 9.08 lbs (Entire package) |
MUETUX – Portable EV Charger (32 Amp) Charging specifications
This is the MUETUX Portable EV Charger. It's been designed to provide moderately fast charging speeds while keeping the price down as low as possible. Anything which isn't necessary is stripped away.
This device can provide your electric vehicle with 32 amps of charging current and this means 7.68 kW of power. That's more than enough to fully charge any electric vehicle overnight in about 10-12 hours. What you need to know is that the 7.68 kW power will max out most on-board EV Chargers. Sure, there are some long range models which come with a more powerful AC charging system, but 90% will max out at this rate.
This is purely a Level 2 charger, there's no 5-15 adapter to plug it into typical household outlets, so you're going to need to keep that in mind.
MUETUX – Portable EV Charger (32 Amp) Cable types and connectors
This portable charger comes with a charging cable that is 22 feet long. This is a good length, just short of the 25 feet that we want to see in every EV Charger. It is actually longer than the cables which we have started to see appear in the past 6 months. What we also like is that the cable is pretty thick, about 0.62 inches in diameter.
If you want to extend it, you can just buy an extension cord since this is a tethered charger and you can't disconnect the cable and just replace it with another one like you could do with european chargers. And it's not like you have a choice, there are literally no untethered chargers available to buy in the US.
To connect to your home circuit, it uses a NEMA 14-50 connector and that is the only plug it comes with, there's no adapter. To hook it up to your car, you just use the standard SAE J1772 connector it comes with. That one is universal throughout North America.
MUETUX – Portable EV Charger (32 Amp) Features
Obviously, for such a low price it is absurd to expect the MUETUX to come with smart features or connectivity and it doesn't. But you do get an LCD screen on the front showing you what the actual real amperage and voltage are, plus you get a timer and a reading of the actual power delivered to the electric vehicle along with the amount of charge the battery has.
Below that screen you will find 2 buttons, one which allows you to cycle between different amp settings and one which allows you to delay the charging process. We've noticed this function on non-smart chargers, a more basic way to do scheduled charging and avoid peak electricity prices. Not bad, but not the best method either. But your EV might have a better version of this feature so be sure to check that one first.
But what about the safety features? There's overvoltage, undervoltage, overcharge, grounding, lightning and overcurrent protection. It has a CE and FCC certification. What is crazy about it is that they claim to provide lifetime warranty, something which we at least have not found on any EV Charger that's sold on the market. They all have a limited warranty, none of them just provide it for life.
Another good thing about this device is that it has an IP66 rating which means it is completely waterproof, you can leave it to charge in the rain and not have to worry about it.