The Mercedes EQS is already on the streets both in US and Europe and so we found 4 Mercedes EQS Home Chargers that you can buy in the US and in Europe and we'll be looking at how fast they charge, what kind of smart features they have together with connectors and IP rating.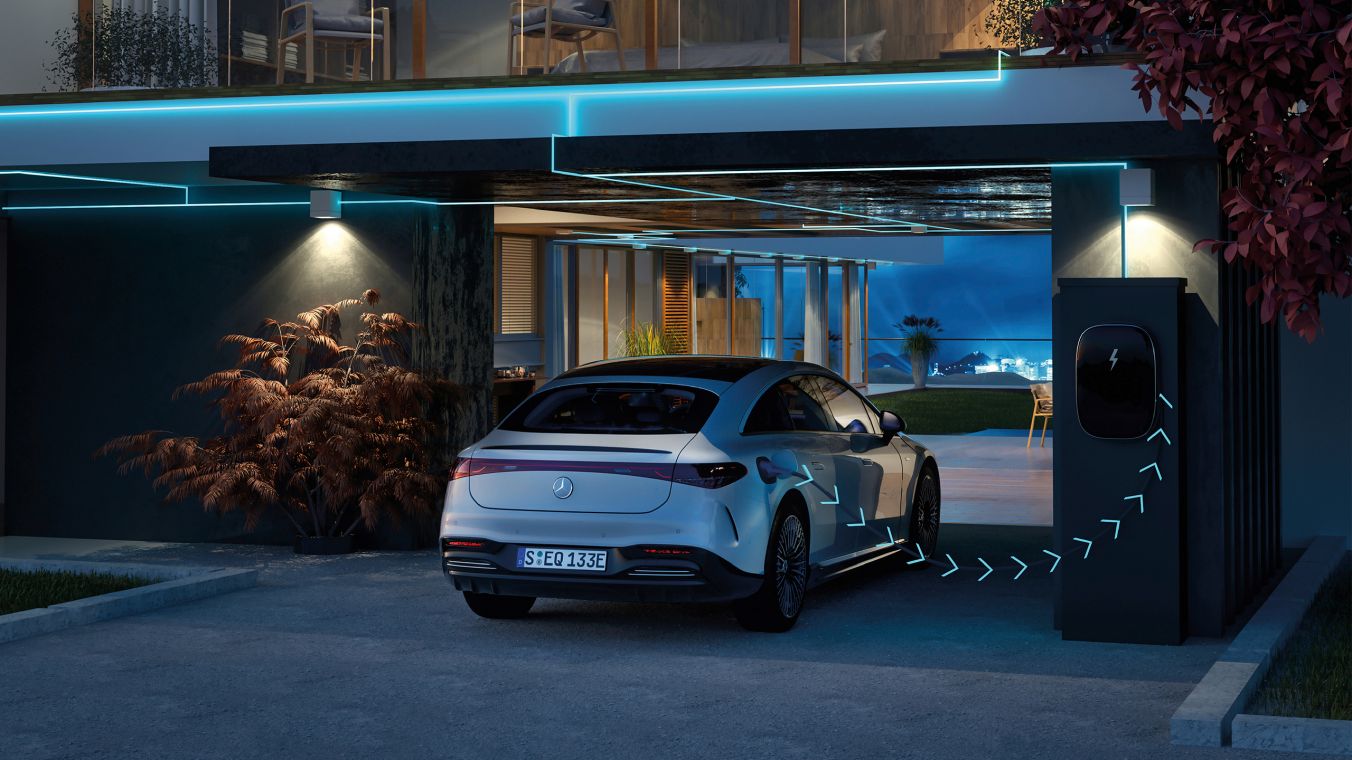 Let's have a look at each product in particular.
Wallbox Pulsar Plus – EV Charging Station (7.4 kW)
The first Mercedes EQS Home Charger we'll be looking at is the Wallbox Pulsar Plus. This is a device which you can find both in Europe as well as in North America. Depending on where you live, the connector type is going to be different, so it's going to come with either a Type 1 Connector (J1772 for the US) or Type 2 (Mennekes for Europe).
It is a smart and fast charger which can reach a maximum charging rate of up to 11.5 kW. Now the on-board charger of the Mercedes-Benz EQS is limited to 7.4 kW on a single-phase power source and 11 kW on a three-phase. It is most likely that you'll be connecting it to a single-phase which means that the the 120 kWh battery which actually translates to 102 kWh of usable battery capacity will take about 15 hours to charge from 20% to 100%. Even if you leave it for just 8 hours overnight to charge that will still mean plenty of miles of range to cover the next day.
Then there are the smart features. You download the Wallbox app and connect to it via WiFi which allows you to get detailed logs on the charging data for each day, so you can keep track of your charging costs. Not only that, but there's real-time data on the actual charge speed and status. There's Alexa integration so that you can control your EQS charging station just by using your voice and you can also set custom charging schedules for each day of the week so you can benefit from the cheaper electric energy provided at night.
There's also a solar excess feature which helps you take advantage of excess solar power generated by the panels on your roof and thus basically charge for free when solar energy is being produced and a load balancing feature usually named Power Sharing which helps to balance the load on the same circuit if you want to charge charge your mercedes benz EQS and another car using two of these chargers.
This EV Charger comes with a 25 ft. EV Charging cable in the US and 5 or 7 meter cable in the European version. You can only hardwire it, there is no NEMA connector available on this particular version. One of the big advantages of this charger is the fact that it has an IP54 rating which means you can install it outside and it will charge your car in the rain without any issues. It doesn't necessarily need to be in the garage. Every Wallbox comes with a 1-Year warranty in Europe with an optional 3-Year warranty.
ChargePoint Home Flex – Level 2 EV Charging Station (16-50 Amp)
The next Mercedes Benz EQS home charger we'll be reviewing is the ChargePoint Home Flex. Now as an important note: For the moment this charger is only available in North America, so if you live in Europe you should choose one of the other three provided here.
This is a 50-Amp charger which can output up to 12 kW of power, which means it will max out the on-board charger capacity of the Mercedes EQS sedan, so unless you're on three-phase power, it will take the same 15 hours to charge it from 20% to 100%.
ChargePoint is the company that provides one of the largest networks of public charging points with DC Fast Chargers and AC chargers alike. But they decided to create these public charging stations for the home and it has become one of the most succesful ones on the market.
It's not only powerful, but also smart. You can connect to it via the Chargepoint smartphone app and get basically the same data that you would get from the Wallbox including charging logs, real-time status and the ability to control it via your voice and set custom charging schedules. You can actually ask it "How much have I spent on charging my EV this month?". The app is one of the most polished and elegant that we've reviewed.
You can plug it into a NEMA 14-50 or NEMA 6-50 outlet but you can also hardwire it. The charging cable extends out to be 23 feet long (7 meters). A small problem with this one is that it only has a NEMA 3R rating so you need to install it indoors and keep it away from rain and snow. Each ChargePoint comes with a 3-year warranty and 24/7 support.
Juice Booster 2 – Portable EV Charger (32 Amp)
The Juice Booster 2 is a great Mercedes EQS Home Charger which is portable and powerful but remember that it is only available in Europe. If you are looking for a charger for North America then the ChargePoint and the Wallbox above are your best bets. It is a portable charger so this means it can be used for charging at home but also at work and that also means easy installation.
This one has a charging rate of up to 11 kW when running on single-phase and 22 kW on three-phase. Now just like the previous ones, it will max out the on-board charger of the EQS and post the same charging times. This means you can expect the same 15 hours for charging this Mercedes-Benz EQS from 20% to 100%.
In terms of the connectors, this literally has all of them. While the standard package comes with a CEE32 three-phase connector along with a Schuko EU Plug, there's the german traveller set, the european set and the master traveller set.
This Mercedes EQS charger is also highly durable and tough because you can literally run it over with your EQ electric car and it should withstand the weight of the car. It also has an IP67 rating which means you can charge your Mercedes in the rain, snow or extreme heat. If you want to mount on a wall, they include a wall bracket too.
There are no smart features, it's quite a simple charger, just a button to cycle between different amp settings. The charger itself comes with a 2-Year warranty.
QubEV – Level 2 EV Charging Station (32 Amp)
The QubEV is the last Mercedes EQS home charging device we'll be looking at. This one is basically just an outlet because it comes with no cable and is only available in Europe for the moment.
It provides 32 Amps of current and up to 7.2 kW of power, just enough to max out the on-board charger and get to that 15 hour charging time for the EQS from 20% to 100%. The outlet is equipped with a Type 2 Mennekes connector which is the standard in Europe. It is also IP65 rated so you can mount it outside on the wall and not worry about rain and bad weather because this device has you covered.
It is cheap, easy to use and install and it comes with a 1-Year warranty. What is nice about having an untethered charger is that you can just buy whichever cable fits your needs in terms of length and toughness.
The chargers that we mentioned are not just compatible with the entire EQ line but also with the Mercedes-Benz GLA, GLE and CLA plug-in hybrids.