In this article we're just going to focus on the differences between the new Flir One Edge Pro vs the best-selling smartphone camera, the Flir One Pro.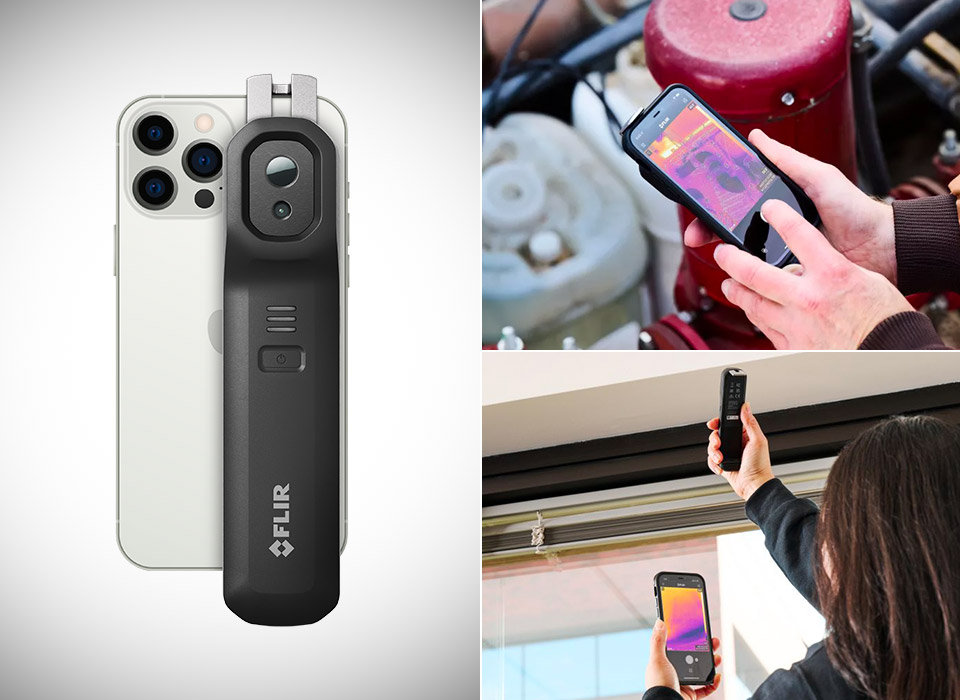 Let's have a look at each product in particular.
Teledyne FLIR One Edge Pro
| Product | Type | Resolution | Battery capacity | Waterproof | LCD screen | Price |
| --- | --- | --- | --- | --- | --- | --- |
| Teledyne FLIR One Edge Pro | Smartphone | 160 x 120 | 1 hour 30 minutes (60-90 minute charging time, 15 min. charge = 40 min work time) | No | Uses Smartphone Display | Click for more info |
In this part we're going to focus on what was upgraded while the next part will cover what stayed the same.
The first thing we notice is the detachable form factor. This is a big change because the old Flir One Pro and the entire Flir One Series used to connect to your smartphone via the USB-C or Lightning Port so you had to choose what connector you wanted when you bought the device and couldn't change it afterwards. Now, there's just one device, it connects to your phone wirelessly and it's compatible with both Android and iOS devices.
The form factor also brings creative new use cases since now you can separate the camera from the phone and they can work up to 100 feet apart. This is great for tight spaces. The camera can attach to the back of your phone but also to other objects.
Then there is the battery upgrade. It now has a battery that will last 2 times more, up to 1 hour and 30 minutes compared to the Flir One Pro's tiny battery which only lasts 45 minutes. The battery was a big issue among customers and whenever you would read through customer reviews, it was always the battery that was the issue. Now with the Flir One Pro, the best approach would have been to do it like the Seek Compact Pro does and just have the camera draw power directly from your phone. But now since the camera wirelessly connects to your phone, a standalone battery is a necessity.
And then there's the price difference since the Flir One Edge Pro costs about 25% more than the Flir One Pro.
FLIR ONE Pro
| Product | Type | Resolution | Battery capacity | Waterproof | LCD screen | Price |
| --- | --- | --- | --- | --- | --- | --- |
| FLIR ONE Pro | Smartphone (2 different versions – Android & iOS) | 160 x 120 | 45 minutes | No | Uses Smartphone screen | Click for more info |
Here's what didn't change: The resolution. Now when the Flir One Pro first appeared, its 160 x 120 thermal resolution was considered competitive. However, things have changed a few years later, most manufacturers have pushed up the numbers in terms of resolution, so these numbers do not look as impressive. But we must not forget the fact that the camera makes full use of the latest generation of MSX image enhancement and VividIR technology which will be able to make up for the lack in pixels. Both devices are equipped with a visual camera to help with that.
Nothing has changed in terms of temperature measurement, both cameras have the same temperature range and thermal sensitivity. Things look the same in terms of the app used because both devices use the Flir One app. Even in terms of the IP rating, none of them have any kind of waterproof housing.
So a lot has changed but some things have stayed the same. Given that the Edge One Pro is 25% more expensive it would be fair to note that you certainly do get more for your money. Is it worth buying the One Edge Pro? Personally, I would say yes.

Teledyne Flir is a company that specializes in thermal imaging. They manufacture a variety of devices, not just wireless mobile infrared cameras but also things like unmanned aerial systems, unmanned ground systems, monitoring systems, machine vision cameras and Advanced Driver Assistance Systems (ADAS).