The ShockFlo is a low-cost portable EV Charger which can be plugged into any typical US household outlet and provides decent charging speeds.

PROS: Very low price, 5-15 connector, IP65 waterproof.

CONS: No smart features.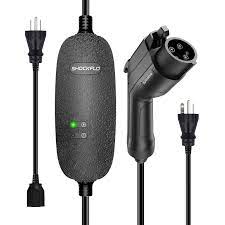 ShockFlo – Portable EV Charger (16 Amp) Specifications
| | |
| --- | --- |
| Amp rating | 16 Amp |
| Level | Level 1 & 2 |
| Type | Portable EV Charger |
| Cable Length | 21 feet |
| Nema | NEMA 5-15 & NEMA 6-20 |
| Power | 3.7 kW |
| Voltage | 110V / 240V |
| Connector | Type 1 (J1772) |
| Connectivity | No |
| IP Rating | IP65 |
| Display | 2 LED lights |
| Warranty | 1-Year |
| Features | |
| What's in the box | |
| Weight | 5.2 lbs (Entire package) |
ShockFlo – Portable EV Charger (16 Amp) Charging specifications
I would say that the ShockFlo Level 1-2 Portable EV Charger's main advantage is that it can power up your electric vehicle from any common household outlet. It won't do it very fast but the fact that you can plug it into 110V outlets helps a lot since 240V sockets are not always easy to come by in the US.
It can deliver 16 Amps of current to your electric car and depending on which outlet you've plugged into, it will deliver 1.9 kW when plugged into a 110V outlet and 3.8 kW when plugged into a 3.8 kW one. This means that it won't be fully charging your EV overnight but it will still provide more than enough juice to last you through the entire next day.
ShockFlo – Portable EV Charger (16 Amp) Cable types and connectors
Now first things first, the length of the charging cable provided is 21 feet. This is good but it falls just short of the 25 feet we would expect from any decent EV charger be it portable or fixed. Still, we have seen worse recently so we'll give the ShockFlo a pass here. Longer is better here and the reason I say that is because with portable chargers it's a different story than with fixed ones. If you get a ChargePoint at home and you know exactly how far the car is going to be from it then sure, you want a cable that is just the right size so that cable management isn't a pain but with portable chargers you never know where the outlet is going to be and how close you can bring your car.
Then we need to look at the plug situation because this is where the ShockFlo shines since it comes with not just a 5-15 NEMA connector but also a 6-20 one for plugging into 240V outlets. Like I mentioned before, you use the 5-15 to plug into any outlet since those are the most common ones but as a Level 1 charger with a 1.9 kW power delivery and you use the 6-20 wherever possible because that way it can charge at a rate of 3.8 kW.
For plugging into your electric vehicle, the device uses a standard SAE J1772 connector which is the most widely used in North America.
ShockFlo – Portable EV Charger (16 Amp) Features
The ShockFlo EV Charger comes with an IP65 waterproof rating which means you do not have to unplug if it starts to rain, it can keep on charging since the device is waterproof. It doesn't come with any smart features or connectivity but given the extremely low price, you can't expect anything of this sort. It's got 2 indicating LEDs on the front and that's it, no LCD display.
You also get a 1-Year warranty on the device, on par with what you would expect from a low-cost portable EV Charger. It's devices like these that are maybe foretelling the future in the sense that these EV chargers will become commoditized and thus it's probably going to be a race to the bottom in terms of prices.