If you have a small garden or a small yard, there's a robotic lawn mower for it. We researched 4 models that can mow a small garden, don't cost a lot and have plenty of programmable features

Here is our review and comparison table of the 4 best robot lawn mowers for a small garden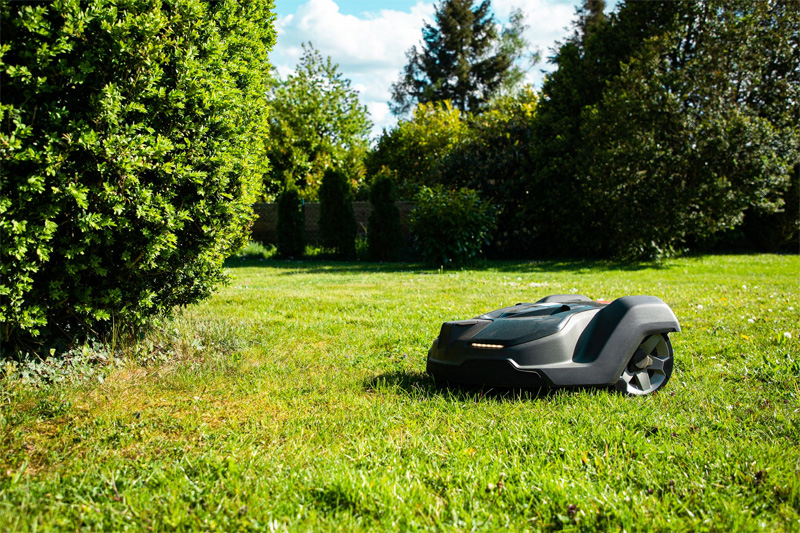 Let's have a look at each product in particular.
Worx WR140 Landroid M
The Worx Landroid M WR140 is a great robotic lawn mower for a small garden. You can cover an area of up to 1/4 Acres (1000 sq. m2). Now obviously, depending on what your idea of a small yard is, this may or may not be suitable but we believe that its range should cover most small to medium-sized backyards. And even if you have a garden built on a hill or a yard with uneven terrain, the automatic mower can handle climbing a slope of up to 20 degrees (35 %).
In terms of lawn care performance, its spinning disc with three rotating cutting blades has a 7″ (18 cm) cut width and you can adjust the cut height from 1.9″ to 3.5″ (4.8 to 8.9 cm). Because it has its blades mounted on the side, it can really get close to the edge so you don't have to use your trimmer very often.
Its battery will last you 90 minutes once it is fully charged and it takes another 90 to charge it. One of the advantages is that it uses a tool battery, so you can use any Worx tool battery. It is a fairly silent robot mower with a 63 Db noise level, for comparison a vacuum cleaner emits about 70 Db.
In the package, it comes with 590 feet of perimeter wire which you use to define the perimeter of your lawn. It knows it has to mow inside it and never leave the garden that way.
There is a rain sensor mounted on it that keeps it from mowing in the rain and you can get GPS and collision sensor as optional extras. You can control it using the control panel on the top of the mower or directly through the smartphone app or through Google Home and Amazon Echo by using your voice.
Husqvarna Automower 310
The Husqvarna Automower 310 is our second choice for a robotic lawn mower for a small garden. It can cover a 1/4 acre yard with its 70 minute battery life and 60 minute charging time.
The area that it can cover is up to 0.25 Acres (1000 sq. m2), which is a small garden by US standards and you can set it for a cut height from 0.8″ to 2.4″ (2 to 6 cm). If your little garden has uneven terrain, there is no need to worry because it can climb 22 (40 %).
After you've charged it for 60 minutes, its built-in battery provides it with a running time of 70 minutes. When it runs out of battery, it will go back to its station by itself and charge. One great security feature with husqvarna automowers is that if they get stolen and connected to a different charging station, Husqvarna is alerted about the device's whereabouts.
The 310 doesn't have a rain sensor, but it can tell if it is raining by accessing the online weather services. It is fully programmable via the Husqvarna smartphone app. It is pretty silent, when it is running it only produces noise at a 60 Db level, 10 Db lower than your average vacuum cleaner.
Flymo Easilife 200
The Flymo Easilife 200 is the robot lawn mower for a small garden to buy if you live in the UK and Europe because that's the only market where it is available. Now in Europe, lawns are usually smaller and this particular model can cover a small lawn up to 200 m2. If your garden is bigger, then you'll be happy to know that Flymo has bigger models that can cover more surface.
It can cut your grass at an adjustable cutting height from 0.7″ to 2″ (2 to 5 cm) and its cutting disc with 3 pivoting razor blades covers a patch of grass that is 6″ (16 cm) wide.
The Easilife 200 is equipped with a collision sensor and some additional technology like FrostSense to help it determine if it is too cold for mowing, LawnSense which adapts its cutting schedule depending on how fast the grass on your lawn is growing and also PassageSense that can help it pass through narrow passages.
Although it has a smartphone app from which you can program it, you can't connect this robotic mower to your Echo or Google Home. The Flymo is also quite a silent model with a 58 Db noise level.
Amongst the accessories included are: Flymo EasiLife 200 Charging Station + Lawn screws Waterproof Power Supply + Low Voltage Cable 100 Metres of Loop Wire 150 Staples for the Loop Wire Connectors for the Loop Wire User Manual
Worx WR130E Landroid S300
The Worx Landroid S300 is the other model for the UK and Europe, specifically designed to be an automatic lawn mower for smaller gardens. It can cover more ground with a range that covers and easily navigates a lawn size of 300 m2 and the best part is its "Cut to edge" feature, because the disc is placed on its side which helps it trim right up to the edge of your small lawn.
It has a 60 minute run time and a very slow 240 minute charging time, although it won't bother you because it does this process of charging, cutting grass and coming back all on its own.
You can set it for a cut height from 0.7″ to 2″ (2 to 5 cm) and it has a fixed cutting width of 7″ (18 cm). The Worx app works great and like the US models, it integrates with Echo and Google Home.
As for safety features, it uses a tilt sensor and lift sensor to deactivate the quick stop blades instantly. And for security and anti-theft, it has a PIN Code and alarm system. Optionally, you can get the "Find my Landroid" GPS system.
Here are the accessories included: WR130E S300 Robotic Mower 1 x 20V Lithium battery pack 1 x Stealth charger and power supply 9 blades and screws 100m roll of boundary wire 2 x Wire repair connectors 130 wire pegs 1 hex key 2 x measurement gauge 8 screws to secure the charging station, Basic instructions.
Which robotic lawn mower is best for my small garden?
If you live in the US, your best options are either the Worx WR140 Landroid M or the Husqvarna 310.

If you have a smaller garden and you live in Ireland, the UK or in Europe then you should either go for the Flymo Easilife 200 for a tiny garden or the Worx WR130E Landroid S300.