At the moment in 2022, if you are looking for a robotic lawn mower with edge cutting, then there is really only one company that you can look at, Worx

The Worx models have their cutting disc on the side so that their robot mowers cut close to the edge. So we're gonna review and compare them here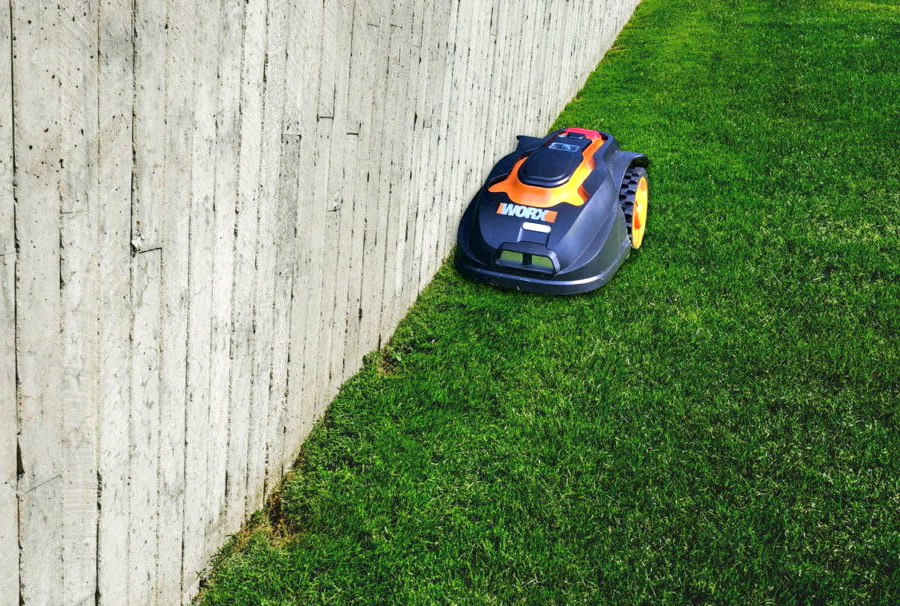 Let's have a look at each product in particular.
Worx WR150 Landroid L
The Worx WR150 Landroid L is the first and most powerful robot lawn mower with edge cutting. Its cutting system consists of a spinning disc with three rotating cutting blades and it is the positioning of that system that counts here.
Worx went the extra mile to place it on the side of the device as opposed to the center and so because its cutting width is about 9″ (22 cm), you will cut very close to the edge. Now before you get too excited, you might need to do some extra trimming on the edges, but considerably less than you would have to if you bought a Husqvarna or Flymo.
The cut height can be adjusted from 1.9″ to 3.5″ (4.8 to 8.9 cm) by simply turning the knob on the top of the robotic mower and it can climb a slope with a 20 (35 %) degree incline.
It uses a tool battery that can easily be swapped between any Worx device, which is smart and that battery has a 90 minute charging time and will also provide a 90 minute battery life. Once the battery is low, the automatic lawn mower returns to its charging station, recharges then gets back to work.
The device can mow a lawn size of up to 1/2 Acres (2000 sq. m2) and in terms of noise, it is fairly louder than the equivalent Husqvarna and Flymo models, but at 63 Db it is still at a reasonable level, much more quiet than a vacuum cleaner.
The device takes a bit to install, but once you've installed the perimeter wire which is the only mode of navigation, you never have to do anything else, because the device will take over the entire lawn care process.
Worx WR140 Landroid M
The Worx WR140 Landroid M is basically the same autonomous lawn mower with edge cutting as the Landroid L, just that it was designed to cover a smaller garden with an area of up to 1/4 Acres (1000 sq. m2). It has the same 90 minute running time.
That is why in the package you only get 590 feet of perimeter wire instead of 820 feet. But the "Cut to edge" feature is there in the same way, because The disc is appropriately positioned for edges.
The device is fully programmable through the smartphone app and it can be integrated with smart home devices like the Amazon Echo and Google Home so that you can tell your smart lawn mower to start mowing just by using your voice. The app is simple to use, you can set a cutting schedule for the mower and tell it essential details about the grass it is mowing
This mower has a rain sensor that tells it to go back to its charging station if it starts raining outside and you have to be a bit more careful with it because it is very sensitive. It can be mislead by splashes from sprinklers.
There are a couple of optional accessories that you can buy for it like the Find My Landroid GPS module, Anti-Collision system and Off-Limits Digital Fencing.
Worx WR142E Landroid M700
If you live in the UK, Ireland or Europe, then you need to look at the european models from Worx as the ones from the US are not distributed on the continent. But the differences are not big and this particular robot lawn mower with edge cutting has also kept the "Cut to edge" system. The disc is placed on the side and the entire automatic mower can guarantee those clean edges.
From what I could tell, there is no difference in positioning the cutting disc between european and US models. The cutting height can be adjusted between 1.2″ and 2.4″ (3 to 6 cm) and can climb a slope of 20 degrees in your yard. The disc has a cut width of 7″ (18 cm).
The WR142E has a battery life of 60 minutes but a much longer charging time. You can program it from your smartphone by downloading the app and it basically has all the features that you get in the US models.
Something that is different with the WR142E is that it has a slightly lower noise rating of 62 Db. In the package, you get the mower, a power supply, the charging base an 150 meters of boundary wire.
In terms of security features, this robot lawn mower has a programmable anti-theft Alarm system and a PIN Code. You can opt for the extra "Find my Landroid" option but that costs extra. In terms of safety features, it has quick stop blades, a lift sensor and a tilt sensor.
Luckily, the european model is also covered by the 3 year warranty that you get with the US models.
Worx WR130E Landroid S300
Your other option if you live in Europe is to buy the Worx WR130E. It is very similar to the WR142E, but it differs in the area it can cover. The WR142E comes can cover a 700 m2 with 150m of perimeter wire and this device can cover 300 m2 with 100m of wire included.
So if you have a smaller lawn, it is worth buying this autonomous mower because it will also save you some money and you still get the edge cutting system.
Which robot lawn mower with edge cutting should I buy?
It is fairly simple, if you want a robot mower that cuts right up to the edge, you need to get a Worx mower, because those are the only mowers that have the disc correctly placed on the side.

If you live in the US, your two best options are either the WR150 Landroid L or the WR140 Landroid M and it really depends just on the size of your lawn.

If you live in Europe, then you should look at the WR142E and WR130E.