Let's say you've got a large lawn. A really big one. More than 1500 m2, how do you go about mowing that? You don't, you buy a robotic lawn mower for large lawns that will do the job for you. So how do you choose the best one? We researched 4 models that you can buy whether you live in North America or in Europe. Here is our review and comparison table for the 4 best robot lawn mowers for large lawns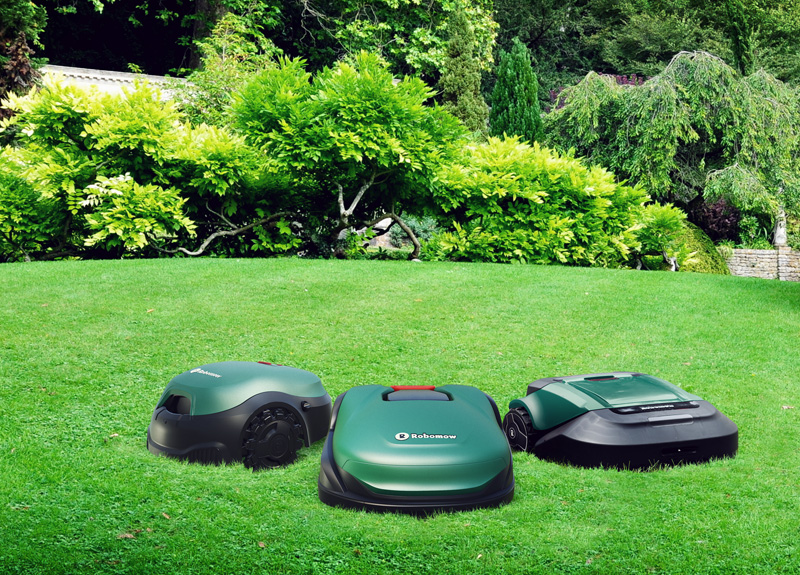 Let's have a look at each product in particular.
Worx WR150 Landroid L
Let's start with one of the most popular robot lawn mowers that are suitable for large lawns, the Worx Landroid L. It has a high enough range to cover 1/2 Acres (2000 sq. m2) of grass. This should be enough to mow a small field.
It also provides a battery life of 90 minutes to cover that entire big lawn and takes just 90 minutes to charge, plus it does the charging and mowing all by itself without interrupting you. It is basically a tool battery that can be swapped between other Worx tools. While it is mowing the lawn it won't damage it because it has these special tyres with cleats that don't let the entire tire push on the grass and this is an important lawn care detail.
So how good is this robot mower at cutting grass? You can adjust its cut height anywhere between 1.9″ and 3.5″ (4.8 to 8.9 cm). Its side-mounted cutting disc has a cut width of 9″ (22 cm), meaning every time it does a pass it cuts 22cm of grass.
You can schedule it to mow your large yard using the smartphone app and can also tell it to do so via voice commands with Amazon Echo's Alexa or the Google Home smart home device.
Amongst the accessories included are: Landroid L Robotic Lawn Mower (1) Landroid L Charging Base and Charging Cable (1) – Hex Key (9) – Cutting Blades (9) – Screws (2) – Landroid Plugs (1) – Power Adapter (1) – Boundary Wire Distance Gauge (1) – 820ft Perimeter Wire Bundle (8) – Base Ground Screws (270) – Wire Ground Pins (2) – Measuring Tools (1) – 20V MaxLithium 4.0Ah Battery.
Husqvarna Automower 450XH
The Husqvarna Automower 450XH is a robot lawn mower designed specially for large lawns with its 1.25 Acres (5000 sq. m2) coverage. That's right, it can cover an entire hill without any issues.
Its cutting height is fully adjustable from 2″ to 3.5″ (5 to 9 cm), so this is an autonomous lawn mower designed for taller grass and it has a very wide cutting height because the disc can cover a patch of grass that is 9.45″ (24 cm) wide.
The Automower has a very short charging time of about 60 minutes and that is enough to last you for more than 270 minutes. That is also more than what any other automatic mower can provide.
Of course it is fully programmable via the Husqvarna Automower Connect app for Android and iPhone. You can set the cutting height right from the app, schedule it for when to cut, remotely start and stop the mower and also update the firmware wirelessly.
It uses the included boundary wire for navigation but it also makes use of the included GPS to improve the way it navigates. You can also create "islands" using the boundary wire to have it avoid any objects inside the perimeter.
It has some of the best security features like GPS Tracking using the app, a PIN code and alarm system. Husqvarna will offer 5 years of warranty for this particular smart lawn mower.
Worx WR153E Landroid L1500
If you live in Europe, the models you can choose from are a bit different. The Worx WR153E Landroid L1500 is the flagship of their european autonomous mowers.
It was designed as a robotic lawn mower for large lawns but on a more european scale with a coverage of up to 1500 m2 (0.4 acres), because the average lawn size differs from continent to continent and 1500 m2 is considered a large area.
It can cut your grass shorter from 1.2″ to 2.4″ (3 to 6 cm) and its cutting width is a bit smaller at 7″ (18 cm). It is battery powered and the running time is about 90 minutes after a full 70 minute charge. The cutting blades are intelligently put on the side for better coverage of the edges and this is something you don't get with the Husqvarna mowers. It can also climb a steep slope with an incline of up to 20 degrees (35 %).
It is programmable through the smartphone app and just like the US models, it uses the same app. It is noisier than its US counterpart but not by much, just a few Db. These models come with a 3 year warranty in Europe.
Worx WR147E Landroid L1000
The WR147E Landroid L1000 is the last robotic lawn mower for large gardens that we'll be looking at. It is basically a smaller-range version of the Landroid L1000 which can mow an entire garden or backyard of up to 1000 m2 (1/4 acres).
As for its performance, everything is the same and the only difference is that you get more feet of perimeter wire included in the package with the automatic lawn mower.
There are a host of safety and anti-theft features like a tilt sensor and lift sensor together with the quick stop blades that immediately stop once you lift the device. Then on the security side there is a PIN Code and an alarm. With this robotic mower, the GPS tracking unit, like the collision sensor is an optional extra.
It still has the 3 year warranty like the previous model.
Which robotic lawn mower for large lawns to buy?
If you live in the US, the Husqvarna Automower 450XH or the Landroid L are both great choices but it will ultimately come down to the question: How big is your big lawn? There is a considerable price difference between them.

If you happen to live in the UK, Ireland or in Europe then the Landroid L1500 and L1000 are your best choices for a larger garden.