If you live on a hillside, in the mountains or maybe you have an uneven surface in your garden, then you probably need a robotic lawnmower that can handle steep slopes

That is why we researched the 5 best robotic lawn mowers for hills and we compare them on their cutting skills, how high they can climb and what features they offer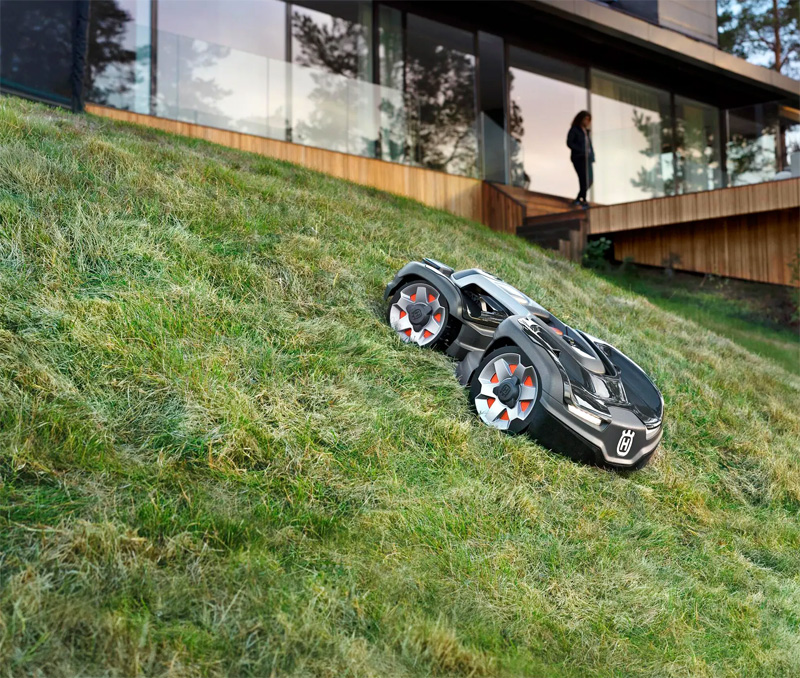 Let's have a look at each product in particular.
Worx WR150 Landroid L
The Worx WR150 Landroid L is a great robotic lawn mower for hills because it can climb up the hill on a slope that has an angle of up to 20 degrees (35%). Its electric motor is powerful enough to push it up the slope and cut the lawn along the way.
Now an elevated terrain will have an effect on its battery life, but it can still cover up to 1/2 Acres (2000 sq. m2) of uneven terrain. Normally, this robot lawn mower can achieve a 90 minute battery life and it also takes just 90 minutes to charge it. But if it has to climb, you can expect its autonomy to be lower and it is mostly going to depend on the steepness of the hillside, however that is not a problem because when it is low on battery it will just return back to its charging station by itself and get back out when it is fully charged.
It has a spinning disc with three rotating cutting blades mounted on the side for better cutting of the edges which has a 9″ (22 cm) cutting width. Its cutting height can be adjusted from 1.9″ to 3.5″ (4.8 to 8.9 cm), depending on how tall you want the lawn on your hill to be.
This robot mower can be controlled via the smartphone app which acts as a remote control for it or its touchpad on the top of the device. You can also tell it to start mowing using just your voice because it integrates with smart home devices like Google Home and Amazon Echo's Alexa.
Husqvarna Automower 310
The Husqvarna Automower 310 is also a very powerful robotic lawn mower that can climb up a hill. Husqvarna fitted this autonomous mower with an even better climbing system because it can mow its way up the hill at a 22 degree incline (40 %).
So at this point, we are not just talking about a garden that's not perfectly flat, but actual hills.
This robotic mower is also equipped with 3 pivoting razor blades, but the cutting disc is in the middle of the device, so you'll need to manually trim the edges a bit more. Its 70 minute running time of course will vary, especially if your garden is on a slope with a high elevation. But again, like the Worx models, it does all the recharging on its own, so this should not affect you.
In terms of its parameters for cutting grass, you can adjust its cut height anywhere from 0.8″ to 2.4″ (2 to 6 cm) and the disc has a fixed cut width of 8.7″ (22 cm). It is battery powered with a run time of 70 minutes and a charging time of just 60 minutes.
So what about its safety features? It has a tilt sensor and a lift sensor so that it stops once you interact with it and an alarm and PIN Code.
Husqvarna offers 5 years of warranty on this device.
Husqvarna Automower 450XH
If you need a robotic lawn mower that can go up hills, the Husqvarna Automower 450XH is the best performing one. It can climb up a hill that has a 24 degree angle (45%). At the moment, no other robot lawn mower that you can buy is that powerful, so if you have a very steep lawn, this might be the choice for you.
Of course, you need to know that this is an expensive model, but it also has a high coverage of up to 1.25 Acres (5000 sq. m2), making it ideal for large estates that are built on hill.
It takes just 60 minutes to charge it but that will provide 270 minutes of run time and it has every possible safety and security feature out there including GPS tracking (which it also uses to improve navigation) and an ultrasonic collision detection sensor.
Husqvarna will give you 5 years of warranty for this model.
Worx WR147E Landroid L1000
If you live in the UK, Ireland or in Europe, then you should look at the Worx WR147E which is a robot lawn mower for the hills. It can climb at a 20 degree (35 %) angle.
In terms of its performance and smartphone app features, it is very similar to the US version of the Landroid L, the same disc mounted on the side and the same smartphone app, but the area it can cover is different because this model can cut grass on an area of up to 1000 m2 (1/4 acres). Most importantly it is able to climb the same type of hills as the Landroid L.
It has a 90 minute battery life and takes another 90 minutes to charge and in the package, you'll get 180 meters of boundary wire.
Flymo Easilife 500
The Flymo Easilife 500 is the most affordable robotic lawn mower for hills available in the UK, Ireland and in Europe. But of course, the low price also comes with downsides, because it can only cover an area of 500 m2. Now it is important to know that it can go up a hill or downhill provided that it has an angle of up to 20 degrees (35%).
It can be controlled by a smartphone app or its Assist-U interface, but it doesn't have google home or echo integration. It features a collision sensor and a few interesting features like FrostSense which tells it not to cut the grass when it is cold, PassageSense that helps it go down narrow passages and LawnSense which adapts the cutting schedule depending on the rate at which the grass is growing.
This is a very quiet model with a noise level of just 58 Db, so you won't hear it when it is going uphill.
Which robotic lawn mower for hills should I buy?
If you live in the US, the better value choices are the Worx WR150 Landroid L or the Husqvarna Automower 310, depending on your lawn size and hill steepness. However if your hill is really steep, then it might be possible that the Husqvarna 450XH is the only one capable of climbing it.

If you live in the UK, then your two best choices for this are the WR147E Landroid L1000 or the Flymo Easilife 500.