We selected the best robot lawn mowers that you can buy in the UK at the moment and reviewed them based on multiple factors such as the area they can cover, their guidance system, cutting height and width but also how quiet they are and what kind of smart features they pack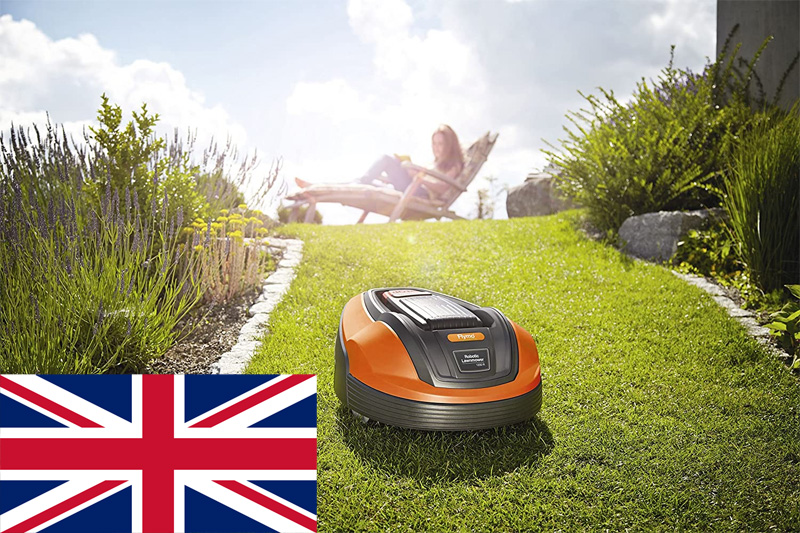 Let's have a look at each product in particular.
Flymo Easilife 500
The Flymo Easilife 500 is the first robotic lawn mower available in the UK for sale that we are going to review. Now these models are only available throughout the United Kingdom and in Europe.
It can cover a lawn size of up to 500 m2 and it is battery powered with a battery life of 65 minutes on a single charge. Once the mower runs out of battery, it will follow the guiding wire (perimeter wire) back to its charging station. If this is your first robot mower, the way it works is you install a perimeter wire all around your lawn so that way the machine knows where it has to mow and never leaves that area. It takes a few hours to install everything but once you're done, you'll never have to do anything and the mower will be able to cut the grass all by itself.
Even if your garden includes some tiny hills or uneven terrain, the Easilife 500 will be able to climb them if the slope incline is up to 20 degrees (35 %). This model is very quiet with a 58 Db noise level (For comparisson a vacuum cleaner is twice as loud). There is a smartphone app, but no Google Home or Alexa integration.
There are a few proprietary features like LawnSense that adapts the Flymo's cutting schedule to how quick the grass is growing, FrostSense which basically tells it to stay put when it is too cold for mowing and PassageSense which helps it navigate through narrower passages in your yard or garden.
We found the Flymo robotic mowers to have some of the best value of all mowers on the market in the United Kingdom.
The package contents include: Flymo EasiLife 500 Charging Station + Lawn Screws Waterproof Power Supply + Low Voltage Cable 150 Metres of Loop Wire, 200 staples for the Loop Wire, Connectors for the Loop Wire and a User Manual.
Worx WR142E Landroid M700
The Worx WR142E Landroid M700 is the second robotic lawn mower for the UK market with great reviews and more of a heavy duty model, available on Amazon UK in England, Scotland, Northern Ireland and Wales.
Now this model has a higer coverage because it can do lawn care on a surface of up to 700 m2. You adjust its cut height by turning the knob mounted on the top from 1.2″ to 2.4″ (3 to 6 cm). It has a cutting disc on the side that uses 3-pivoting razor blades and has a fixed cut width of 7″ (18 cm). That represents the size of the patch of grass that it cuts in one pass.
Now to get that type of coverage, it is fitted with a tool battery with a running time of up to 60 minutes, but which takes a much longer time to charge. However, it shouldn't be a big problem because it follows the guide wire back to the charging station on its own, recharges then goes to cutting grass without you even knowing.
You can program it from the control panel on the top or from the Worx Landroid smartphone app, available for iPhone and Android. We found it to be very useful and easy to use, it lets you do all the basic things like telling it what is the size of your lawn, what type of grass are you growing, the type of soil that is being used, setting mowing schedules and telling it not to work between certain times.
One of the features that this app has and the Flymo doesn't is the ability to integrate with smart home devices like Google Home or Amazon Echo. You can tell it to start or stop mowing just by using your voice. They also built a simple feature called "Save the hedgehogs" which when activated, the mower stops working during certain times when hedgehogs are out exploring.
It is a moderately silent smart lawn mower with a 62 Db noise level and it has a rain sensor which tells the autonomous mower to stop mowing so that it doesn't damage the grass. For navigation, it only uses the boundary wire, even if you buy the extra "Find my Landroid" option because that only provides GPS tracking as an anti-theft security feature. And speaking of those, it does provide a PIN Code and an alarm system whilst on the safety features part it has a tilt sensor and a lift sensor together with these quick-stop blades that can immediately stop once you pick it up.
Like all the Worx models, it comes with a 3-year warranty.
So what's included in the box?The WR142E M700 Robotic Mower, 1 Power supply/charger, 1 x Charging base, 8 x Charger base securing nails, 1 x 20V 2.0Ah Lithium battery, 9 x Blades and screws 150m Boundary wire 210 x pegs/staples, 1 x hex key, 2 x measurement gauge and the basic instructions.
Flymo Easilife 350
The Flymo Easilife 350 is the smaller coverage coversion of the Flymo Easilife robotic lawn mower that is also available for purchase in the UK.
By comparison, this automatic lawn mower can only cover 350 m2 but it is cheaper and probably one of the cheapest robot mowers on the market and so basically, given that you get the same features, it makes sense to choose the best robot lawn mower that's in accordance with your lawn size. All the great features that we like about the Flymo Easilife are there, so you're not losing anything besides coverage.
Worx WR130E Landroid S300
The story with the Worx WR130E Landroid S300 is the same, it is basically a version with smaller coverage. It is important to note that it has the same cutting height and cutting width and the run time and charging times are actually the same too.
It is also fully programmable and you download the same app to use the autonomous lawn mower.
Which robot mower should I buy if I live in the UK?
It all depends on the lawn size. Amongst the two manufacturers, we personally prefer the Worx models because of the better software which we found to be more professional, more integration with smart home devices and side-mounted cutting disc.


Are the Worx models different in the UK compared to North America?
Yes, it is a completely different product line for some reason. The main differences are in the coverage because the north-american models can cover much bigger areas up to 2000 m2 because everything is bigger in America. The models in the UK were designed for smaller, more european lawns.


Which robotic lawn mower in the UK is the most programmable?
That would have to be the Worx models, they have the most advanced smartphone app where you can set and customize most parameters and aspects of the grass cutting process.