Are you an automotive technician or engineer? If by now you have not made a thermal camera part of your toolbox, you might want to take a look, because this tool can supercharge your productivity when doing troubleshooting or diagnostics

In a nutshell, you can diagnose the following problems almost instantly: pistons misfiring, heated seats, hot exhausts, locked brake calipers, bad thermostat, parasitic power drain and these are just a few to name

Here is our list of the 4 best thermal cameras for automotive repair specialists and engineers: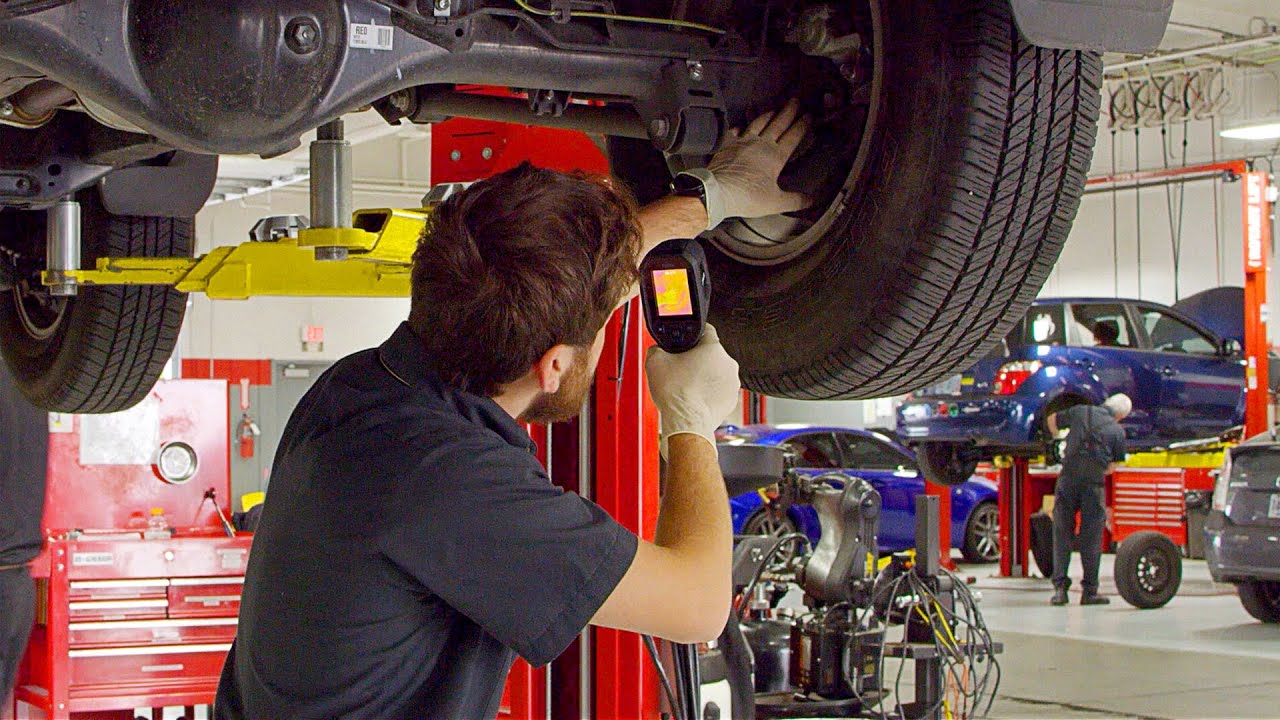 Let's have a look at each product in particular.
Flir TG275
The Flir TG275 was built exactly for this, to be a thermal camera for automotive diagnostics and professionals.
If you are a mechanic at a repair shop and you have not used a thermal camera to diagnose an engine, then you don't know what you're in for.
Let's start with some practical examples: You can check if a piston is misfiring just by inspecting the cylinder block, no testers required. The one which is misfiring will be colder.
You can check the electrical panel to see if any fuses are overheating, spotting faults before they happen and the same goes for relays and switches.
Then there is the cooling system and AC. With the thermal camera you can clearly see the heat flow through the condenser and radiator. If you want to know when the thermostat is opening and if its operating properly, you do a cold start and point the IR camera at it and you will be able to clearly see when the coolant starts to flow.
Now let's look at the thermal camera itself. It has something called IGM (Infrared-guided measurement) which they say combines non-contact temperature measurement and thermal imaging Its Lepton infrared sensor has an IR resolution of 160 x 120 offering a total of 19,200 thermal pixels for you to view. Along with the thermal image, it also has a visual camera and the MSX image enhancement feature to overlap the visual and thermal images using an advanced algorithm that Flir Systems has developed.
There is a 4GB internal memory and the infrared thermal imaging camera has a 5-hour battery life, so you can use it for days as a professional till you have to charge it.
This compact thermal imaging camera is able to measure a temperature range between -13°F and 1022°F (-25°C to 550°C) with a very high accuracy of +/- 1.5 ° C and a 0.07° C thermal sensitivity.
We found the camera to be very easy to use, straight out of the package even without a user manual. The menu settings let you adjust emissivity and reflected temperature for more accurate readings. For example if you have a very shiny exhaust, you might want to decrease the emissivity.
FLIR ONE Pro
| Product | Type | Resolution | Battery capacity | Waterproof | LCD screen | Price |
| --- | --- | --- | --- | --- | --- | --- |
| FLIR ONE Pro | Smartphone (2 different versions – Android & iOS) | 160 x 120 | 45 minutes | No | Uses Smartphone screen | Click for more info |
The Flir One Pro is a different kind of thermal camera for automotive specialists, one that is actually a smartphone thermal imaging system.
If you don't want to spend a lot on a separate thermal camera, you can just buy an attachment for your smartphone like this one. It only has the infrared sensor, a visual camera and a little rechargeable battery and this comes with its pros and cons and we will get to them.
You can buy it with any of the 3 connectors available: USB-C, micro USB and Lightning.
The One Pro can handle the job if you are working in auto repair, because you can use it to diagnose a series of issues like heated seats. Here you just point the camera at the seat while the heat is set to maximum and find out if the seat is being heated equally throughout.
Car maintenance professionals can also detect parasitic power drain in vehicles or check for issues with the exhaust system and find out if the exhaust pipe is getting hotter than it should be. Now most technicians might use a laser thermometer, but when you make the switch to infrared cameras, you just get a much better understanding of what is going on under the hood.
With this thermal imager, you get a high infrared resolution from its IR sensor of 160 x 120 pixels and full MSX image enhancement. There is a very wide temperature measurement range from -4 to 752°F( -20 to 400 C).
There is also a software development kit for specific applications, the Flir Atlas SDK which you can use to program the camera for certain automated tasks.
FLIR E6 XT
The Flir E6-XT is an even higher quality thermal camera for the automotive field than the TG275 with a thermal resolution of 240 x 180, totalling 43,200 pixels, so more than twice what the TG275 offers.
You can connect the E6-XT to your computer and also to smartphone devices via USB, Wi-fi and Bluetooth. Not only can you instantly transfer the captured thermal images to your smartphone via the Flir Tools app but you can also stream the measured temperature.
Because this handheld thermal imaging camera is part of the XT line, it has extended temperature screening, monitoring and detection capabilities. For example, it can react and readjust its measurement to a temperature difference as small as 0.07 C and then there is the temperature range that varies from -4°F to 1022° Fahrenheit (-20°C to 550° Celsius).
All the images are stored in JPG format with 14-bit thermal data in radiometric format for every pixel, so that you can change color palettes afterwards and adjust the temperature scale.
On a more practical note, the entire housing for the camera is IP54 waterproof and can withstand water splashes and dust.
The Flir E6-XT like the Pro and the TG275 and all of the Flir IR cameras, benefit from the 2-10 warranty program in which the entire device is covered by a 2-year warranty and the thermal vision sensor gets 10 years of warranty, as long as you register your product, 60 days after purchase.
Here is an interesting application of IR infrared thermal imaging cameras: You can check if the rear window defrosting system in a car is working properly by inspecting it using a handheld thermal camera.
Seek Thermal Compact PRO
The Seek Thermal Compact Pro is a high-resolution thermal camera for automotive technicians that also attaches to your smartphone just like the Flir One Pro.
The idea is very similar, the device only has an thermal vision sensor (there is no visible light camera), you attach it to your phone and download the Seek Thermal app.
What is better is that it has a 320 x 240 image resolution totalling 76,800 thermal pixels, more than 3 times than what the One Pro and other thermal imaging cameras in its price range offer. Plug it into a tablet and this becomes a full night vision device. It doesn't have a visual camera, it uses your phone's camera for that and because of that, the images tend to misalign easier and need to be adjusted more often.
The Compact Pro is not just for mechanics and engineers inspecting cars and trucks, it can be used for a multitude of applications beyond vehicle inspections like HVAC inspections, plumbing and electrical inspections.
One main advantage is that it has a 1800 feet detection distance which makes it suitable for activities like hunting and spotting wildlife.
Which thermal camera for automotive diagnostics and specialists?
The Flir TG275 is the obvious choice, since it was designed especially for this purpose. It has all the features and image quality that you need to fully diagnose all of a car's components. However, the Flir E6-XT can do even better with its higher resolution sensor.

If you don't want to spend the extra money on a separate camera, you can just get a smartphone attachment like the Seek Thermal Compact Pro or the Flir One Pro. For this specific use case, we recommend the Compact Pro.


Thermal imaging is also usable in cars
These packaged sensors are not just used in thermal inspection cameras but can also be used in things like Advanced driver assistance systems (ADAS). Flir is now partnering with Veoneer to provide camera cores for Level 4 self-driving autonomous cars.

Along with that, there is the Flir ADK which is a Thermal Vision Automotive Development Kit which you can incorporate in unmanned systems to detect pedestrians and animals. Flir probably has the widest range of thermal camera modules and optical solutions for different applications including people flow intelligence (People counting and classification), monitoring systems (flir est thermal screening solutions), coastal surveillance and deep learning inference cameras.