Whether you have a tiled roof, a sloped one or a flat one, the roof's surface can suffer from persisten moisture which leads to damage. Luckily you can detect that well ahead of time using a thermal camera

Here are our 4 picks for the best thermal camera for roof inspection and roof leaks.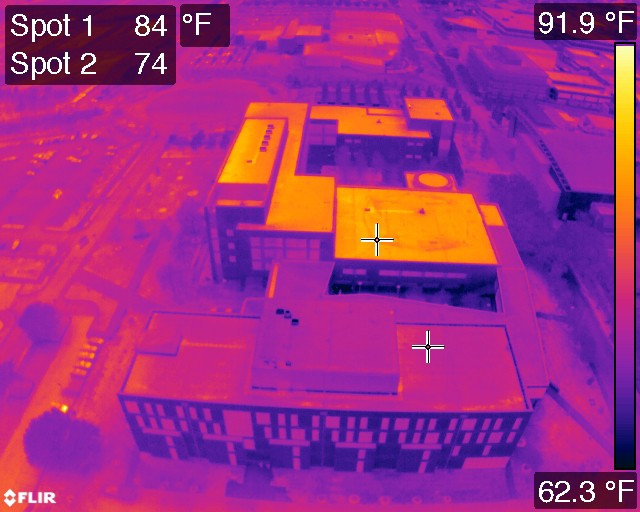 Let's have a look at each product in particular.
FLIR TG267
The Flir TG267 is the first thermal camera for roof inspections and leaks which we'll be reviewing. This is one of the tools of choice for HVAC home inspectors because of its K-probe that you can plug directly into the camera and use to measure temperature in harder to reach areas like ductwork.
It is a handheld thermal imaging system with a 160 x 120 IR resolution, totaling 19,200 thermal pixels and to assist the infrared sensor, there is also a visual camera for MSX image enhancement, a feature where the digital image and the thermal image are superimposed so that you can get a much better understanding of what you are looking at and measuring. Thermal sensors in general have a very low resolution so almost all of the cameras that are launched now have some kind of visible light camera to increase the quality of the final image.
This Flir thermal camera can measure hot spots, cold areas and warmer ones within a temperature range from -13°F to 716°F(-25°C to 380°C ) with a 0.07°C thermal sensitivity which is perfect for helping you distinguish between fine levels of radiant heating with a +/-3°C accuracy. It offers all the adjustable settings like emissivity, brightness, reflected temperature, multiple color palettes and measurement units.
The entire casing is waterproof and dustproof. With an IP54 rating it should be able to withstand a drop from at least 1.5 meters and still work. It also has a long battery life of 5 hours and 4GB of internal memory. Just like every infrared camera from Flir Systems, it has a 2-10 warranty contract, 2 for the device and 10 for the sensor, you just have to complete the product registration process on their website to take advantage of it.
Seek Thermal Compact PRO
The Seek Thermal Compact Pro is a smartphone thermal camera for roof inspections. If you don't want to call a roofing professional, you can just buy one, you attach it to your phone's USB or Lightning port, download an app, climb to the top of your house and perform infrared roof moisture scans.
It is probably the most affordable model out of the infrared thermal imaging cameras that are used for IR roof inspections and listed here. But that doesn't mean the manufacturer skipped on quality because its thermal sensor can capture images at a 320 x 240 thermal resolution. Its temperature screening and detection capabilities are very solid too with a -40F° to 626°F (-40°C to 330°C) temperature range.
One big advantage over most IR cameras is the fact that it can detect the coldest and warmest spots at a distance of up to 1800 feet. So if you don't want to spend a lot on a thermal imaging camera, this might be a good choice.
Parrot Anafi 4K Thermal Drone
The Parrot Anafi 4K Thermal Drone has a very unique thermal camera for roof inspections which can help in detecting leaks with a very unique and obvious advantage over handheld infrared cameras: You don't have to climb up there to an infrared roof inspection.
Now if there are water leaks or air leaks or if there is damage on the tiles, then you or someone who is qualified to do so, will climb up there but until then, a drone is a safe way to inspect a roof, that is why these devices are also used for inspecting solar panels.
The drone can fly up to 25 minutes on a single charge, but you can get extra battery packs on Amazon or eBay for very little, allowing you to do a complete infrared scanning of your roof without any hazards. It will capture aerial thermal images with a 160 x 120 infrared resolution overlapped with the visual image from the 4K video camera that is also stabilized.
Drones are very useful in preliminary roof surveys because they help you detect leaks in the roof membrane much faster through a quick thermal scan. Leaks in the membrane lead to wet roofing insulation which inevitably leads roof repairs or in worse cases roof replacement. One innovation that the thermal drone is bringing is thermal mapping because now you can use software like DroneDeploy to create detailed 3d maps and thermal maps of entire buildings, not just the roof deck.
FLIR C5
The Flir C5 is a pocket thermal imaging camera that can be useful for roof inspections.
It has a 160 x 120 thermal resolution and its temperature measurement capabilities are exceptional: It can measure temperatures in a thermal scope from -4 to 752°F (-20 to 400°C) with a 0.05 C thermal sensitivity and a +/-3 Celsius accuracy.
It has a unique feature that most thermal imaging cameras do not and that is cloud connectivity and it is the first of its kind to have this feature. Basically, every time you capture infrared images, they automatically get uploaded to the Flir Ignite Cloud along with their radiometric thermal data. The internet connectivity also helps it update itself via OTA firmware updates.
You operate it using the large 3.5″ touchscreen, almost no buttons at all and its battery will last for 4 hours. The entire enclosure is waterproof and IP54 rated. This device is one of the top picks for a thermal camera, not just for inspecting roofs to find moisture intrusion but also for HVAC systems, leak detection in plumbing or electrical inspections.
Which is the best thermal camera for roof inspections and detecting water leaks?
Our favorite is the Anafi Drone because of the fact that you can just fly it over the roof deck and inspect it in one go, without climbing up there. But if it has to be a handheld model, the TG267 or the C5 are both solid choices. As a low-cost version, the Seek Compact Pro is going to provide the best value.


Can I detect roof leaks using a thermal camera?
Yes and that is especially true for flat roofs. Most commercial buildings have a flat roof, not an arch and those roofs can gather water and moisture in some parts. That water can be detected by using an infrared camera. While puddles are easy to spot with the naked eye, parts which have built up moisture are not.


How do you detect a leak or moisture during a roof inspection?
The way you detect it is you point the infrared camera towards different parts of the roof and then try to find areas which have more heat in them. The principle is that water will store more heat from the sun during the daytime which will be radiated at night and that will show up as warmer than the dry parts of the roof. So if you inspect the roof at the end of the day, you'll be able to easily spot the moisture patterns in the thermal images.

Now if you want to be sure that moisture is the cause of the heat and not be misled, the next step is to use a moisture meter.


What is the best time of the day to perform the roof inspection?
Right after sunset on a sunny day when the temperature is above 10 Celsius. At that point, the sun will have warmed up the roof as much as possible and the warmer areas should show up. Do not take too long as the parts which have moisture will begin to lose the heat that they gathered throughout the day. Rain should be avoided for obvious reasons as it will bring a large amount of thermal noise in the images making the temperature difference between the moist parts and the dry parts much smaller. So weather conditions are important to consider when you need to inspect the roof condition.