Water leaks and moisture are things that you may not notice immediately but which will certainly lead to mold growth and some parts will suffer moisture damage in time

That is why we selected 4 devices to help you choose which thermal camera for water leaks and plumbing issues you can use to immediately detect where they are in your home and fix them.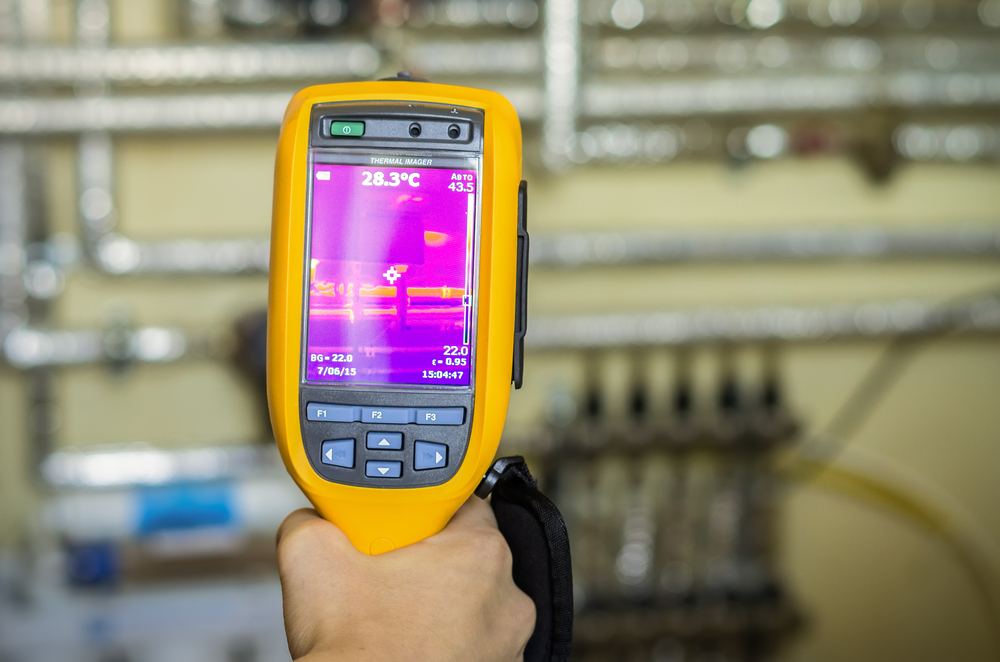 Let's have a look at each product in particular.
Flir TG165-X
The Flir TG165-X is a popular thermal imaging camera used for water leak detection mainly because it provides a good balance between price, thermal imaging resolution and features.
It is equipped with an IR sensor with an 80 x 60 thermal resolution and a visible light camera which helps with MSX image enhancement. If you're not familiar with that, it is basically a feature that overlays the thermal image and the visual image so that you get a much better perspective and are able to tell what you are measuring and looking at.
It can measure hot spots and heat patterns in a temperature range from -13°F to 572° Fahrenheit (-25°C to 300°C) with a +/-1.5° C temperature measurement accuracy. There are 4GB of storage and since it doesn't capture the thermal images with thermal data embedded in them, you'll most likely never have to delete any image. Not having thermal data inside the images is probably the TG165-X biggest weakness.
The battery life is great too, with 5 hours of continuous thermal imaging so you have plenty of time to inspect the water flow in the pipes and drains. And even if you drop it in water during a plumbing inspection, you don't have to worry because this thermal camera is IP54 rated and is almost completely waterproof.
FLIR C5
The Flir C5 can be used as a thermal imaging camera for water leaks because of its high infrared resolution of 160 x 120 but also its wide 3.5″ LCD screen. It is the newest iteration of Flir's pocket thermal camera line-up which includes the Flir C2 and the Flir C3.
The main advantage of this compact thermal imaging camera is that it is the first one which is equipped with cloud connectivity. After you've captured a thermal image, it gets automatically uploaded to the Cloud together with its radiometric thermal data. For each C5 that you buy, you get 1GB of cloud storage on the Flir Ignite platform. It also uses the Cloud connectivity for OTA updates.
This thermal imaging system can measure temperatures in a thermal scope from -4 to 752°F (-20 to 400°C), so you can detect even the coldest and warmest spots in your walls and water pipe system with a 0.05 thermal sensitivity and a +/-3° Celsius accuracy.
The C5 is a great all-purpose camera not just for water leaks and inspecting the plumbing system but also for electricians, HVAC inspectors, Roof inspectors and even body temperature screening.
Like all the other Flir cameras it comes with the 2-10 warranty, 2 for the entire camera and 10 for the thermal vision sensor.
Seek Thermal Compact
The Seek Thermal Compact imager is the low-cost option when you want a thermal imaging camera for water leaks but you don't want to make a large investment. It is perfectly suited for home use to detect things like small leaks, condensation and for moisture detection.
It is a smartphone attachment that only contains the infrared thermal imaging sensor and nothing else. You plug it into your phone's USB-C, micro USB or Lightning port and then download the Seek Thermal app to use it. It is going to use your smartphone's battery but you can expect somewhere around 1-2 hours of infrared thermal imaging with an average phone that is fully charged.
The advantage is that you are paying around 200$ for a cheap thermal camera that provides a 206 x 156 thermal resolution, higher than you would get with handheld thermal cameras. The thermal images look great, they have full radiometric data but it doesn't have the MSX feature that cameras from Flir Systems have like the Flir One Pro and Flir E5. You can overlap the image from the thermal sensor with the one from your phone's camera but because they are so far apart, you have to work to realign them. This is where the Flir One Pro has the upper edge because it also has a fixed visual camera right next to the sensor.
FLIR E5-XT
The Flir E5-XT is the most expensive thermal imaging camera for water leaks and water damage prevention in our list. This is a device that is oriented towards professionals like plumbers who need to home inspections on a regular basis.
Its enclosure is IP54 rated so it is waterproof, it has a large 3″ LCD screen with a 320 x 240 resolution and a 4 hour battery life. Then there is the 160 x 120 resolution together with MSX enhancement from the high-resolution visual camera.
This thermal camera for moisture and leaks can measure a temperature between 4°F and 752°F (-20°C to 400°C) with a very high accuracy of +/-2°C (High accuracy actually means a lower value for the margin of error).
It offers a wide range of color palettes together with adjustable settings like emissivity, brightness and ambient temperature. The captured images hold thermal data which you can use to switch between color palettes later and also measure the temperature in any spot. You can transfer them to your laptop or phone via USB, Wi-fi and Bluetooth because this camera has all the three connectivity options. The main disadvantage of the E5 XT is that it doesn't have an expandable internal storage, it can only hold about 500 thermal images on it.
The IR resolution may not seem much, but in reality the captured shots look extremely sharp. There is no doubt that this is one of the best cameras for leak detection, whether it be water leaks, air leaks or even detecting moisture.
Here's a link to our in-depth review of the
Flir E5-XT
Can a thermal camera find water leaks?

Yes, a thermal camera is able to detect water leaks from a pipe. When you point it at a hot water pipe, the water leak will show up as a warmer area than the rest of the pipe itself.

But water leaks are not the only thing that you can detect, because you can also spot moisture patterns. The main sources of moisture are leaks from pipes, water infiltration from the outside in the form of rain and snow and humidity during the cold season.

The camera itself cannot see what is inside the wall, but it can detect temperature differences in different parts of it and that is how you spot that there might be moisture building up. To get a better reading on these patterns, you can pair the infrared cameras with moisture meters that can measure the level of moisture more accurately.


Best thermal camera for water leaks
If you want a handheld device that can work in a professional environment, then the TG165-X will offer the best value for money. The C5 is even better, but comes at an extra cost.

If you just want to find hidden water in your house and you don't want so spend much on thermal imaging cameras for leak detection, then the Seek Thermal Compact is the right device.

But when you want to go pro with this, the Flir E5-XT or its siblings, the E6-XT and the Flir E8-XT are the right models to choose.