If you use a thermal camera for a home inspection, you can detect things that you might miss with the naked eye otherwise like sources of moisture, heat loss and especially energy loss, potential roof leaks, poor insulation, inadequate ventilation or even mice and pests

That is why we researched the best thermal cameras to use in a home inspection that have high image resolution and are good value for money

Here is our review and comparison table: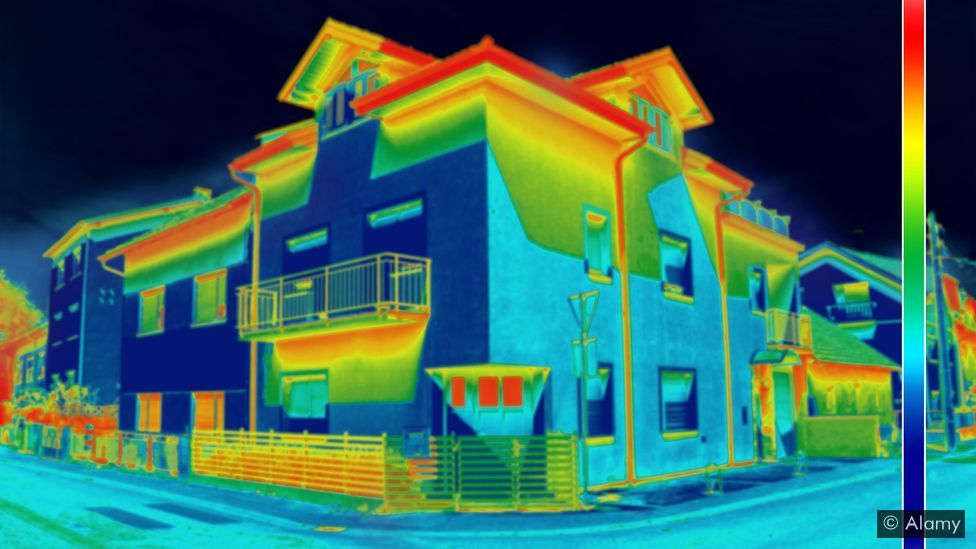 Let's have a look at each product in particular.
FLIR TG267
The Flir TG267 is a thermal imaging camera designed especially for home inspections. It also is one of the only cameras that come with a thermocouple probe that you attach to it for taking temperature measurements in harder to reach places, like the ventilation system.
So what can you use the TG267 for when inspecting a home? You can check the roof for any leaks. The idea is that water gives up its heat slower than the roof material itself, so you can just glance at it with the infrared camera and find the areas where moisture is building up.
You can use it to inspect electrical faults like overheating fuses. With a simple snapshot of the fuse panel, you can see which fuses are taking a higher load and replace them or upgrade them.
Now let's have a look at the camera itself: It has a 160 x 120 Infrared sensor with a thermal resolution of 160 x 120, but remember that it also has a visual camera and it blends the two images together using MSX image enhancement technology. The result is an image where you see all the fine details, edges and shapes of the objects but with an overlay of the hot spots, warm and cold areas.
You can measure anything that is in a temperature range from -13°F to 716°F(-25°C to 380°C ) with a +/-3 C accuracy and a 0.07 thermal sensitivity.
The images are captured on its 4GB internal memory and it has a high-capacity battery that lasts for 5 hours of continuous thermal imaging. There is also good news on the outside of the device because it is waterproof and can withstand a 1.5 meter drop since it is IP54 rated.
Like other infrared cameras from Flir Systems, it comes with a 2 year warranty for the device and 10 years for the thermal vision sensor. If you want a lower-cost version of this IR camera, you should look at the Flir TG165 spot thermal camera
FLIR E8 XT
The Flir E8-XT is a professional thermal camera for home inspectors. This is the top-of-the-line model from Flir's XT range which improves upon the E-series cameras like the Flir E4, E5 and E6, but also costs considerably more. If you are a certified home inspector, then this pro-grade thermal vision camera will certainly supercharge your productivity.
So what are the practical uses in home inspection for this camera? You can find structural defects in a house by comparing the differences in temperature which can highlight if a part of it is damaged. This includes parts which are not insulated properly. You need to pay special attention to the basement where many times you can find wet walls which can produce mold and this device is an expert in leak detection. An infrared thermal imaging system can really show if home builders did things in a rush or skimped on costs.
As for the handheld thermal imager itself, it has a very high IR resolution of 320 x 240, providing no less than 76,800 thermal pixels. On top of that, it also has the high-resolution visible light camera with MSX technology and the result is as you would imagine, perfect. It probably has the highest image quality of any consumer thermal camera under 2000$.
As for its temperature measurement capabilities, it has a thermal scope from -4° to +1022° degrees Fahrenheit (- 20° to 550° Celsius) with an unmatched +/- 2° C accuracy and a 0.05° C thermal sensitivity. Sensitivity tells us what is the minimum temperature difference to which the camera reacts and adjusts its measurement.
You can stream the thermal images directly to your smartphone via Wi-fi or Bluetooth or download them to your PC via USB cable. All the captured images are stored in JPG with radiometric 14-bit thermal data embedded inside them for every pixel, allowing you to switch color palettes after the image was captured and also take independent measures of each point.
Flir C3-X
The Flir C3-X is a newer 2020 thermal camera for home inspections from Flir, that provides a host of features at a very attractive price. It is the improved version of the old flir C3 pocket thermal camera.
What could you use this compact thermal camera for? Finding water damage and leaks in the plumbing system during building inspections. If you point it towards the walls, you can look for unusually cool spots and those can appear either because of accumulated moisture or an actual leak or water damage. Pair the camera with a moisture meter or leak detector and you have a complete kit for home inspections.
These cooler areas also can become a source of mold, but using thermal imaging cameras, you can detect it before it starts developing. It can also be useful for electrical inspections in which you can find loose connections or overheating fuses.
The C3-X is a handheld thermal camera that offers a 128 x 96 image resolution blended together with the image from its 5 megapixel visual camera. But the thermal sensor resolution is not its strongest point.
It can connect to your smartphone and PC via USB-C, Wi-fi or Bluetooth, but it also uses the wireless connection to sync your thermal images to Flir's new cloud platform called Flir Ignite. It is the first of its kind specifically designed for thermal images. And speaking of, it can capture images and record video and all the pictures are stored with radiometric thermal data inside of them, just like on the E8-XT. Along with the cloud connectivity, it also updates itself via OTA updates.
The enclosure is IP54 rated, waterproof and dirtproof, it has a 4 hour battery life and a 3.5″ touchscreen which you use to operate all aspects of the device, including adjusting settings like emissivity or reflected temperature.
Seek Thermal Compact PRO
The first thermal imaging cameras used for home inspections that we showed are handheld standalone devices. This one is not, it is a smartphone attachment. The idea is that you get great image quality with these at a lower price, but they have to be connected to your smartphone to work and the battery life is shorter.
The Seek Thermal Compact Pro can spot air leaks in your home which are often found in the areas around windows, gaps under the doors and between walls and boards. Also things like attic hatches can have poor insulation leading to heat loss that in the end costs you more in energy bills.
The way you use the Seek Thermal CompactPro is you plug it into your iPhone or Android phone via its USB-C, micro USB or Lightning port, you download the SeekThermal app and you can start capturing images.
It only has an infrared sensor, nothing else. The IR resolution is 320 x 240 and you can overlap the visual image from your phone on it, provided you do have to constantly realign the images because there is a considerable distance between your phone's digital camera and the sensor. So while it is priced like a budget thermal camera, you can tell by the sensor resolution that it is not a low resolution camera and this is the big advantage with these devices: no LCD Display and no SD Card translates to money being spent just for the thermal infrared camera sensor.
It has a heat detection range of up to 1800 feet away, which is more than any of the cameras here, it can actually rival the Flir Scout TK and its detection capabilities are strong with an object temperature range from -40F° to 626°F (-40°C to 330°C) and 0.07 thermal sensitivity.
FLIR ONE Pro
| Product | Type | Resolution | Battery capacity | Waterproof | LCD screen | Price |
| --- | --- | --- | --- | --- | --- | --- |
| FLIR ONE Pro | Smartphone (2 different versions – Android & iOS) | 160 x 120 | 45 minutes | No | Uses Smartphone screen | Click for more info |
The Flir One Pro is just like the Seek Compact Pro, a smartphone attachment only with this model, they fitted it with an infrared sensor, a visual camera and its own battery but which only lasts 45 minutes.
Because it has a camera, you get the full MSX image enhancement feature. Like the Seek, it comes in 3 versions with different connectors for Android and iOS and you use it with its own Flir One app.
This infrared thermal imager camera has a lower resolution of 160 x 120 but compensates a lot with the MSX feature. Any object that is in a temperature range from -4 to 752°F( -20 to 400 C) can be measured but only up to 50 feet away.
These smartphone attachments are great if you want to inspect your own house for things like warm air infiltrations or exfiltration to improve its energy efficiency or if you just want to give thermal imaging a try.
There are two other Flir One Thermal Cameras that you may want to consider: The Flir One Gen 3 is the cheapest version at half the price of the Pro, but with less features in the smartphone app and a lower resolution, equivalent to what you would get in a Flir C2 compact thermal imaging camera. The One Pro LT has the same app features as the Pro but the lower resolution of the Gen 3.
Which thermal imaging camera to use for home inspections?
If you are a home inspector, then you will want to go for a handheld infrared camera like the Flir E8-XT, which has everything you need built in and great image quality. As much cheaper but good alternatives, there are the TG267 and C3-X which can do the job just as well most of the time.

If you are just giving thermal imaging a try or want to inspect just your own home, then the Seek Compact Pro or the Flir One Pro can easily do the job.